Op-Ed: Want L.A's hepatitis A crisis to get even worse? Follow Venice Beach's lead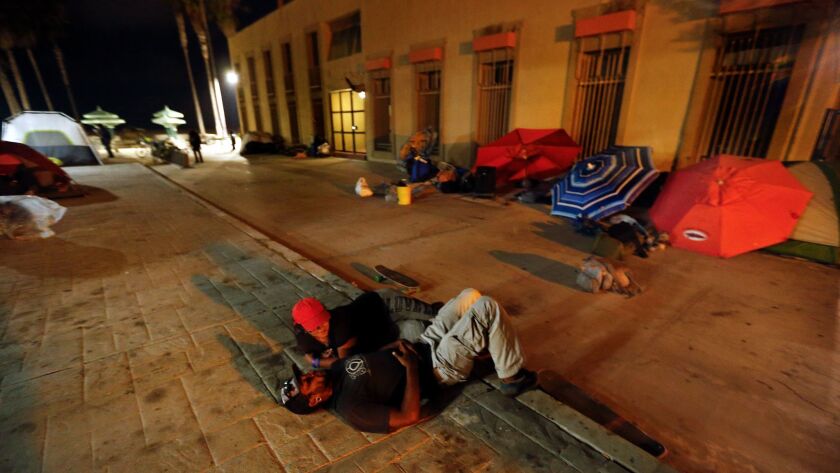 With Southern California confronting a deadly epidemic of hepatitis A, a highly contagious ailment that spreads through contact with the feces of an infected person, urban centers ought to be doing everything possible to improve sanitation. That's especially true in enclaves frequented by the homeless.
Los Angeles leaders are well aware that skid row's nearly 2,000 homeless people "have less access to bathrooms than Syrian refugees living in a United Nations camp overseas," as advocates for the unhoused complained last summer while calling for scores of additional portable toilets. Orange County faces a similar challenge with homeless people who camp by the Santa Ana River near Angel Stadium.
In comparison, Venice Beach, another hub of homelessness, has a key infrastructural advantage: Because the beach and the boardwalk are among the most visited tourist destinations in the state, there are public restrooms built to accommodate crowds on summer days. That means plenty of restrooms for the homeless, at least during the off-season and at night.
There the matter would rest in a well-run city.
Venice's public bathrooms are closed every night at midnight, and kept locked until 5 a.m. The predictable result is more people defecating on the beach.
But rather than exploit those bathrooms to help protect residents and visitors from biohazards, the powers that be close the beachside bathrooms every night at midnight, and keep them locked until 5 a.m. The predictable result is more people defecating during those hours on the beach, where barefoot tourists walk and children play. That outcome would be idiotic even absent a hepatitis epidemic. In the midst of one, it veers closer to insane. And needlessly depriving a population of available toilets on a nightly basis is flagrantly inhumane.
We provide better for death row inmates, and rightly so. Venice bathroom policy dates back to 1988, and it was originally implemented as an anti-crime measure at a time when the area was much less safe. Last week, the news site Yo Venice reported that "the Los Angeles Bureau of Engineering approved a Coastal Development Permit which will keep the beach bathrooms in Venice closed at night." If appeals are not filed, or fail, the application will be sent to the state Coastal Commission. Councilman Mike Bonin has already voiced his disagreement. As he put it this fall, the current situation is not tolerable, and it poses a clear risk to public health.
Alas, advocates for bathroom access are up against a perennial obstacle best described in 1949 by journalist Carey McWilliams. Californians' ambivalence toward population growth induces "a suspension of the thinking faculty, a form of civic hypnosis." This paralysis "undercuts any attempt to plan for the well-being of Californians, present and future." It's almost as if people believe that failing to plan for a population — especially a population deemed undesirable — will make it go away.
Almost two years ago, during a bygone push to open the bathrooms in Venice Beach at night, Mark Ryavec, president of Venice Stakeholders Assn., told The Times that he opposed doing so. Pointing to overnight restroom closures in Santa Monica, he argued that opening up bathrooms in either place would "ensconce folks exactly where they are." Well, 19 months later, homeless folks are still ensconced in Venice and Santa Monica anyway.
And while taxpayers may have saved a bit on maintenance and nighttime security costs, they're likely to spend many times more on medical care for the destitute, who will contract serious diseases at higher rates due to bad policy.
Perhaps one day, Venice Beach's homeless population will be successfully housed, or relocated to a place better able to serve their needs. Until then, the practice of keeping public restrooms locked will continue to cause fellow humans discomfort and shame every single night of the week.
Conor Friedersdorf is a contributing writer to Opinion, a staff writer at the Atlantic and founding editor of the Best of Journalism, a newsletter that curates exceptional nonfiction.
Follow the Opinion section on Twitter @latimesopinion or Facebook
---
A cure for the common opinion
Get thought-provoking perspectives with our weekly newsletter.
You may occasionally receive promotional content from the Los Angeles Times.