Op-Ed: In California's 'cannabis deserts,' delivery is the solution. Don't ban it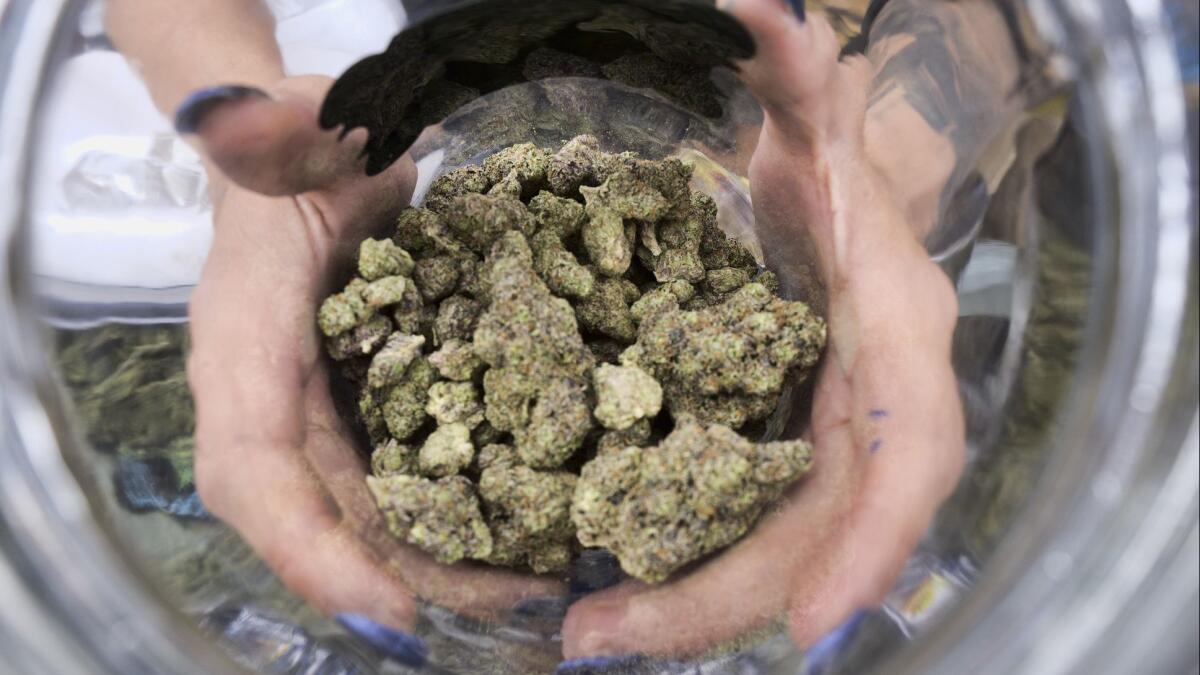 A modern war of prohibition is being waged over access to legal cannabis in California, and it's causing "cannabis retail deserts" to proliferate across the state.
The term "cannabis retail desert" is self-defining. They are regions characterized by an absence of retail outlets devoted to legal marijuana sales.
They are also a cousin of so-called food deserts, where affordable or quality fresh food can be hard to find because grocery stores offering such fare aren't convenient. Without healthy options, residents often turn to fast food and convenience stores, consuming a steady diet of processed foods — and potentially suffering health consequences.
Except in cannabis retail deserts, consumers are forced to break the law to get their product. This is the direct consequence of local governments saying "not in my backyard" to legal marijuana sales.
A whopping 80% of California's nearly 500 municipalities have banned stores that sell marijuana for recreational purposes.
In 2016, nearly 60% of voters in California approved Proposition 64, which legalized the sale of the plant for recreational use for those 21 and over. The proposition gave Californians the right to purchase regulated, quality-controlled substances, but local jurisdictions are standing in the way.
A whopping 80% of California's nearly 500 municipalities have banned stores that sell marijuana for recreational purposes.
Those of us who work in the daylight of the legal cannabis industry have a clear solution for safe access to regulated cannabis — delivery. If retail stores are not permitted due to local restrictions, then drivers can safely and legally deliver to consumers in those communities. There are more than 300 state-licensed cannabis delivery firms in California. The company I work for is one of them.
But last month a potential home-delivery roadblock was thrown up. Two dozen cities that restrict cannabis sales filed a lawsuit against the California Bureau of Cannabis Control and its chief to prevent deliveries in their city limits. Santa Cruz County also joined the suit, which was in response to a regulation the agency adopted in January that permits state-licensed delivery firms to serve customers in cities that have banned shops selling cannabis.
The suit was quickly followed by a state bill that would have allowed cities to prohibit home deliveries of cannabis. It failed in committee and has been tabled for the year.
The intended message is clear: Cannabis delivery is under attack.
Bans on cannabis retail and delivery services are driven largely by fear. Residents and officials say retail sales will be a magnet for crime and that drivers will be easy targets for robbers. They express concern that marijuana delivery will become a burden on local police.
Mandated practices in the legal, licensed delivery market should allay such fears. Steps that are taken to ensure safety include monitoring delivery vehicles via GPS, requiring drivers to undergo background checks and placing maximum limits on the amount of cash and product carried in any vehicle.
Enter the Fray: First takes on the news of the minute from L.A. Times Opinion »
The irony is that bans on legal cannabis end up propping up the illicit market. Without a legal option, users have little choice but to turn to the most convenient local means available, the illegal market, where businesses don't comply with the quality control standards of the regulated market. And of course, illegal sales mean losses in tax revenue for the state.
Communities that aren't yet ready to license retail stores should welcome delivery businesses as a discreet and safe solution. Delivery is especially critical for the chronically ill and other medical users who may not be able to leave the house to access cannabis.
Prohibition of marijuana was, and continues to be, a losing approach.
According to U.S. Census data, more than 17.5 million Californians live in a cannabis retail desert, where storefronts aren't permitted. Delivery would make those deserts semi-arid.
AnnaRae Grabstein is chief compliance officer of NorCal Cannabis Co. Previously she was chief executive of Steep Hill, an independent cannabis laboratory.
A cure for the common opinion
Get thought-provoking perspectives with our weekly newsletter.
You may occasionally receive promotional content from the Los Angeles Times.