Column: Melania, the steely, dead-eyed trouper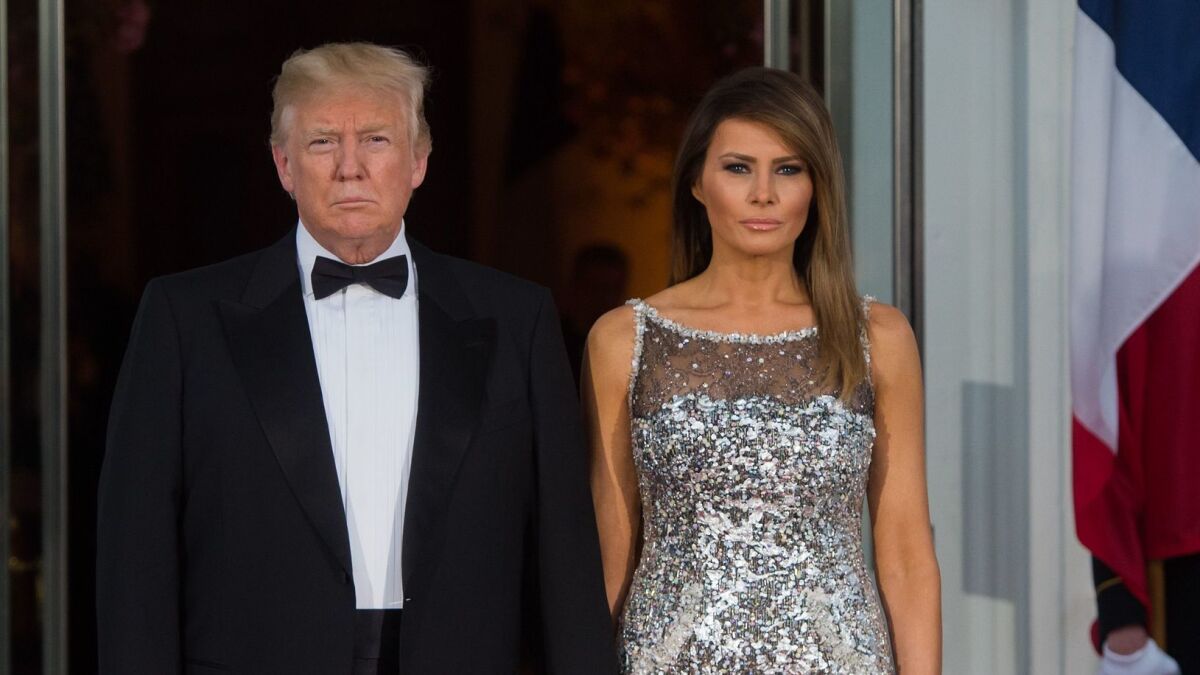 "Maybe I didn't get her so much," President Trump mused to "Fox & Friends."
He was talking about his wife, Melania, whose birthday Thursday he dimly believed he had marked with a card. She was evidently not top of mind.
As usual that slot was reserved for Hillary Clinton. (Breaking: Trump defeated Clinton in 2016.) Trump reminded the supercilious Fox TV hosts of his triumph over Clinton in the presidential election, inflating as usual his tally in the electoral vote.
Trump's mind also danced with images of other women not his wife. In his lurching, unsteady rant, he spoke of Stormy Daniels, the pornographic-film actress who alleges she had a sexual relationship with him shortly after Melania gave birth to their son Barron. He let slip that, contrary to earlier protests, he had a "crazy Stormy Daniels deal," overseen by his beleaguered personal lawyer, Michael Cohen. (Daniels' lawyer called this truth-serum Trump blurt "a hugely damaging admission by the president.")
The famous, if maybe fictional, sex workers of Moscow also addled Trump. Though he didn't explicitly mention those possibly phantom Muscovites, he told his Fox friends, "Of course I stayed in Russia overnight," thus confirming another widely verified fact he'd earlier denied. It seems he'd had all the time he needed in Moscow in 2013 for the alleged revenge-urine event. Discretion forbids me from elaborating on this scurrilous rumor beyond this link to the complete Steele dossier.
Tangled webs!
Ideally, while her husband raved, Melania Trump spent her birthday speaking Slovenian, her mother tongue, with someone she actually loves. Maybe Barron, or her parents. One further hopes that she, in merry celebration, ignored his card and his foray on "Fox & Friends."
Although I believe pity is the least anyone married to an abuser deserves, I don't overlook evidence that Melania is not a sterling human.
Oh, Melania. The canonical feminist position is that she deserves "no pity." The former model made her bed, it's said — and gold diggers who spout birtherism like ventriloquists' dummies have no place in the sisterhood.
Although I believe pity is the least anyone married to an abuser deserves, I don't overlook evidence that Melania, now 48, is not a sterling human. In April 2016, she came close to countenancing anti-Semitic attacks on the journalist Julia Ioffe by people she called her "fans." One of these fans had depicted Ioffe, who had written a moderately critical Melania profile, dressed for a gas chamber at "Camp Trump."
And then, more trivially, there's Melania's taste. While she nailed a pretty Chanel dress at the state dinner for the French President Emmanuel Macron and his wife, Brigitte, her usual synthetic-looking scuba garb says don't touch me. White hats, like the one she wore Tuesday to greet the Macrons, may say chastity, virtue or suburban prom. That hat seemed to have been placed with a carpenter's level; Melania forgoes the jaunty angle favored by white-hat fan Olivia Pope on "Scandal."
Melania is not jaunty. Her usual dominatrix stilettos seem designed to flaunt her ornamental role, atrophy her calf muscles and further incapacitate her.
Indeed, she's incapacitated. And for that it's also hard to have no pity at all. Trump's first wife, imperious Ivana, drags her; she used to try to be cutting in response, but now she swallows her feelings. She doesn't crack when more news breaks that her husband's a goat. She appears desperate but never sheds a tear.
As the journalist Evgenia Peretz has observed, Melania once seemed poised to be the ideal "advertisement for Trump's virility." That ad seems like a faded bit of Melania's long-lost trousseau. Now she promotes his status as physically repellent.
When at the Macrons' arrival she resisted, in vain, her husband's efforts to hold her hand, it became plain: In her agonizingly high heels, she will hit her mark like a steely, dead-eyed cadet, but when it comes to actually touching her husband's skin, even our spirit-broken trouper won't fall in line. Especially on the biggest of stages.
Or perhaps instead of his virility Melania now advertises Trump's kinship with the "incel rebellion" — a drastic internet movement among "involuntarily celibate" men who, according to CNN, believe that women have unfairly denied them the sex to which they're entitled. (Alek Minassian, who was charged with murder in the Toronto car rampage that left 10 dead, considered himself an incel and seems to have been radicalized into exterminationist misogyny by incel propaganda.)
In any case, it takes a hard heart to scorn Melania these days. Once she was spotted laughing with Barack Obama at the funeral for former First Lady Barbara Bush, it became clear that she still has the capacity to smile. Yoked to Donald Trump, she just lacks a reason.
Remember how we all used to smile more with Obama? Melania Trump has become a stand-in for the nation, which has also been humiliated, even threatened, by the president's recklessly asserted droit du seigneur. We as a country — an electoral-college majority of us — married ourselves to a brutal overlord, and we have also made our bed.
Anyone who finds fault with Melania for taking it, and for serving as an exponent of the president's bigotry, has to do what she cannot as first lady. Stand up to him at the midterms, put on some sturdy shoes and break free.
Twitter: @page88
Follow the Opinion section on Twitter @latimesopinionand Facebook
---
Life is stressful. Our weekly mental wellness newsletter can help.
You may occasionally receive promotional content from the Los Angeles Times.