Column: After a lifetime of dirty tricks, Roger Stone finally takes a fall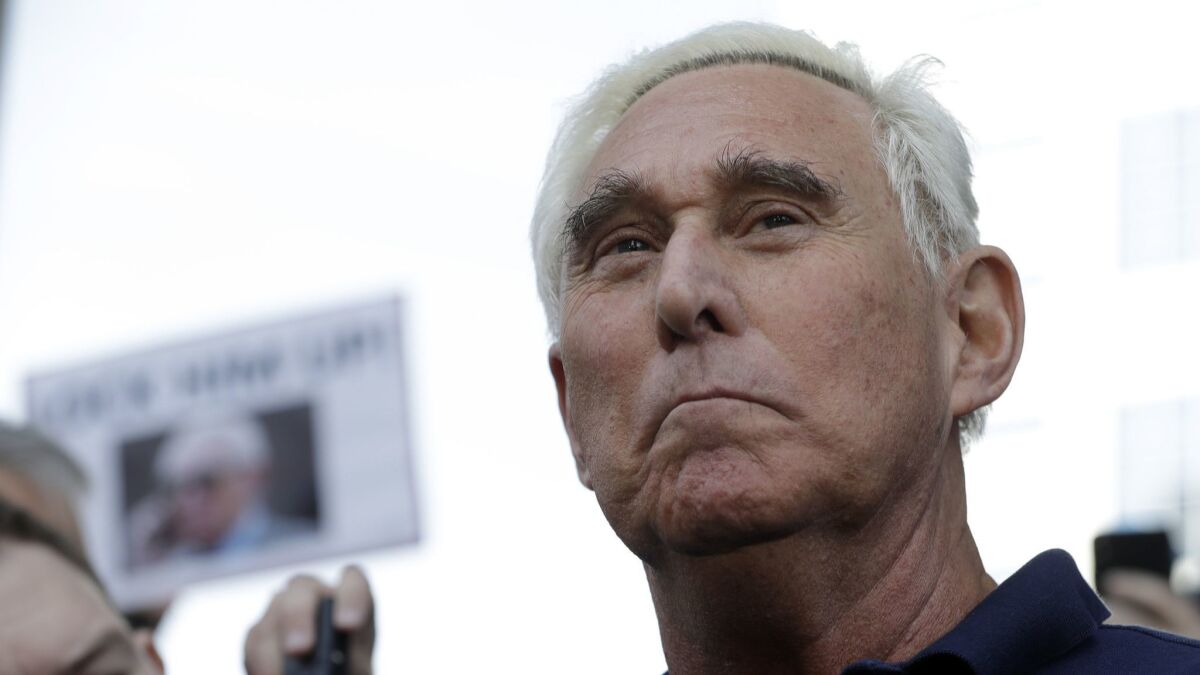 On Friday around noon, Roger Stone preened in vain for a crowd in Fort Lauderdale, Fla.
President Trump's close friend and advisor, freshly sprung from shackles on a $250,000 bond, had been indicted in the special counsel Robert Mueller's investigation into Trump's Russia ties.
Stone tried to hide his panic with bravado, a boy whistling in the dark. But his shtick seemed moth-eaten and creepy. He struck the moribund Nixon two-V-hands victory/corruption pose. He smiled nervously. He broke out an old chestnut: "The only thing worse than being talked about is not being talked about!"
Sure, bud. He sounded like private-sector cons Elizabeth Holmes (of Theranos) and Billy McFarland (of the Fyre Festival), who are sunny and delusional even as they've been revealed as stone-cold frauds.
"Lock him up!" chanted the crowd.
America, it seems, has had more than enough of Roger Stone.
Stone's indictment on seven counts, including false statements and witness tampering, comes not a moment too soon.
The bumptious Trumpworld carny wore out his welcome in, oh, probably 1992 (some say '71). He is not as charming as he thinks he is.
How Stone passes off his deviant ideology and contempt for American values as somehow 'conservative' is anyone's guess.
And then there's the special prosecutor's disclosure that Stone served as a liaison between WikiLeaks and the most senior echelons of the Trump campaign. WikiLeaks is, of course, the Kremlin-connected hacktivist organization that published material evidently stolen by Russian military intelligence in 2016. By staging the ill-gotten material in an effort to smear Hillary Clinton, WikiLeaks substantially aided the Russian effort to sway cognitively vulnerable voters and install Donald Trump as president.
Thus, if Stone was indeed running info between WikiLeaks and the Trump campaign, for which he was an informal advisor, he is a keystone in what Mueller's office has called "the conspiracy to defraud the United States."
Rudolph Giuliani, Trump's screw-loose volunteer lawyer and hypeman, has operatically denied Trump-Russia collusion. But on CNN last week, he said that his denials applied only to the president. "I never said there was no collusion between the campaign, or people in the campaign," Giuliani said.
As a campaign advisor, then, Stone could have colluded — and Giuliani wouldn't deny it. Fortunately for Giuliani and Trump, Stone, using mob-speak, has said he will "never roll on Donald Trump." Stone told the Fort Lauderdale assembly, "I am one of [Trump's] oldest friends." (More cries of "Lock him up!")
(Then again, another formerly loyal Trump friend — disbarred lawyer and former Trump Organization Vice President Michael Cohen — used to say the same thing. Now a convicted felon, Cohen these days seems to make rolling on Trump his full-time pre-prison job.)
Trump, who on Friday caved to the demand of Democrats that he reopen the government, cannot have been super-pleased to have Stone remind America of the two men's longtime intimacy.
Evidence of Stone's treachery should surprise exactly no one. For decades, Stone has styled himself as a natty, pervy, dirty-tricksy operative for the Republican Party and foreign torturers.
Having preyed on the gullibility and racism of American evangelicals and senior citizens for years, doping them alternately with Christian platitudes and xenophobic uppers, Stone is widely considered the poltergeist in the machine of the Republican Party.
How he passes off his deviant ideology and contempt for American values as somehow "conservative" is anyone's guess. But the campaigns he worked on — Richard Nixon's, Ronald Reagan's, Bob Dole's, George W. Bush's and dozens of others — seemed to appreciate his extensive dirty work.
In 1992, Pamela Brogan of the Center for Public Integrity named Stone one of the linchpins of the "torturers' lobby." With his former partner, Trump campaign manager and convicted felon Paul Manafort, Stone lobbied in Washington, D.C. for warlords and human-rights abusers abroad.
Over the years, Stone and his firm have worked on behalf of such sweethearts as murderous, looting dictator Mobuto Sese Seko in Congo; kleptocrat and convicted killer Ferdinand Marcos in the Philippines; and Rupert Murdoch's News Corp., which owns Fox News. Stateside, Stone's firm repped the disgraced Tobacco Institute and, since the 1980s, Donald Trump.
Only a few years after being exposed as a concierge to torturers, Stone started pushing Trump to run for president. After all, for the torturers' lobbyists, the only thing worse than being talked about is not being talked about.
Enter the Fray: First takes on the news of the minute »
And then there are Stone's personal perversions and burlesque. Not much of it merits more than an eye-roll emoji. But a quick review: Stone has a broad, muddy-blue tattoo of Richard Nixon's face on his back. He has placed ads in swinger mags looking for sexual partners for him and his wife. He formerly lived with Kristin M. Davis, the so-called Manhattan Madam, who ran a sprawling illegal sex-work operation and has also been convicted on drug charges.
Family values, folks.
Much of the rest of Stone's tedious pose can be seen in the Netflix documentary "Get Me Roger Stone," which shows Stone trying to frame his vulgar sadism as charisma.
Of course, you can also just read the special counsel's indictment, "UNITED STATES OF AMERICA v. ROGER JASON STONE, JR., Grand Jury Original 18 U.S.C. §§ 1001, 1505, 1512, 2."
It's less colorful, but, for fans of justice, far more charming.
Twitter: @page88
---
Life is stressful. Our weekly mental wellness newsletter can help.
You may occasionally receive promotional content from the Los Angeles Times.