Op-Ed: Great Women's World Cup, FIFA. Now scrap the whole thing and start over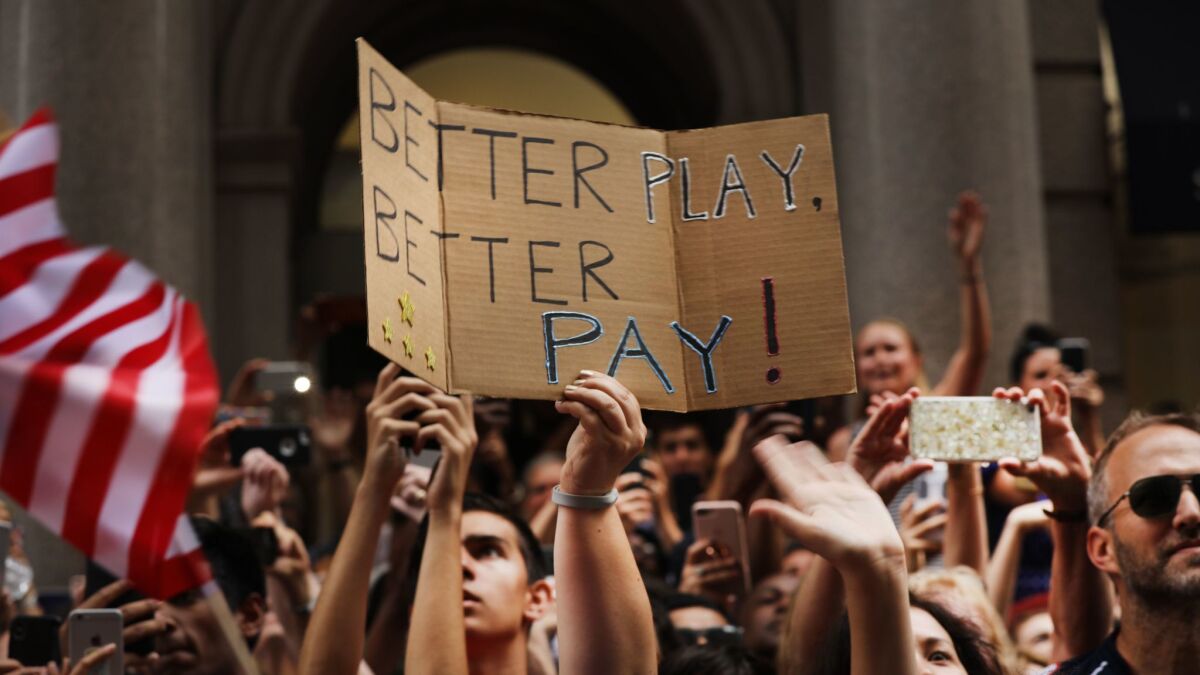 Congratulations, FIFA, you pulled off the most successful Women's World Cup in history. Now you should scrap it and — bear with us — the exclusively male World Cup, too.
Instead of separate championships, the sport's governing body could make amends for its negligence and outright hostility to the women's game by folding both tournaments into one Ultimate World Cup. Overnight, it would close the gap between the scale, prize money and investment in the two events.
Think about it. Soccer's grand prize awarded based on the performance of men and women. It would incentivize all "football"-playing nations to develop their women's game. (At present, 56 FIFA members don't even bother fielding a women's team, including Qatar, which has been controversially awarded the next men's World Cup, in 2022.) And it would cement soccer's status as the most popular and inclusive world sport.
Our proposal: As of the 2026 World Cup, to be played in North America, there would be just one World Cup, a 32-nation tournament with every qualifying and tournament match a double-header featuring the women's and men's teams of the competing nations. The aggregate score from the back-to-back games would prevail, and the gender order of play would alternate every four years (the second game going to a tie-breaker if necessary).
Think about it. Soccer's grand prize awarded based on the performance of men and women.
The Women's World Cup we just witnessed proves again that a thrilling tournament doesn't depend on men on the field. But the women's game must be made more sustainable at the professional level between World Cups.
FIFA brought in $6.1 billion from last year's men's World Cup, compared to an estimated $131 million from the women's contest in France this summer. If those figures were combined and shared equitably across genders by FIFA and national federations it would make all the difference. Because boys-only FIFA members wouldn't be eligible to play in the World Cup, every country would want to invest in the development of their women's game, including at the level of a domestic league that will develop talented players.
Americans, in their post-victory euphoria this week, may insist the women don't need the men to succeed, that the Women's World Cup can stand on its own, that separate governing bodies and professional domestic leagues can thrive. But the lesson coming out of the fast-developing women's game in Spain, France, Mexico and England (or, for that matter, big-time college sports in the United States powered by Title IX) is that dramatic progress is achieved when the women's game is tethered to the existing infrastructure, brand and fan base of the established men's game.
Note the success so far of women's analogs at storied clubs such as FC Barcelona, Atlético Madrid, Manchester City and Arsenal at building a following, leveraging existing rivalries and delivering world-class players to the national roster. Indeed, the Chinese domestic men's league will now compel its clubs to establish women's teams alongside the men's, and England's Premier League and Women's Super League have just announced they will drop in a number of female-male doubleheaders into the 2019-2020 schedule. They are not going so far as to aggregate scores — not yet anyway.
At the international level, based on an objective look at every nation's performance in the last three men's and women's World Cups, Germany and the United States are this generation'sreigning powers. We ran the numbers, awarding 1 point for qualifying, 1 point for each round advanced, and a bonus point for a tournament win. And because this is soccer, we ended up with a tie: Germany and the U.S. both at 20 points. France was close behind with 19 points, followed by England and Japan with 17 each.
The exercise shames the FIFA members that don't field women's teams at all, and those with strong men's teams — including Portugal, Uruguay, Belgium and Croatia — that would have to invest far more in their women's game if they wanted to remain relevant post-integration. Conversely, Canada and Norway would have to figure out how to improve their men's game to remain in contention.
Enter the Fray: First takes on the news of the minute »
As potential FIFA reforms go, an Ultimate World Cup is a far better idea than the contemplated expansion of the men's tournament to 48 teams from the current 32. And a seven-year transition should be enough time for federations to wrap their collective heads around the required culture change. It makes sense for the sake of equality and business — it would be fabulous for FIFA and its sponsors, multiplying the excitement of fans and reinforcing the fact that a World Cup is like no other sporting event in its power to engross the world.
Imagine that it's 2026 and the U.S. women have prevailed over the Netherlands 2-0 in the first game of the two-game final. What would follow is an exciting — nerve-racking! — last battle. Would the American men screw things up in the second game, despite being handed a 2-0 lead? It would be a revolutionary ultimate contest: We would all be on the field together to determine the best in the world.
Congratulations, FIFA, it's all yours.
Victoria Jackson is a professor of history at Arizona State University and a former NCAA national track champion and professional runner. Andrés Martinez is a professor at the Cronkite School of Journalism at Arizona State University.
Follow the Opinion section on Twitter @latimesopinionand Facebook
---
Life is stressful. Our weekly mental wellness newsletter can help.
You may occasionally receive promotional content from the Los Angeles Times.