Op-Ed: In Inglewood, rising real estate prices, chain restaurants and now rental scooters. Can gentrification be far behind?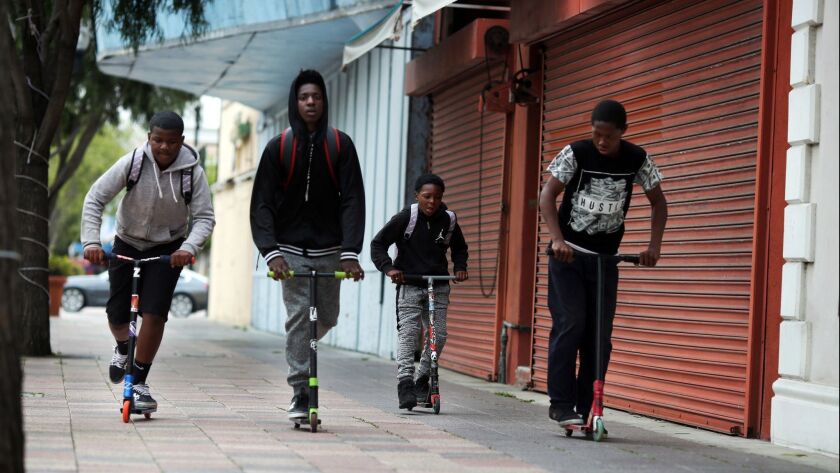 For the last couple of years I've been watching for clear signs of gentrification in Inglewood. It is something many people, especially people outside the city, have been predicting with increasing certainty for several years now.
They point to Leimert Park, a few miles northeast of us, and how nonblack newcomers are remaking that neighborhood. They point to a critical mass of new construction in Inglewood: the Crenshaw-LAX rail line, a mammoth mixed-use development in the middle of town (complete with dog park!) and a billion-dollar NFL stadium that are all scheduled to open in the next year or so. And they point to the city's stratospheric real estate market. Areas once seen as iffy are now described as "emerging" neighborhoods, places where you can still buy a sizeable house not far from the ocean for well under a million dollars. What a bargain.
Up to now, however, gentrification has remained mostly an abstract idea for me. That's because the signs on the ground —galleries, coffeehouses, chic restaurants — simply have not materialized in any great number. I have seen more white folks, more people with dogs, and a few more retail chains. But it's hard to consider Chipotle or Ono BBQ game-changers.
Then it hit me: I don't want gentrification, I want abundance. The problem is that those two things have become entirely synonymous.
My most frequent food purchase is still at the corner of Crenshaw and Imperial near my house, where the Nation of Islam guys have sold bean pies forever. Chipotle and other chains have been background accessories to a familiar foreground.
But then last month I got proof that I've been in a kind of gentrification denial. Walking my dogs one morning, I came to the end of my block and was startled to come across an electric scooter leaning on a tree. It was one of those "dockless" models that people rent with credit cards and cell-phone apps. I've heard complaints about them for months from friends living in Venice and Santa Monica, who liken the scooters to discarded couches and other oversized garbage that become curbside eyesores.
But beneath my professed empathy was a secret envy. Scooters are not garbage. Quite the opposite: they're a sign of prosperity. A neighborhood with rented scooters is a neighborhood with interesting things to see or buy or otherwise enjoy. Scooters lying randomly about confirm an area's openness and livability, and they reflect an assumption by residents and visitors alike that here is a place worth exploring at ground level. Scooters, when they are a problem, are a problem of abundance.
Inglewood has never had any problems of abundance. My feelings about this are complicated. Much as I've lamented the lack of amenities the city deserves — starting with top-notch public schools — I like Inglewood as it is. I am proud of its lack of pretentiousness, its DIY energy, its organic sense of community. This is a town populated largely by blacks and Latinos who range from working poor to very comfortably middle class, a rare model of ethnic and economic diversity. The idea that that houses here would sell for a million dollars, after bringing an initial rush of feeling that I'd won the California lottery, leaves me appalled. Million-dollar houses would ruin our best asset, accessibility. This is a place that real people can still afford to live.
Enter the Fray: First takes on the news of the minute »
That first scooter on the corner brought a rush of fear; it seemed like an alien space ship bringing a dangerous substance from another universe. Then, quite against my will, I felt the massive head rush of another emotion: "We've made it! We've arrived!" I hated that one scooter could make me feel like this, that it stirred a belief I didn't even know I had, that a superficial sign of progress — if indeed that's what it was — could mean that Inglewood would be finally be getting those top-notch schools, with art galleries and six-dollar coffees hard on their heels.
Then it hit me: I don't want gentrification, I want abundance. The problem is that those two things have become entirely synonymous, leaving people in Inglewood, Leimert, and other remaining places of color wrestling with how to define improvement on our own terms. It also leaves us struggling to fit into the places we already occupy, and have occupied a long time. Such is our history.
After walking another block, I encountered another scooter. But I haven't seen another one since, nor have I seen anyone actually riding one. It's been a month. No sidewalk clutter, no more telltale signs of gentrification. This is, for total lack of a better word, progress.
Erin Aubry Kaplan is a contributing writer to Opinion.
---
A cure for the common opinion
Get thought-provoking perspectives with our weekly newsletter.
You may occasionally receive promotional content from the Los Angeles Times.