Op-Ed: After San Francisco, I worried L.A. would seem complacent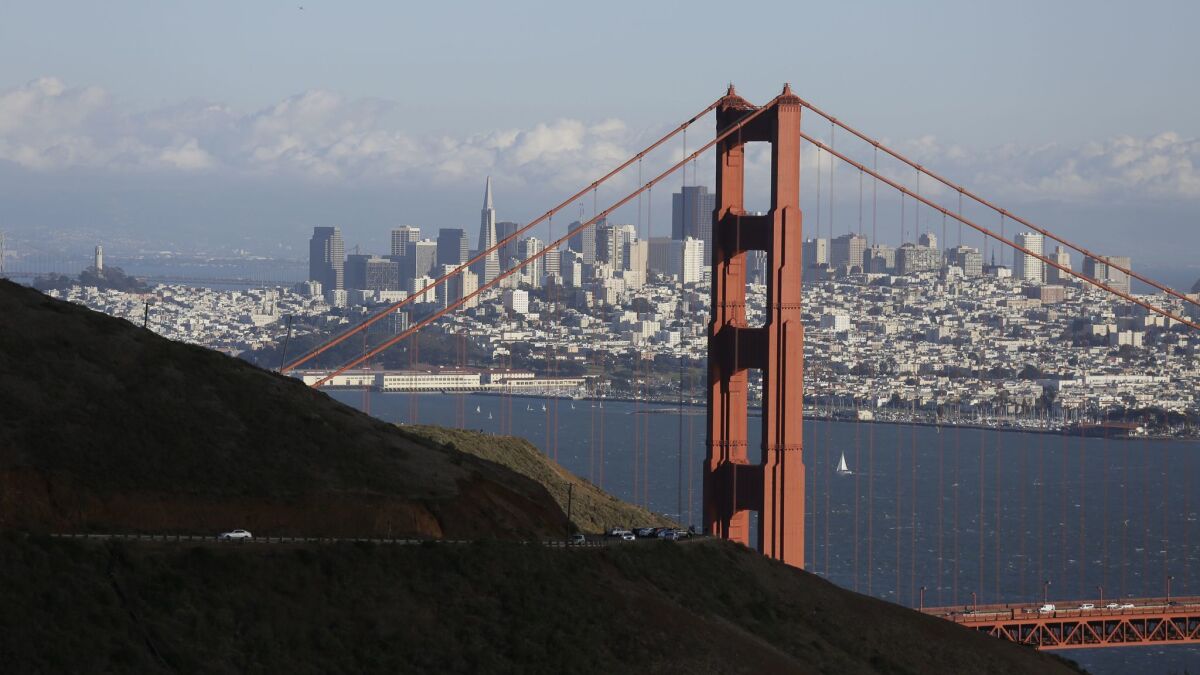 On my first day as director of the Los Angeles County Department of Health Services, in 2011, I walked into my downtown office and was struck by the view: mountains.
I had no idea there were mountains in Los Angeles. Having never lived in Southern California, I had a Brooklynite's view of L.A.: like New York City, but flattened like a pancake. I immediately called a friend of mine who grew up in L.A. "You never told me there were mountains in Los Angeles," I said. "You couldn't see them when I was growing up because of the smog," he said.
Over the next seven years, I would learn that L.A. had emerged not only from the smog, but from a host of "La La Land" clichés.
Coming from San Francisco, I had feared that I would find L.A. too complacent about healthcare issues that were important to me. After 20 years working in the San Francisco Health Department, anything would seem tame. San Francisco has a long tradition of in-your-face, out-on-the street activism. The AIDS crisis solidified this reputation, as the city coped with an overwhelming epidemic killing young, previously healthy men. Though many cities, including L.A., were affected by the AIDS epidemic, the concentration of gay people in San Francisco translated grief into anger and action.
L.A. is now home to a population San Francisco has lost.
I was part of a team that implemented a needle exchange. Our lawyers warned us that we could be arrested, as needle exchange violated California paraphernalia laws, but no one blinked — not my colleagues, not the Board of Supervisors, not Mayor Frank Jordan. Needle exchange was funded using public money in 1993. Other counties followed, including L.A.
San Francisco activism was not limited to AIDS. Healthy San Francisco brought the city to near universal healthcare coverage by requiring employers to provide their employees, including those working part time, with health benefits. The program also included people in the country illegally.
Another challenging but ultimately successful undertaking was a law to make tobacco vanish from the shelves of San Francisco pharmacies — the first such law in the country. Boston and several smaller communities followed.
The north-south differences were apparent from the moment I started interviewing for the L.A. job. When then-Supervisor Gloria Molina asked me whether I had any conditions for taking the job, I told her I wanted to continue to see patients. "Oh, you won't have time for a private practice," she said. "No," I explained, "I will see patients in our public hospitals, as I do in San Francisco." She approved, but her initial assumption was telling.
I also had an awkward meeting with the sheriff's investigators who vetted me for the L.A. job. They found numerous articles in which I was quoted on the subject of bath houses (as San Francisco health director, I opposed their reopening) and sex clubs (we insisted they not allow unsafe sex), and a photo of me with my arm around the Healthy Penis, a 7-foot cartoon character promoting safer sex. Apparently, I was not the usual new department head.
But while L.A. activism is more restrained, I found the county's public health community full of committed colleagues and courageous political and social leaders prepared to stand up for the most vulnerable.
These leaders welcomed our department's push to expand care to the uninsured. Now, L.A. has the largest health access program for the residually uninsured in the country, My Health LA.
Another program, Housing for Health, houses 4,000 people who were previously languishing in hospitals, in emergency rooms and on the streets. With the passage of propositions H and HHH, people voted with their wallets to help the homeless.
By comparison, the homeless problem in San Francisco seems almost insurmountable; there is no land to build housing on the tip of that beautiful peninsula. On the whole, the San Francisco of today is very different from the one I moved to in 1986. The intense gentrification and mass immigration of dot-commers has pushed out the artists, the aging hippies and the working poor.
In many ways, L.A. is now home to a population San Francisco has lost: people who are struggling with poverty but managing to keep their homes and families together under difficult conditions. Young people are still coming to L.A. to fulfill their dreams; they are not (yet) priced out of the market.
What I never completely adapted to was L.A.'s size. After all those years in San Francisco — a city of 46 square miles — the geography of L.A. County still overwhelms me. People say that in L.A. you have to think of yourself as living in a particular neighborhood. But the work of a county health director is not limited to a neighborhood.
In San Francisco, I could easily bicycle from our Bayview Health Center in the southeast to San Francisco General Hospital in the Mission to our Chinatown Health Services Center in the North.
In L.A., it would take two and a half hours to drive from our Long Beach Health Center to the High Desert Regional Health Center — and that's assuming no traffic. Perhaps the size of the county explains why, 6 1/2 years into the job, people meeting me for the first time would say: "Oh, you're the new guy they just brought down from San Francisco."
One thing I love about the size of L.A. is the scope of its diversity. On my daily bicycle ride to the office, from Hancock Park to downtown, I pass through little Bangladesh, a big community of Guatemalans, Historic Filipinotown and the largest community of Koreans outside of Seoul. When I go to our clinic in East L.A., all the signs are in Spanish and all business is conducted in Spanish. I feel that I am fulfilling a lifetime goal of serving as a doctor in Mexico without even having left the U.S., apologizing along the way for my Brooklyn-accented Spanish.
Now, after 30 years in California, I am happy to be returning to my hometown, New York, a city with the first public hospital in America, Bellevue, and a pioneer in the care of people with HIV/AIDS. I have enjoyed working in both San Francisco and L.A. more than I can say, but the biggest surprise may be this: When it comes to California, it's not San Francisco where I am leaving my heart.
Mitchell Katz served as director of the Los Angeles County Health Agency and director of the Los Angeles County Department of Health Services.
Follow the Opinion section on Twitter @latimesopinion or Facebook
---
Life is stressful. Our weekly mental wellness newsletter can help.
You may occasionally receive promotional content from the Los Angeles Times.