Op-Ed: If you want better schools, don't evaluate teachers, coach them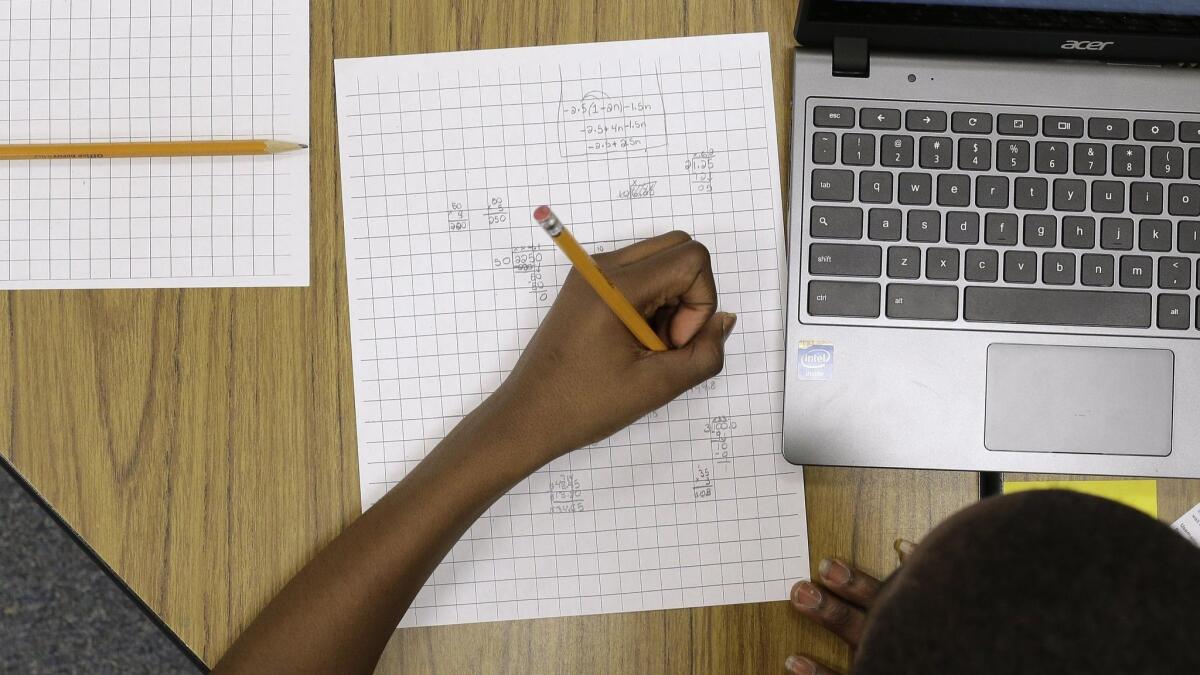 The Gates Foundation believed it knew how to boost high school graduation rates and cut the dropout rate — enhance the quality of teaching. Better teachers would give students a more rigorous education and improve their success rate.
And the way to get better teachers, the foundation decided, was to monitor their individual classroom performance and their students' achievement test results. Those whose students fared well would receive bonuses and be promoted to positions with greater responsibility. Those who were deemed ineffective would get pink slips.
Over the course of five years, beginning in 2009, the foundation spent more than $200 million to test this carrot-and-stick strategy in three urban school districts and four charter school organizations. The results were disappointing. Even with teachers that the program rated as highly effective, neither achievement test scores nor the dropout rate was appreciably better than in similar schools that hadn't participated in the initiative.
Teachers went to workshops, visited other classrooms, had lesson study experts visit their classes and planning sessions. The math team was coached.
Compare those results with a very different kind of teacher and student improvement strategy. At John Muir Elementary School in San Francisco, over the last three years, the math department has adopted a teaching method — "lesson study" — that emphasizes faculty coaching and intensive teamwork. The teachers identify something their students are struggling with, then dive into the research on what the kids' possible problems are. After their investigation, they together design a lesson that they all teach. Afterward, they assess it, and if students are still confused, it's back to the drawing board.
At John Muir, the students — almost all African American and Latino, mostly poor, a fifth of them homeless — were doing miserably in math. Math performance, like reading, is a bellwether for future learning problems. In 2015, only 15% of John Muir students passed the statewide math exam. But three years later, the percentage had more than doubled, to 35%.
That may not sound like massive success, but in elementary school terms it is. A 35% pass rate is far above the average for similar students in San Francisco, and nearly matches the statewide average for all students. (African American students at John Muir improved the most. Three years ago, just 10% met the standards; last year nearly half did.)
What the math teachers discovered was that they needed ways to get kids out of the rut of just crunching numbers.
"In most elementary school classrooms, the teacher delivers a lesson and then randomly calls on students," Sara Liebert, a fifth-grade teacher and the school's math coordinator, tells me. "Those who come up with the correct answer are deemed 'good' at math and those who get it wrong are dismissed as 'bad.'"
Stand-and-deliver is now verboten at John Muir. The students are presented with situations to solve that aren't merely about manipulating random numbers to get right and wrong answers. "Students need to understand why the context of the problem matters," says Liebert.
She uses division with remainders to illustrate the approach. "Suppose you have 25 kids and six balloons. You have one balloon left over. That's a remainder of one — end of story. Now suppose 26 kids are being driven to Disneyland and each car seats four kids. You can't leave the two kids who don't fit in six cars on the sidewalk and treat them as 'remainders.'" The students get the need to do the division, and they understand how many kids are left over. They also come up with another part of the solution: "You need seven cars."
"Math is a conversation, a discovery," says Rashida Carter, another math teacher at the school. "They're taking responsibility for their own learning. They don't think of it as 'us versus them' — it's 'us.'"
Enter the Fray: First takes on the news of the minute from L.A. Times Opinion »
In crafting their lesson study approach, John Muir's math department had help. Teachers went to workshops, visited other classrooms, had lesson study experts visit their classes and planning sessions. The math team was coached, in other words. Thanks to a foundation grant, 11 teachers even went to Japan, where the technique is widely used. It's working so well for math that the faculty is starting to use it in other subjects, which likely explains why the school's reading test scores are also rising.
Two-thirds of the students at John Muir are still doing subpar math work, so no one there is declaring mission accomplished. But the teachers are convinced that the lesson study approach, with its intense collaboration and teacher coaching, will keep increasing the numbers of students who will succeed.
"If teachers are supported with good ideas, have the opportunity to dig into strategies for teaching specific content, given time to collaborate with colleagues and receive coaching, classroom practice is transformed — and so is student learning," says Linda Darling-Hammond, president of the Learning Policy Institute and an emeritus professor at Stanford. Greg Anrig, author of "Beyond the Education Wars" and vice president for programs at the Century Foundation, summarizes a mountain of research on successful schools and teaching this way: "effective, purposeful collaboration."
The Gates Foundation hasn't given up on improving teaching, but in reaction to the failure of its high-stakes evaluation initiative, it has shifted gears. The foundation is investing $1.7 billion to revamp instructional material and help networks of schools scale up "proven models." It would do well to check in on Sara Leibert's fifth-grade math classroom.
David L. Kirp is a senior fellow at the Learning Policy Institute and a professor in the graduate school at UC Berkeley.
Follow the Opinion section on Twitter @latimesopinionand Facebook
A cure for the common opinion
Get thought-provoking perspectives with our weekly newsletter.
You may occasionally receive promotional content from the Los Angeles Times.