Op-Ed: Why firing bad teachers isn't nearly as important as creating good ones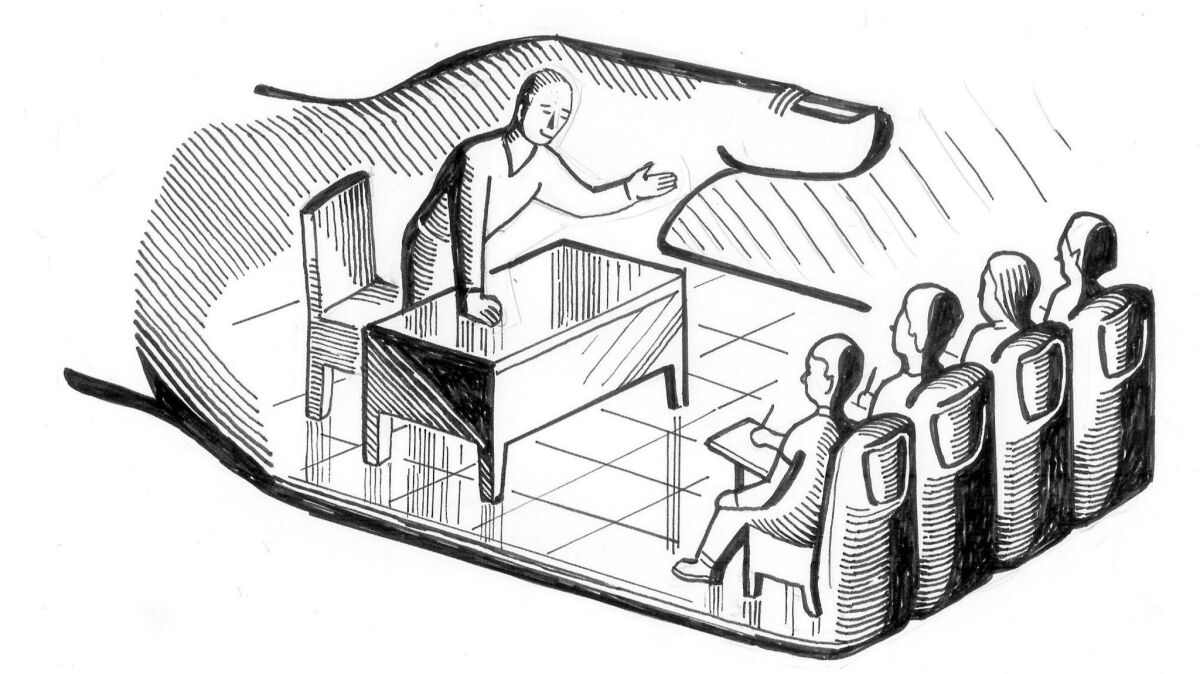 Vergara vs. California, the lawsuit that sought to overthrow teacher tenure and seniority rules, was itself undone in late August. The California Supreme Court let stand a lower court finding that teachers' job protections aren't necessarily depriving students of their constitutional right to a decent education. Supporters of teacher unions called it a crucial victory for public education; their opponents, who favor a business-style model for public schools, called it a disaster.
The truth is, it's neither. The Vergara case is mostly a sideshow when it comes to efforts to improve education. However easy or difficult it is to fire truly bad teachers, that alone won't make a crucial difference in how well our kids are educated. Instead, we should be looking for more ways to make the majority of teachers — not terrible, not great — into excellent educators.
Bad teachers, much as they can set a student behind, aren't the prevailing experience of most children. Even those who have declared war on tenure estimate that dreadful teachers make up only about 5% of the teaching force. Not surprisingly, the California Teachers Assn. puts the number much lower, at about 1-3%. (Because there is no state-wide evaluation system, there are no hard and fast numbers.)
Using the higher estimate, and depending on how many electives a student takes in middle and high school, it works out to maybe two depressingly weak teachers in a child's K-12 career. Everybody hates getting a bad teacher — but two teachers out of 13 years of schooling? Or, if you up the estimate to 7%, three? That doesn't amount to disastrous public education.
Unfortunately, most students and parents can't count many more teachers who in their experience are shining stars of inspiration and knowledge. Instead, schools are populated with good-but-not-great and conscientious-but-middling teachers.
These teachers aren't candidates for firing. Even in workplaces with no job protections, it's a badly run company where employers fire a hefty percentage of their staffs each year. Besides, the theoretically fabulous teachers that would replace those who are let go simply don't exist. There is instead a teacher shortage, a lack of candidates to replace teachers leaving the profession on their own. Yet somehow the conversation about teacher quality is dominated by issues of firing and evaluation.
Creating better teachers is more complicated — and more expensive — than claiming we can drastically improve education with pink slips. But in fact, pretty great teachers can be made. Finland does it, in part, by requiring not one but three levels of practical teaching experience for would-be educators, according to a 2010 Stanford University report, carefully overseen by master educators. (Finland also draws great teaching candidates because the society deeply respects teachers as professionals, on a par with doctors or lawyers.)
The Cotsen Foundation for the Art of Teaching is trying to create a similar benefit for Southern California teachers. School by school, it funds great teachers who can then be freed — as in completely released from classroom duties — to lavish time on the practical training of good teachers. Here's how it works: At schools that apply, five to seven teachers who want to improve their skills are selected for two-year fellowships; one outstanding teacher is selected as their mentor. For two years, the mentor sits in on the other teachers' classes every week, helping them see what they do well and how they could do better.
The foundation not only supports the mentor teacher, it pays for substitute teachers so that fellows can visit the classrooms of other greats in the profession in order to soak up their secrets. It videotapes the fellows, so they can literally see what they're doing. And it provides them with experts in the subjects they teach to better their understanding of the subject matter.
This intensive mentoring is happening at 23 schools in L.A. and Orange counties this academic year, including a few in L.A. Unified. At least two-thirds of the schools selected to participate have large numbers of low-income students. Cotsen executive director Jerry Harris says assessments of the program show it's working long term. Teachers cite gains in test scores among their students and dramatic changes in their classroom technique: "I've made most of my growth as a teacher in the last two years rather than in the last 13," said a Long Beach elementary teacher from Long Beach about her fellowship.
That doesn't mean one smallish foundation has found the only answer or the best one to improving schools. But its goal — making adequate teachers great — is more sensible than an all-out war on tenure and seniority. A single inspiring teacher can change a student's life; we can't fire our way to that goal.
Karin Klein is a freelance writer based in Southern California who frequently writes about education.
Follow the Opinion section on Twitter @latimesopinion and Facebook
Our six-week newsletter will help you make the right decision for you and your property.
You may occasionally receive promotional content from the Los Angeles Times.