Op-Ed: Journalists are pushing back against Trump's attacks on press freedom. Where is everyone else?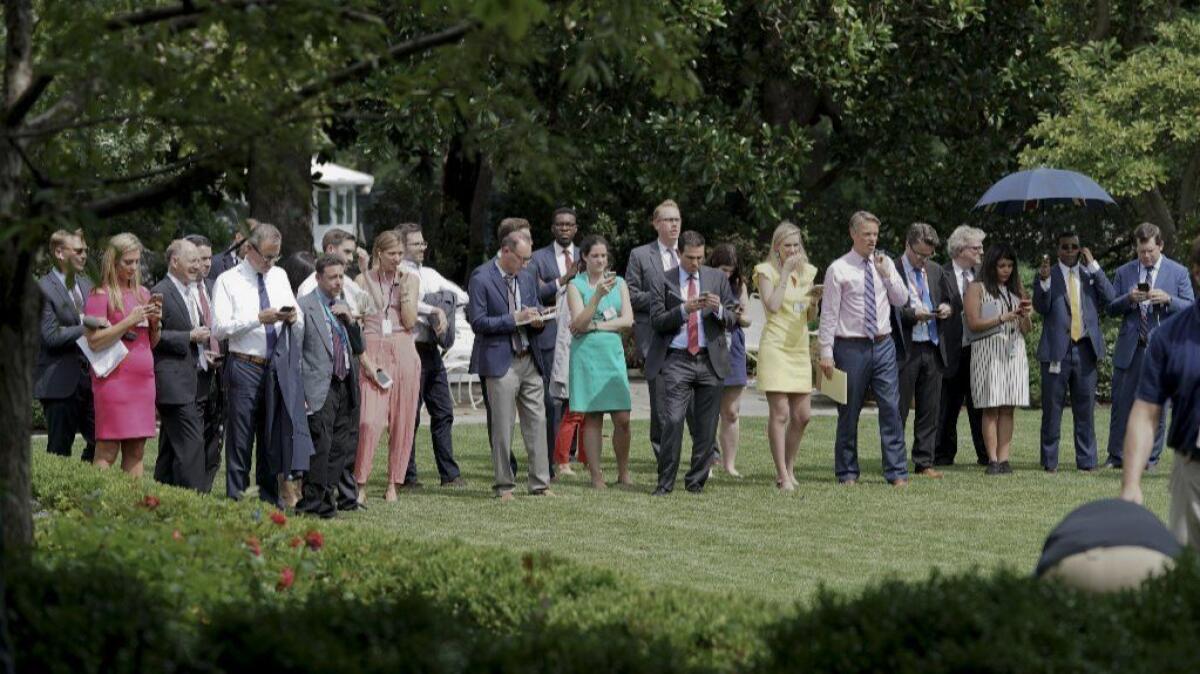 President Trump's constant attacks against the news media have made it dangerous to practice journalism, and not just for the White House press corps.
The opinion editor at the Tennessean in Nashville, David Plazas, recently received an email that read, in part: "Most of us are armed and sworn to protect the President and The Constitution against ALL enemies foreign and DOMESTIC and we will do so."
At the Chicago Tribune, columnist Rex Huppke has received two direct threats in recent months, including a letter sent to his home that read: "You're going to look awfully stupid trying to keyboard with two broken arms." For the first time in his 18-year journalism career, Huppke was concerned enough to call the police.
Journalists are fighting back, in large part by keeping their heads down and reporting doggedly and intrepidly. Some are responding to Trump's rhetorical assault more directly. At a White House meeting a few weeks ago, the publisher of the New York Times, A.G. Sulzberger, implored the president to stop calling the press "the enemy of the people." And yesterday, more than three hundred newspapers ran editorials denouncing the administration's war on the press.
Journalists are doing a remarkable job defending their profession. Where is everyone else?
Journalism is not an easy institution to rally around. But if there were ever a time for citizens to defend the press, this is it.
All this has me thinking about Elijah Lovejoy, but not for the obvious reason. Lovejoy was a 19th century newspaper publisher and abolitionist who was killed by a mob while defending his printing press. The Newseum has described him as the "first American martyr for the press." Former U.S. Sen. Paul Simon, himself a former newspaperman, wrote a book about Lovejoy, called "Freedom's Champion."
Lovejoy's story feels deeply relevant today. In the 1830s, he put out a small newspaper in St. Louis called the Observer. He used the paper to report on and decry the institution of slavery, and at one point, a mob of citizens destroyed his printing press. A local judge condoned the attack, saying he could "see no reason why the Press should be a means of widespread mischief." The judge also asked: "Are we to be the victims of those sanctimonious madmen?"
Lovejoy fled to the other side of the Mississippi River and settled in the town of Alton, Ill. Unlike Missouri, Illinois was a free state. But he met resistance there, too. Again citizens destroyed his press, throwing parts of it in the river.
Townspeople in Alton drafted a resolution that, on the one hand, condemned the violence against the Observer, but, on the other, requested that Lovejoy discontinue his anti-slavery editorials, which they called "incendiary doctrines which alone have a tendency to disturb the quiet of our citizens and neighbors."
In response, Lovejoy took to task not those who opposed his views, but rather those who questioned his right to speak his mind and to publish the truth. At a community gathering, he admonished his neighbors. "I know that I have the right to freely speak and publish my sentiments," Lovejoy said. "What I wish to know of you is whether you will protect me in the exercise of this right?"
Few came forward. Four days later, while trying to protect his new printing press from being set on fire, Lovejoy was shot and killed by a mob. In his final days, what so distressed Lovejoy was not his ideological opponents but rather the decent people of Alton who refused to take a stand.
Lovejoy recognized the need for citizens to speak out in defense of a free press. That need has become urgent once again.
There are countless contemporary examples of reporters watching out for ordinary Americans who don't have access to wealth or power.
Enter the Fray: First takes on the news of the minute from L.A. Times Opinion »
Coal miners could celebrate the Center for Public Integrity's work exposing unsavory ties between doctors and coal companies and their efforts to deny healthcare for workers with black lung disease. Veterans could extol the Colorado Springs Gazette series about the military's practice of dishonorably discharging injured soldiers. Female athletes could publicly applaud the Indianapolis Star's reporting on Dr. Lawrence G. Nassar's serial sexual abuse at Michigan State University and beyond.
The list of examples is endless, because the core mission of a free press is holding people in power accountable and keeping an eye out for the rest of us.
After Lovejoy gave his speech at the town meeting, a young man, Dr. Benjamin K. Hart, wanted to say something that might turn the tide and rally support for Lovejoy. But he didn't.
"I hesitated," Hart said in an interview many years later. "And hesitated a moment too long. I have never forgiven myself for my hesitation."
Journalism is not an easy institution to rally around. But if there were ever a time for citizens to defend the press, this is it.
Earlier this month, at a rally in Wilkes-Barre, Pa., Trump called reporters "horrible, horrendous people," and his supporters chanted "CNN sucks." That same week, the Chicago Tribune held a training session to teach its reporters what they should do in the event of an active shooter. What's more to be said?
Alex Kotlowitz teaches at Northwestern University's Medill School of Journalism. He is the author of four books, including the forthcoming "An American Summer."
Follow the Opinion section on Twitter @latimesopinion or Facebook
A cure for the common opinion
Get thought-provoking perspectives with our weekly newsletter.
You may occasionally receive promotional content from the Los Angeles Times.