Op-Ed: States could succeed in getting Trump's tax returns where Congress has failed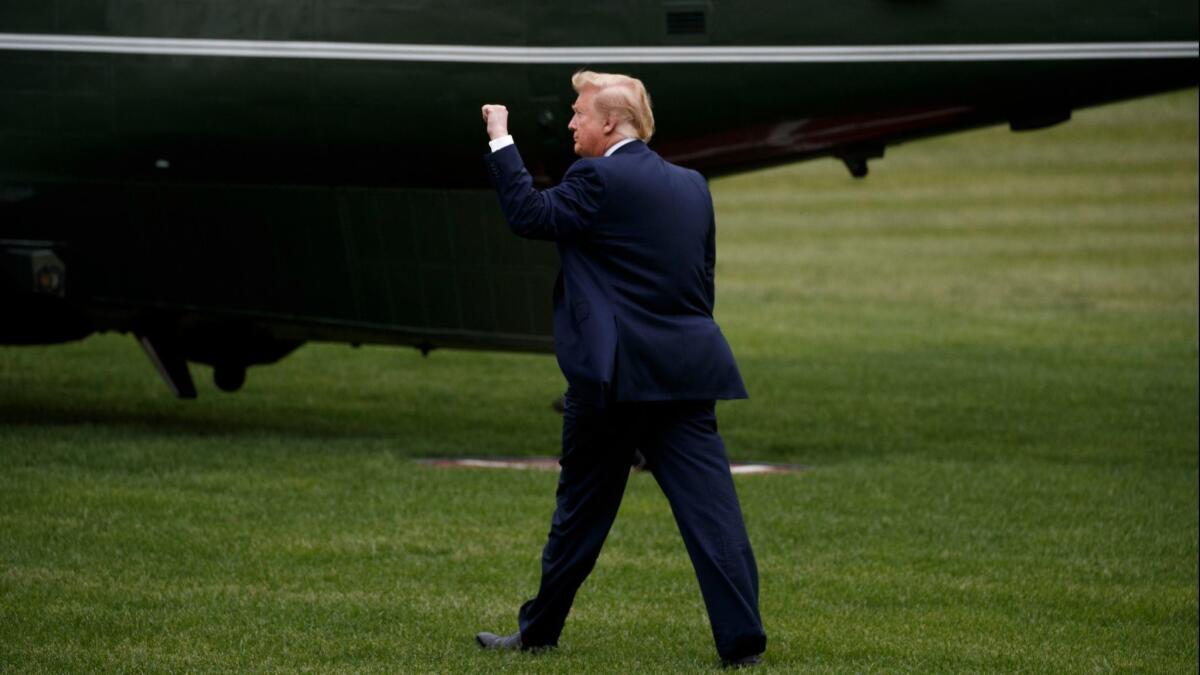 To date, efforts to obtain President Trump's personal income tax returns have gone nowhere. It is clear the president will never release them voluntarily, and the Treasury Department has stonewalled the House Ways and Means Committee's request for them, despite a federal statute that allows Congress to review any taxpayer's income tax returns.
In attempting to justify his refusal to comply with the congressional request, Treasury Secretary Steven T. Mnuchin "determined that the Committee's request lacks a legitimate legislative purpose" and that the Treasury Department was "not authorized to disclose the requested returns and return information." If the issue ends up in the federal courts, which seems a certainty now, it will likely take months or years to resolve.
But there may be another way. A number of states, including California, New Jersey and Washington, are currently considering legislation that would require presidential candidates to release their personal income tax returns as a condition of being eligible for either the primary or general election ballot. The bills pending in New Jersey and Washington would require the release of personal income tax returns to be eligible to receive the states' electoral college votes; California would require disclosure in order for a candidate to appear on the state's presidential primary ballot.
Enactment of at least one of these mandatory disclosure measures seems likely.
Similar bills have previously passed the New Jersey and California legislatures only to be vetoed by their governors. In California, then Gov. Jerry Brown worried about the precedent such a law would set. "Today we require tax returns," he wrote to explain his veto decision, "but what would be next? Five years of health records? A certified birth certificate? High school report cards?"
Both states now have new governors, however, who might take a different view. What's more, enactment of at least one of these mandatory disclosure measures seems likely. If a single state imposes such a requirement, of course, all voters, everywhere, would have access to this critically important information.
When this happens, presidential candidates, and particularly the Trump campaign, are certain to argue that such laws are unconstitutional. So which approach would be most likely to stand up to such a challenge?
States possess very broad power over the selection of presidential electors to represent the state in the electoral college. The currently pending legislation in New Jersey and Washington would deploy this constitutional authority to require candidates to disclose several years of tax returns (with confidential information such as Social Security numbers redacted) in order to be eligible to receive the state's votes in the electoral college.
The Supreme Court has consistently upheld the freedom of states to determine how to select their representation in the electoral college. One decision, from 1892, "leaves it to the Legislature exclusively to define the method" of selecting presidential electors. And in Bush vs. Gore, decided in 2000, conservative members of the Supreme Court, including current Justice Clarence Thomas, found that "in a Presidential election the clearly expressed intent of the legislature must prevail."
Enter the Fray: First takes on the news of the minute »
A candidate might attempt to challenge state laws adding a disclosure requirement to qualify for electoral college votes by saying they intrude on constitutional guarantees of privacy or free speech, or by challenging them for imposing an additional requirement for serving as president beyond those set forth in the Constitution (namely age, residency and being a natural-born citizen). Still, the states would have a very strong argument in citing their long-enshrined right to decide on a slate of electors.
California's legislation, like similar bills pending in 18 other states, takes a different and possibly more problematic approach. Its pending bill, which cleared the state Senate last week, would require all candidates appearing on the presidential primary election ballot to submit five years of tax returns to the secretary of state, who would then redact them and publish them on the web. The problem with this approach is that in primary elections, the political parties have a much stronger constitutional claim than states to regulate eligibility, since these elections apportion delegates to their national nominating conventions. A constitutional challenge from one of the parties citing the 1st Amendment might well result in invalidation of California's law.
In an ideal world, Congress would enact a statute mandating greater presidential financial transparency. This would help them to better enforce the Emoluments Clause and also to ensure effective oversight of a president's potential conflicts of interest. But since there is no realistic possibility that Congress will enact such a law, state legislation is worth a shot.
Ronald J. Krotoszynski Jr. is a law professor at the University of Alabama and author of "Privacy Revisited: A Global Perspective on the Right to Be Left Alone."
A cure for the common opinion
Get thought-provoking perspectives with our weekly newsletter.
You may occasionally receive promotional content from the Los Angeles Times.