Op-Ed: Why is the Bible so offensive?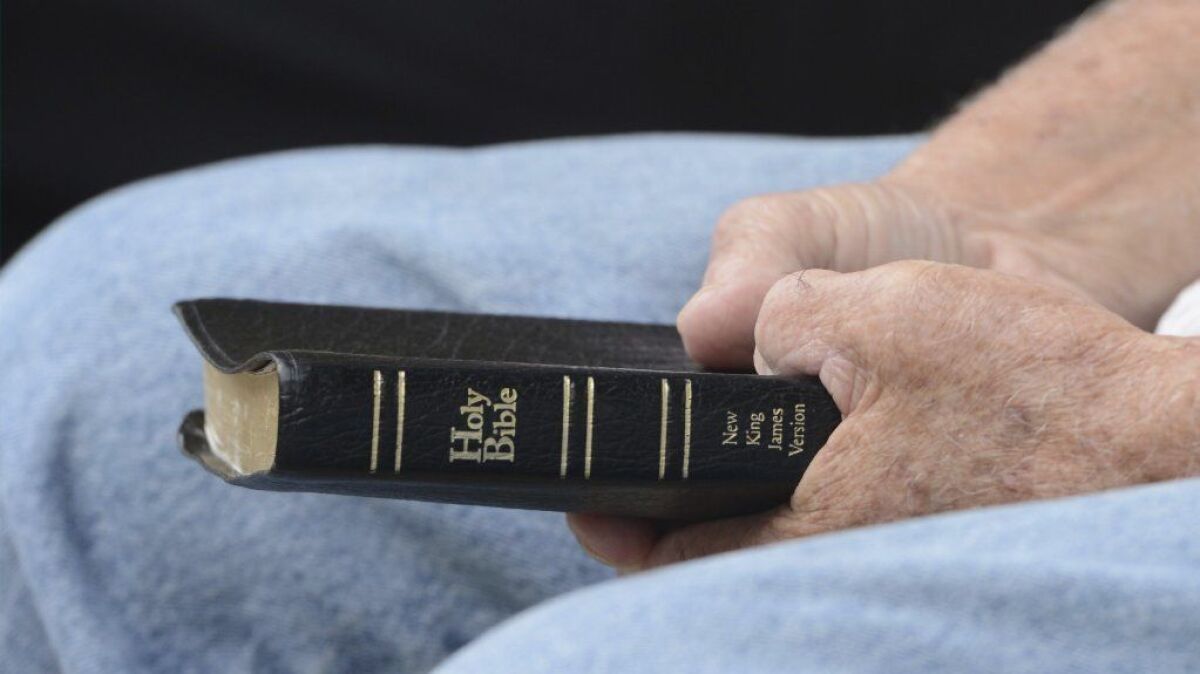 Would you believe it if I told you the mere sight of the Bible is offensive to some people?
This week, my church is holding its SoCal Harvest event for the 29th year in a row. Formerly known as Harvest Crusade, this annual gathering is one of the largest evangelical outreach events in the world. As many as 100,000 people will fill Angel Stadium this evening and the following two days, and a good portion of them will find hope, purpose and meaning for their lives.
For the record:
12:35 p.m. Aug. 22, 2018This story originally stated that 80% of Americans, including 71% of college graduates, believe that the Bible is the inspired word of God. Actually, only 47% of American adults, including 50% of college graduates, said they believed this.
Some people are pretty upset about SoCal Harvest. Not because of anything I just mentioned, but because, in a series of billboards we use to promote the event, there's a photo of me holding a Bible.
A real estate company that owns one of the most popular malls in Southern California said it received multiple complaints from people who found the image of the Bible offensive, and at least one "serious threat." The Bible disturbed people so much that one local business felt forced to remove the ads completely.
It's often said that a Bible that is falling apart is an indication of a life that isn't. What's offensive about that?
Apparently, in our intolerant culture, we no longer can display the Bible in public.
The art in question was a tribute to my hero and mentor, the late Rev. Billy Graham, who often lifted the Bible high over his head as he preached to stadiums full of people. We hold the Bible high, just like Billy did, because it has changed our lives. The same is true for millions of other people; and it has been true for centuries.
Harvard, Yale and a number of the other original nine colonial colleges in America were established by people who believed in the Bible. The Salvation Army, which has helped countless vulnerable people, was started by a man who believed in the Bible and lived accordingly. The abolitionist movement was led by men and women who believed the words in the Bible and took them to heart. And let's not forget Martin Luther King Jr., whose celebrated speeches, which in many ways were really sermons, are now enshrined in our collective consciousness.
And yet, here we are, having to tiptoe around some who find it offensive.
Most of us know that the Bible is a powerful book. When we swear people into office or take their testimony in a court of law, we often ask them put one hand on the Bible. When a couple is married, a child is born or a loved one passes, many of us write their names in family Bibles.
We can find Bibles in nearly every hotel room in America, and most Americans have at least one Bible in their home. In fact, 47% of American adults, including 50% of college graduates, believe the Bible is the inspired word of God.
Enter the Fray: First takes on the news of the minute from L.A. Times Opinion »
At the same time, there is a significant disconnect. Half of those who claim to read the Bible aren't able to name the four Gospels in the New Testament. (The names are not John, Paul, George and Ringo.) SoCal Harvest exists in large part to help bridge this disconnect for as many people as possible.
We believe the Bible is God's love letter to humanity. It's for people who do not want to be controlled by their passions; people who do not want so much pain in life; and people who want better relationships with others. The Bible is for people who want to know the purpose of this life and enter Heaven in the next one.
As a 17-year-old kid searching for meaning and strung out on drugs, I heard the words in the Bible and began a transformation that changed the course of my life. Forty years later, when my son Christopher died suddenly in a car crash at the age of 33, the Bible became much more than a book to me. It was my lifeline.
It's often said that a Bible that is falling apart is an indication of a life that isn't. What's offensive about that?
Pastor Greg Laurie is the senior pastor at Harvest Christian Fellowship in Riverside. He is the author of more than 70 books, the host of the national radio broadcast "A New Beginning" and the founder of Harvest Crusades.
Follow the Opinion section on Twitter @latimesopinion or Facebook
Our six-week newsletter will help you make the right decision for you and your property.
You may occasionally receive promotional content from the Los Angeles Times.