Op-Ed: Why real change in Cuba won't come easy or fast
American aid worker Alan Gross, a former Cuban prisoner released on humanitarian grounds, pauses while speaking at a news conference in Washington, D.C.
(Andrew Harrer / Bloomberg)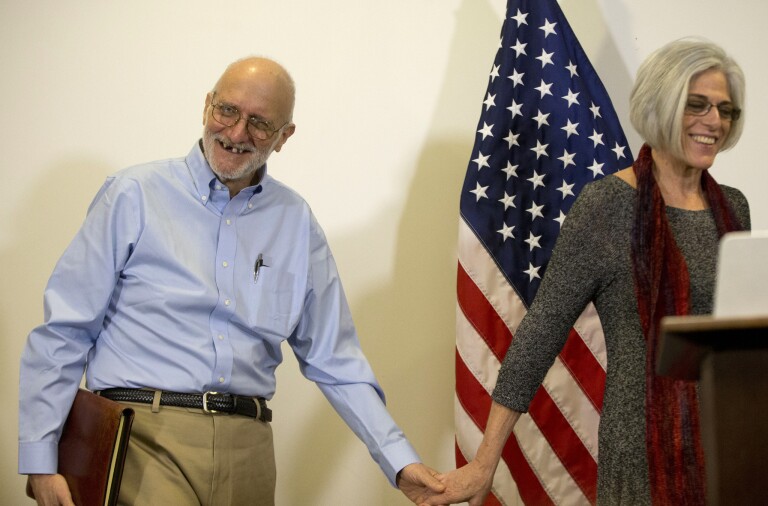 Alan Gross smiles as he walks in with his wife Judy before speaking to members of the media at his lawyer's office in Washington. Gross was released from Cuba after 5 years in a Cuban prison.
(Pablo Martinez Monsivais / Associated Press)
An image from video on the state TV channel Cubavision shows President Raul Castro welcoming the three Cuban agents, from left, Gerardo Hernandez, Antonio Guerrero and Ramon Labanino, after their release by the U.S. and arrival in Havana.
(Cubavision )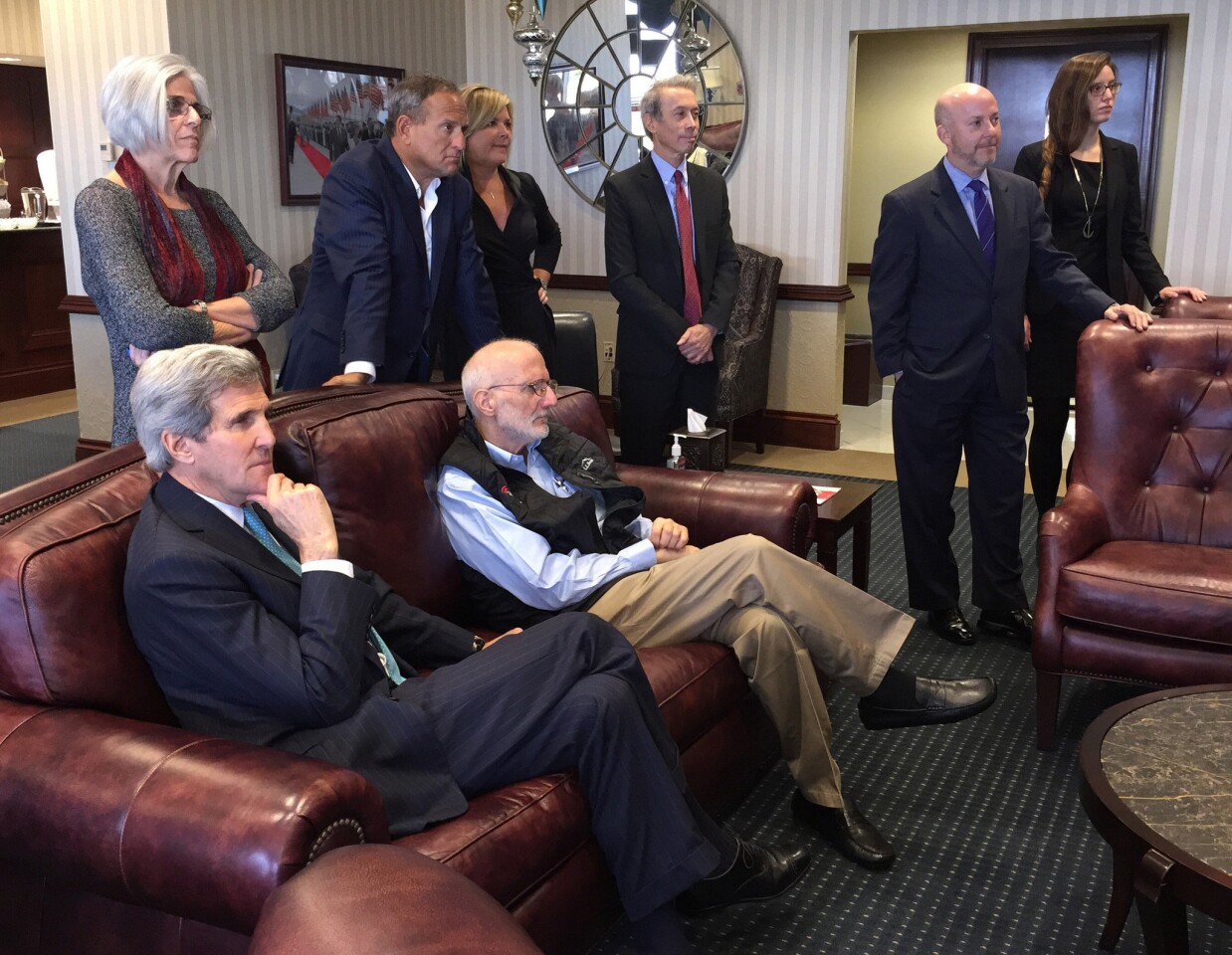 Secretary of State John F. Kerry, left, Alan Gross, foreground center, and others at Andrews Air Force Base in Maryland watch President Obama's address. Gross, a government contractor released by Cuba, arrived home Wednesday.
(Jill Zuckman )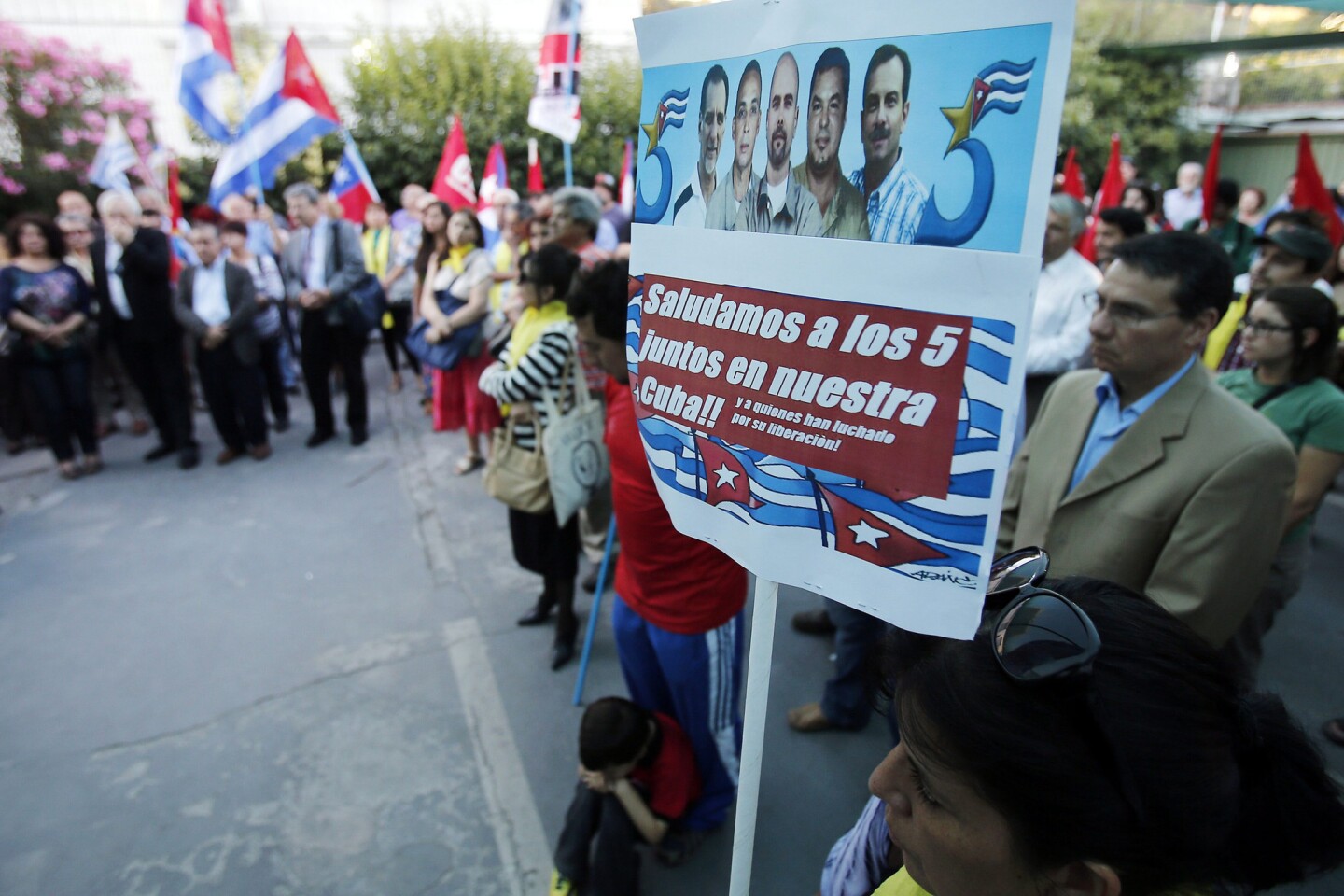 A group gathered outside the Cuban Embassy in Santiago, Chile, celebrates the announcement of U.S.-Cuba plans to normalize relations.
(Mario Ruiz / European Pressphoto Agency)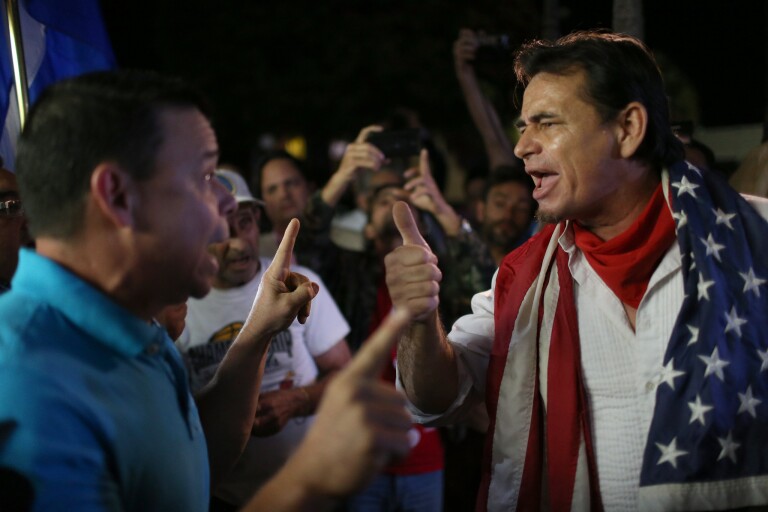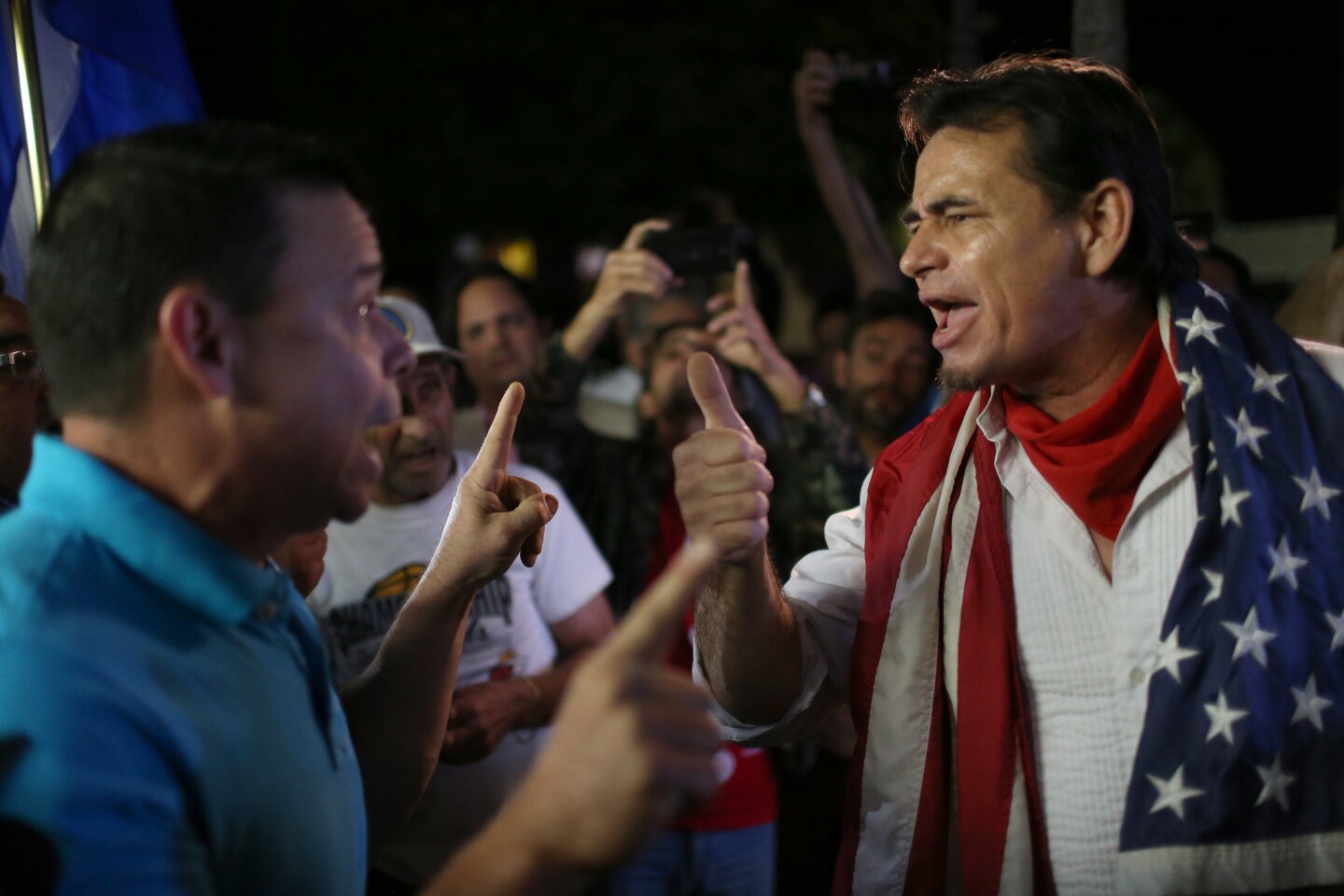 Lazaro Iglesias, left, who opposes the change in Cuba policy, debates outside a Little Havana restaurant in Miami with Peter Bell, who supports the rapprochement plan.
(Joe Raedle / Getty Images)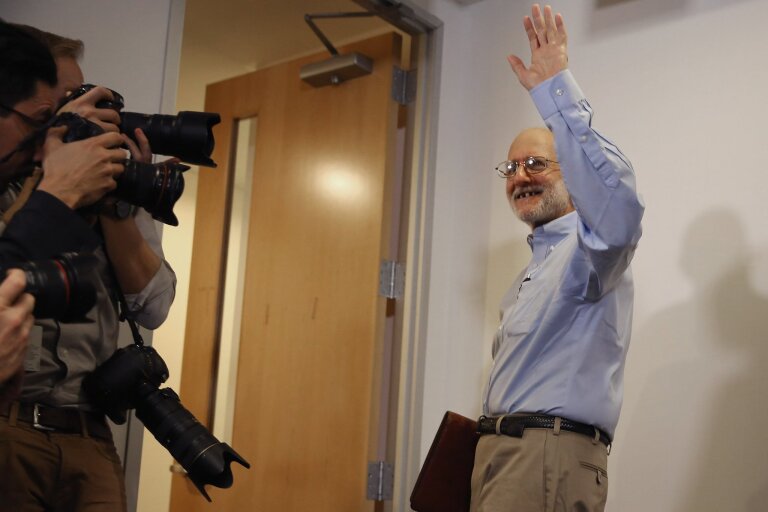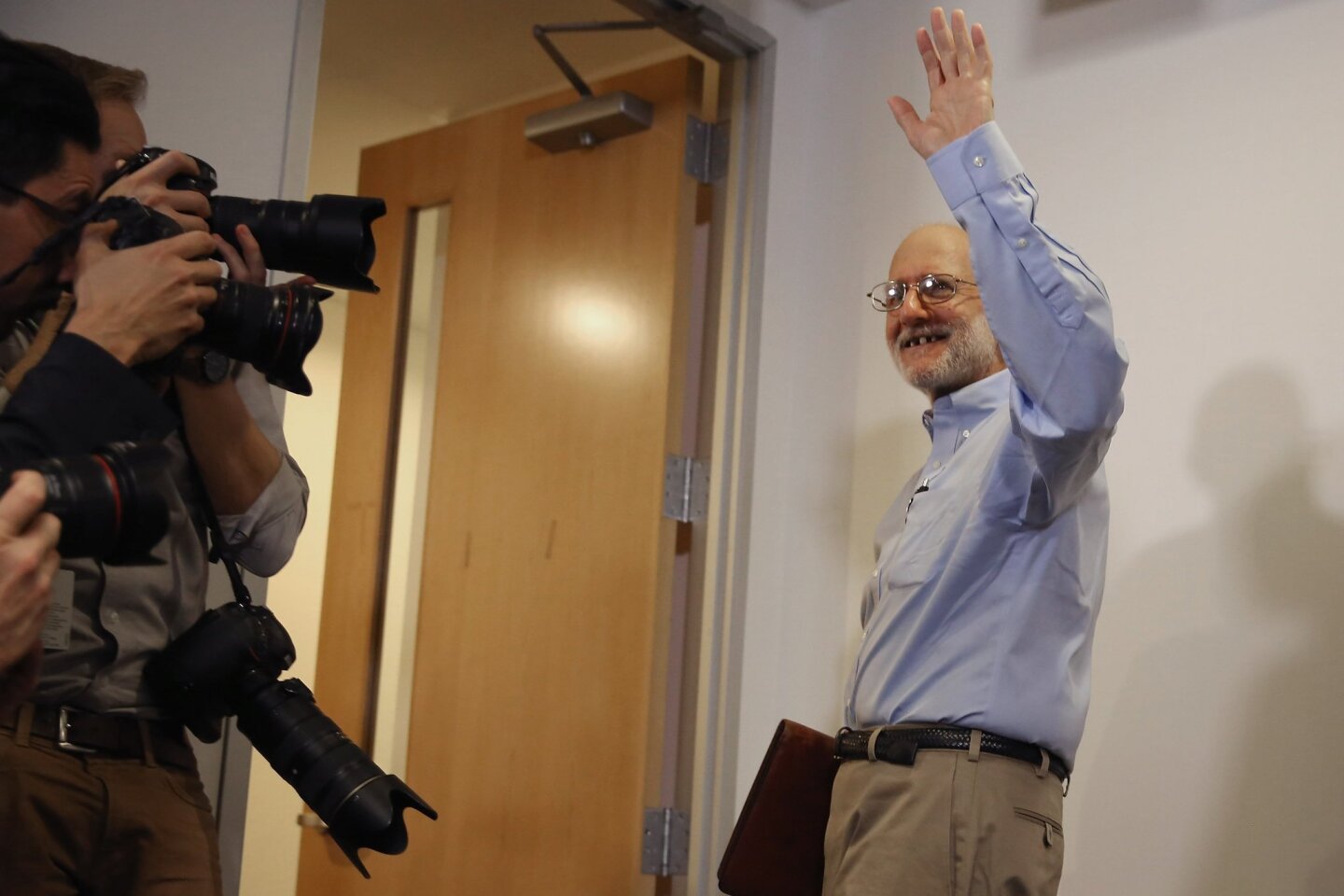 Alan Gross waves goodbye after making a statement to the news media at the law offices of Gilbert LLC after arriving back in the United States.
(Chip Somodevilla / Getty Images)
Screenshot from the Cuban TV showing President Raul Castro addressing the country in Havana. Castro said that Cuba had agreed to reestablish diplomatic ties with Cold War enemy the United States after a prisoner swap paved the way to a historic breakthrough.
(AFP/Getty Images)
Manuel Lopez watches a Spanish television network's coverage of Cuba President Raul Castro's speech inside Lopez' cigar shop in Union City, N.J.
(Julio Cortez / Associated Press)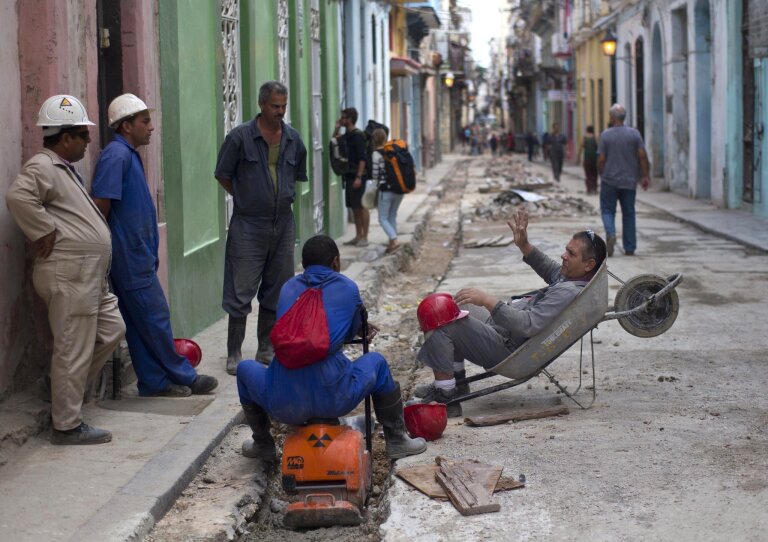 Construction workers speculate what Cuba's President Raul Castro will announce in an upcoming live, nationally broadcast speech in Havana, Cuba.
(Ramon Espinosa / Associated Press)
A file photo of Alan and Judy Gross of Potomac, Md. Media reports on Wednesday state that the U.S. and Cuba have struck a prisoner swap agreement securing the release of U.S. citizen Alan Gross, who had been imprisoned in Cuba for alleged crimes against state security.
(Gross Family / EPA)
Supporters rally on behalf of imprisoned U.S. citizen Alan Gross, calling for President Barack Obama to help free Gross, who was arrested there in 2009.
(Paul J. Richards / AFP / Getty Images)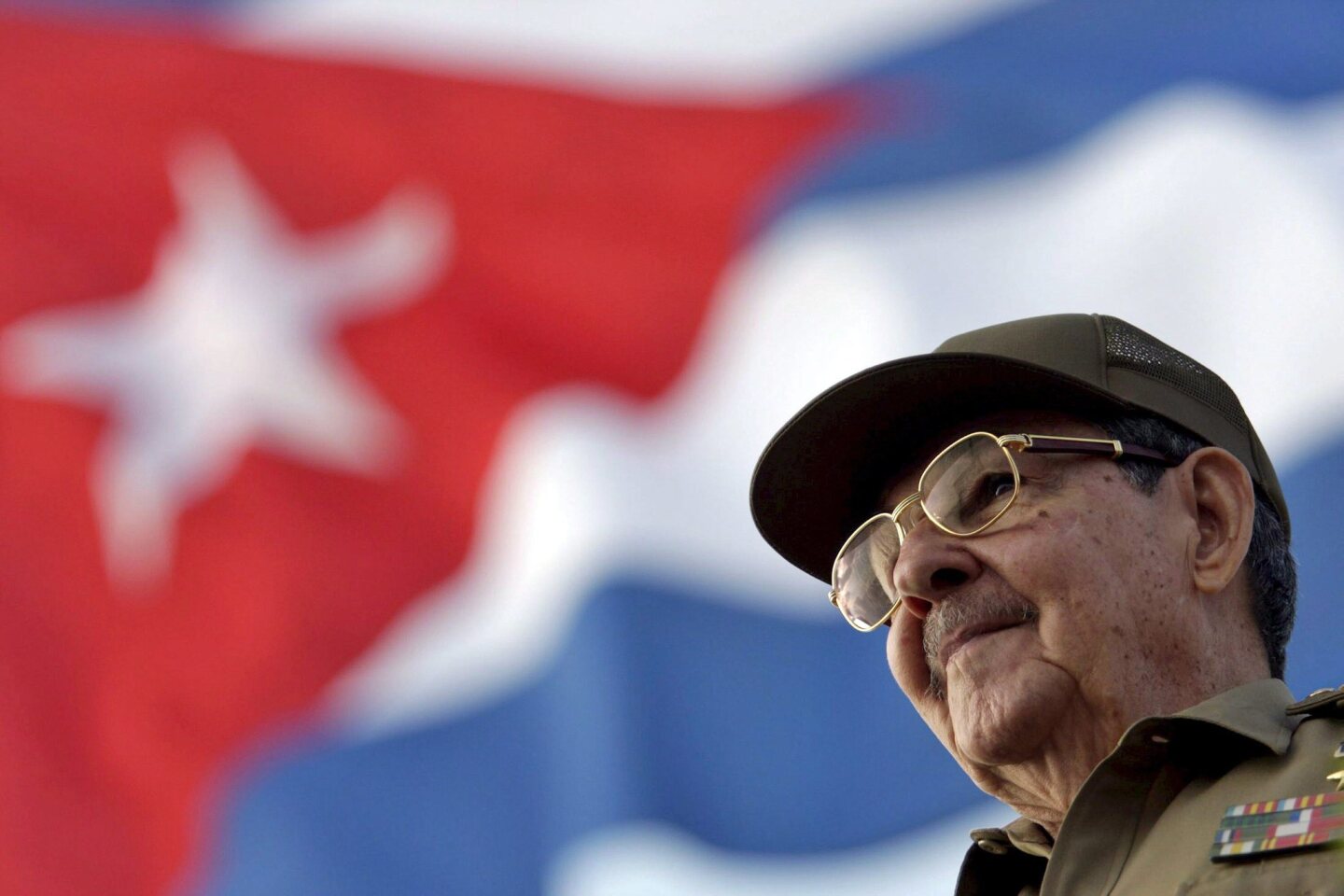 Cuban President Raul Castro watches the parade during the celebrations marking World Labor Day at Revolution Square in Havana. Raul Castro officially took over as president in 2008.
(Sven Creutzman / EPA)
President Barack Obama, left, shakes hands with Cuban President Raul Castro during the official memorial service for former South African President Nelson Mandela at FNB Stadium in Johannesburg, South Africa.
(Chip Somodevilla / Getty Images)
Ernesto Guevara March, the youngest son of revolutionary leader Ernesto Che Guevara, joins a group of Harley Davidson fanatics in a peregrination from Havana to the mausoleum of his father in the Cuban eastern town of Santa Clara on the 40th anniversary of the revolutionary's death.
(ADALBERTO ROQUE / AFP/Getty Images)
Old vehicles during the presentation of the book 'Havana, Cars and Architecture' by photographer Norman Foster with texts by Spanish journalist Mauricio Vicent, in Havana, Cuba.
(Ernesto Mastrascusa / EPA)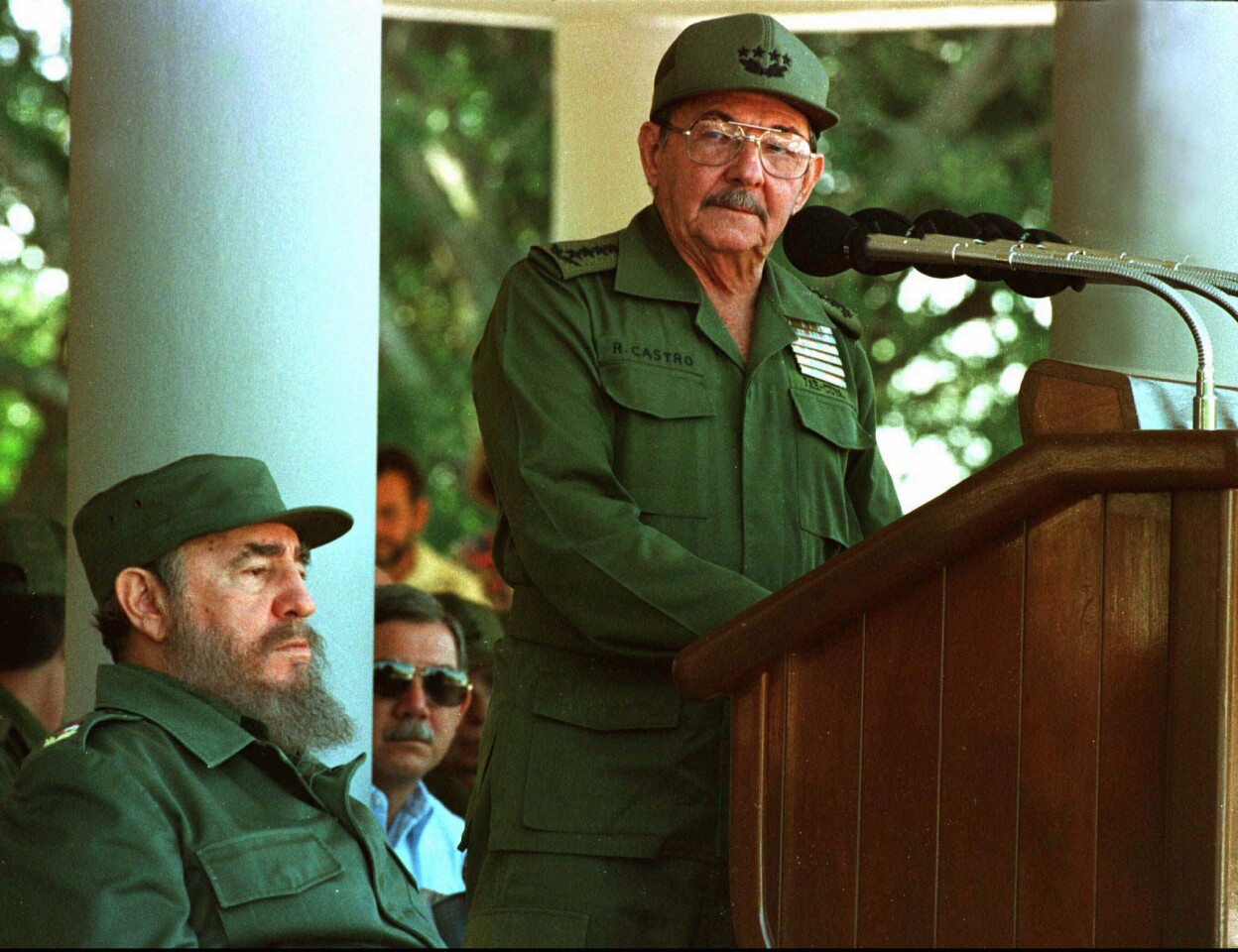 With President Fidel Castro looking on, Gen. Raul Castro speaks at a military ceremony in Havana, Cuba.
(JOSE GOITIA / Canadian Press)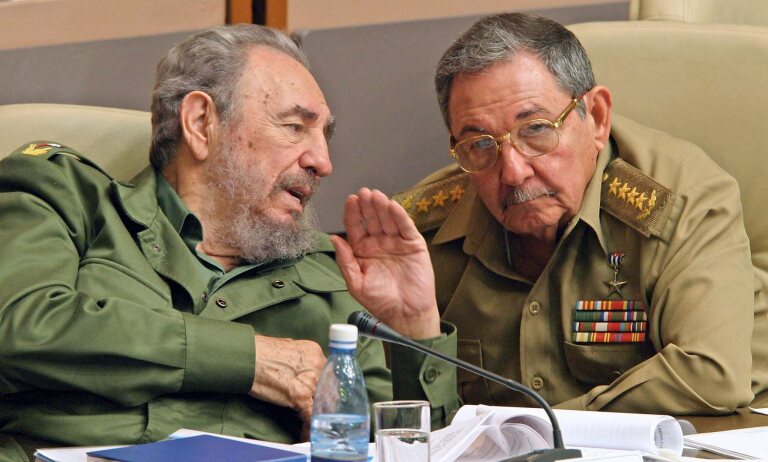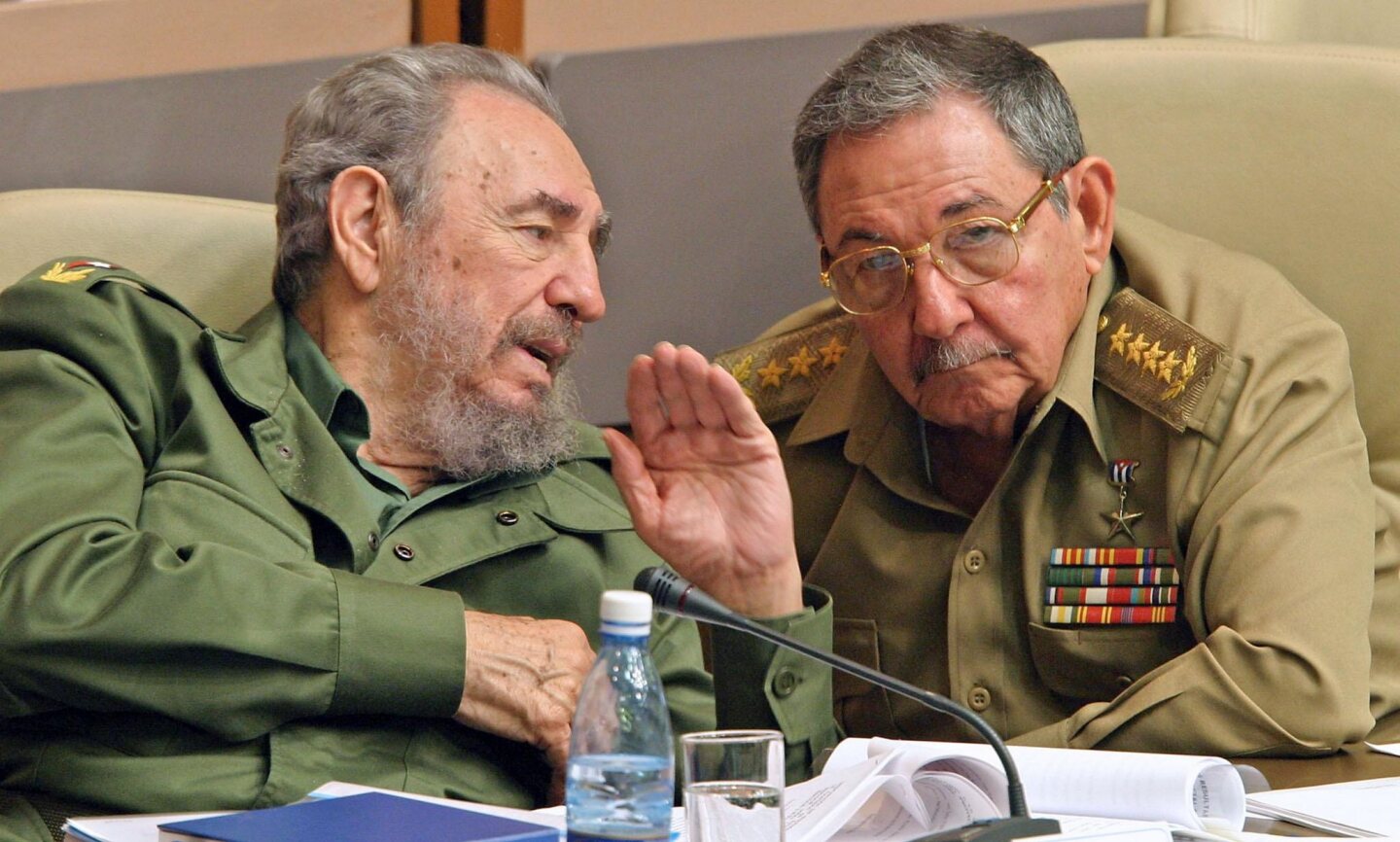 Cuban President Fidel Castro, left, and his brother Raul, Minister of the Revolutionary Armed Forces, chat in Havana during the last meeting of the Cuban Parliament.
(Adalberto Roque / AFP / Getty Images)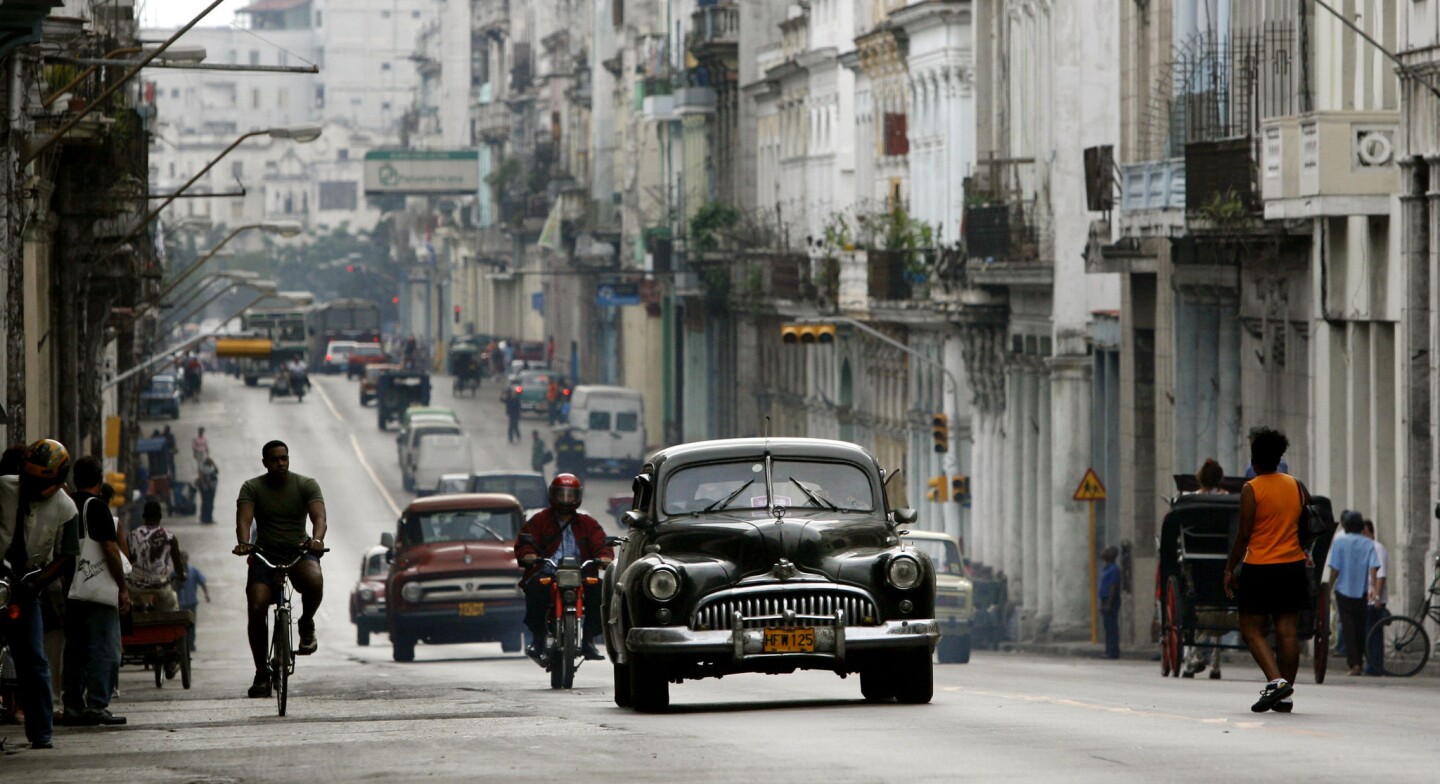 Cubans make their way through an avenue in Havana. After Cuban leader Fidel Castro announced Tuesday his intention to retire, many Cubans look to his brother Raul to succeed him, hoping he will let more people open businesses, own homes and even travel abroad.
(Javier Galeano / Associated Press)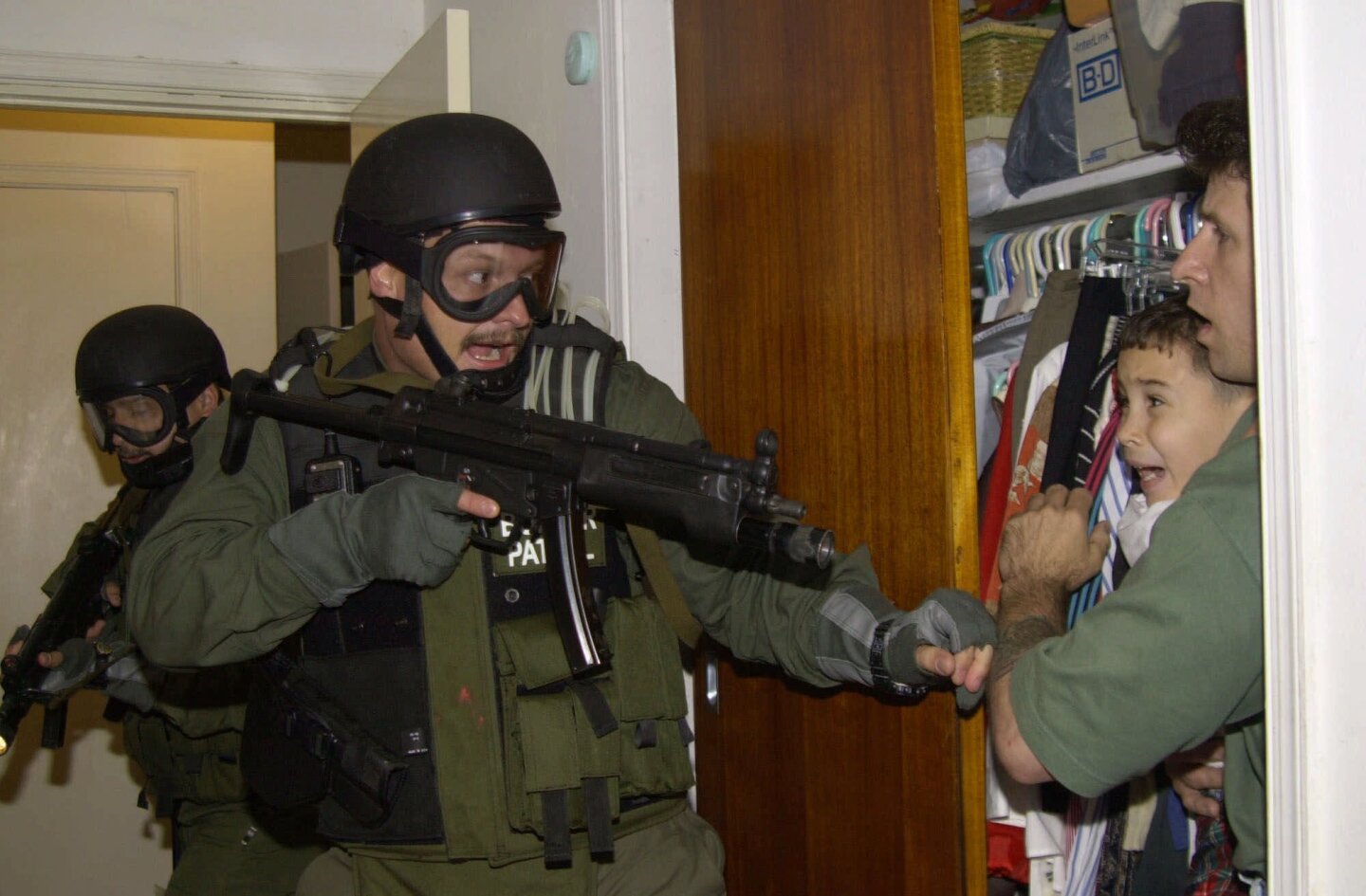 Elian Gonzalez is held in a closet by Donato Dalrymple, right, one of the fishermen who rescued the boy from the ocean, as government officials search the home of Lazaro Gonzalez for the young boy in Miami.
(Alan Diaz)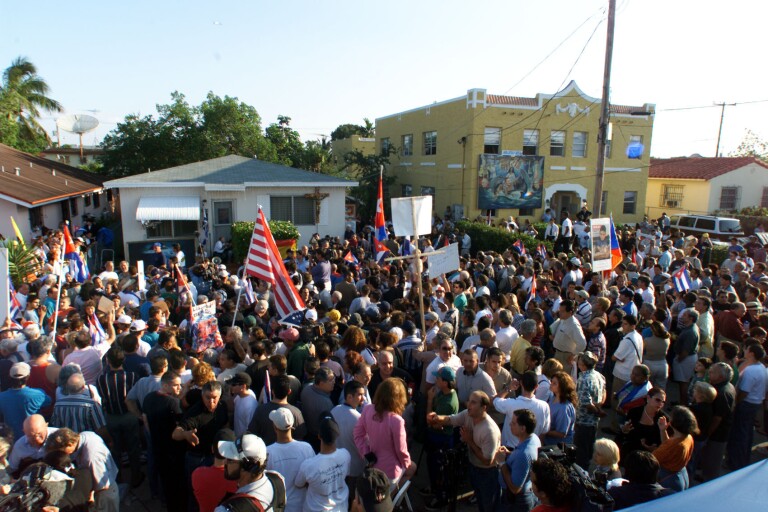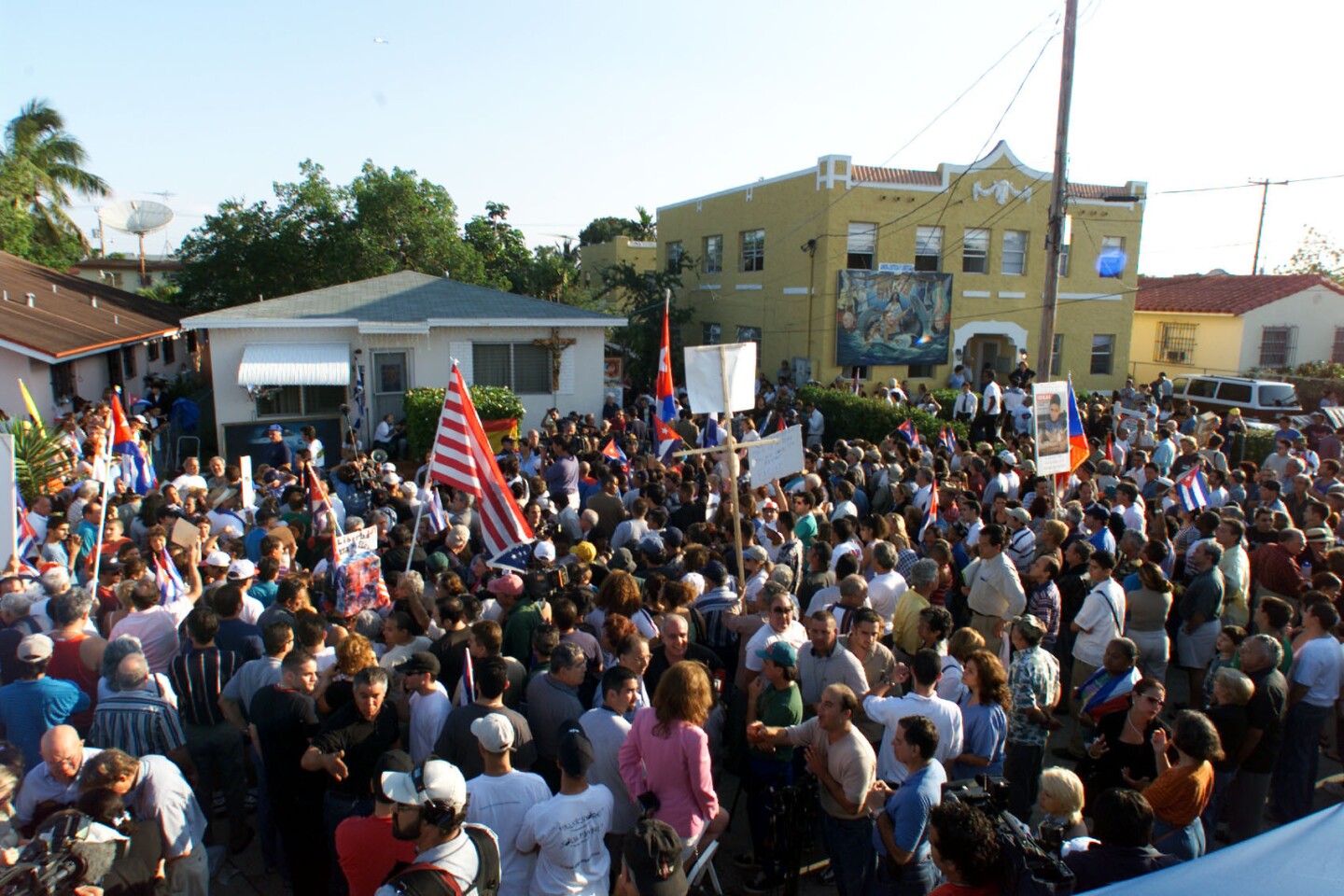 During the morning of the raid, the people of Miami's Little Havana neighborhood filled the street in front of Lazaro Gonzalez's home.
(Alan Diaz)
Elian Gonzalez holds a Cuban flag during the Union of Young Communists congress in Havana. Gonzalez, the Cuban boy at the center of an international custody battle 10 years ago in April 2000, attended Cuba's Young Communist Union wearing an olive-green military school uniform.
(Ismael Francisco / Associated Press)
Former U.S. President Jimmy Carter, center, lifts 1-year-old Jose Angel Guilbeaux as a group of schoolchildren and Cuban officials look on in Las Guasimas, Cuba, a day after he told them that their country does not meet international standards of democracy.
(Gregory Bull / Associated Press)
Former U.S. President Jimmy Carter, left, shakes hands with Cuban President Fidel Castro as former First Lady Rosalynn Carter, right, looks on upon the Carters' arrival in Havana. Carter was the first U.S. president to visit Cuba since the 1959 revolution that put Castro in power.
(Cristobel Herrera / Associated Press)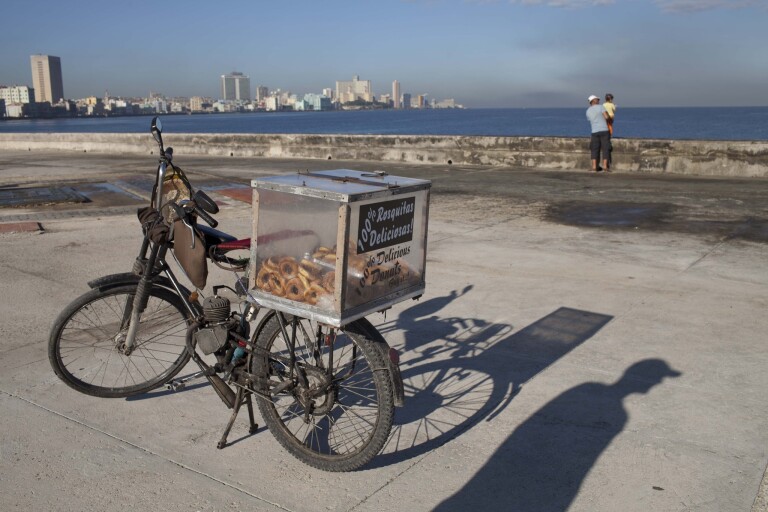 The shadow of self-employed Juan Carlos Lazo is cast on the cement next to his motorized bicycle which he uses to sell donuts along the Malecon in Havana, Cuba.
(Franklin Reyes / Associated Press)
Cuban intelligence agent Fernando Gonzalez, known as one of the "Cuban Five," poses for a portrait in front of a poster showing the three Cuban intelligence agents imprisoned in the U.S, from left, Gerardo Hernandez, Ramon Labanino, and Antonio Guerrero after a press conference in Havana. The three Cubans were released by the U.S. on Wednesday, Dec. 17, 2014 in exchange for U.S. citizen Alan Gross from Cuba.
(Franklin Reyes / Associated Press)
Rafter Joel Moreno, left, rescued near Miami, kisses his father, Luis Felipe Moreno, who left Cuba in the 1980 Mariel boat lift. The two had been separated since then. Moreno, 39, says the men traveled in a homemade raft powered by a boat motor and could see lights off the coast of Florida within six hours of leaving Cojimar, Cuba.
(Alan Diaz / Associated Press)
In a cloud of smoke, a gloating Fidel Castro and his cigar meet the press after increasing the ransom for 1,173 prisoners captured by Cuban forces in the April Bay of Pigs invasion.
(Alan Oxley / Getty Images)
Cuban revolutionary Fidel Castro, left, lights his cigar while Argentine revolutionary Che Guevara (1928-1967) looks on in the early days of their guerrilla campaign in the Sierra Maestra Mountains of Cuba, mid-1950s. Castro wears a military uniform while Guevara wears fatigues and a beret.
(Hulton Archive / Getty Images)
Photograph taken in 1958 during the guerrilla war headed by Fidel Castro (top, second from right) against Cuban dictator Fulgencio Batista. At bottom, Raul Castro is seen next to Argentinian-born Ernesto "Che" Guevara (second from left) and other members of the guerrillas.
(AFP / Getty Images)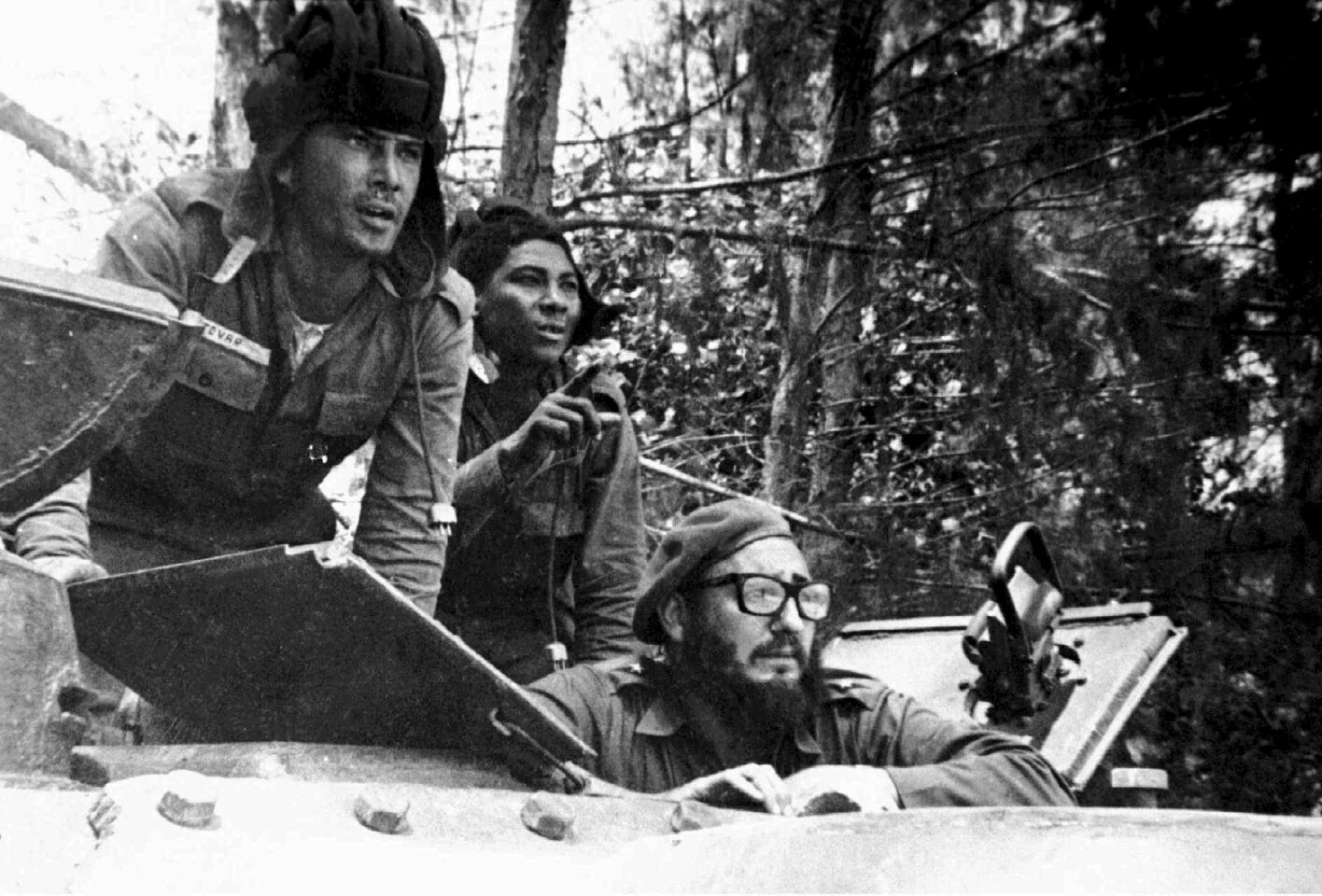 Cuban leader Fidel Castro, lower right, sits inside a tank near Playa Giron, Cuba, during the Bay of Pigs invasion, in this photo provided by Cuban government newspaper Granma.
(Raul Corrales / Associated Press)
Cuban leader Fidel Castro speaks with members of the Revolutionary Armed Forces from his base of operations at the Australia sugar refinery in Jaguey, Cuba, near Playa Giron during the Bay of Pigs invasion in this April 1961 photo.
(Raul Corrales / Associated Press)
The historic agreement between Presidents Obama and Raul Castro has opened what Obama calls "a new chapter" in relations between the United States and Cuba, but we are still on the first page. The rest of the chapter remains to be written. What comes next?
No one should expect things to change overnight. It took six years after President Nixon's historic 1972 trip to China to reestablish normal diplomatic relations, and it was 15 more before Washington granted China most-favored-nation trade status.
Progress with Cuba will come faster, but key steps require congressional consent. The core of the U.S. economic embargo remains in place. Most U.S. exports are still prohibited, and Cuba cannot export anything to the United States, which limits Havana's ability to earn the hard currency needed to realize the full potential of bilateral trade. Obama promised to engage with Congress to lift the embargo, but trade sanctions were written into law by the 1996 Helms-Burton Act. With Republican majorities in both houses of Congress attacking Obama's foreign policy, repealing Helms-Burton will be far tougher than reaching agreement with Havana.
Even if Obama recovers his executive authority to negotiate the end of the embargo, Washington will seek compensation for nationalized U.S. property, and Cuba will seek compensation for damage done by the CIA's secret war and half a century of economic sanctions.
At Obama's direction, Secretary of State John F. Kerry is reviewing Cuba's inclusion on the State Department's list of state sponsors of terrorism. He will almost certainly conclude that Cuba should be removed, because there is no factual basis for its designation. But this requires notification of Congress, giving Republican critics an opportunity to try to prevent Cuba's removal.
Leading the Republican chorus against the new Cuba policy is Sen. Marco Rubio of Florida, who has sworn to block confirmation of Obama's yet-to-be named nominee as U.S. ambassador to Havana. Rubio's membership on the Senate Foreign Relations Committee — along with that of Sen. Bob Menendez (D-N.J.), another Cuban American critic of Obama's policy — makes quick confirmation highly unlikely. Rubio and Menendez can keep the nomination bottled up in committee, but they cannot prevent Obama from reestablishing full diplomatic relations with Cuba. Article 2 of the Constitution vests that power exclusively with the president.
Republicans are also threatening to block Obama's policy by attaching Cuba amendments to must-pass appropriations bills. That strategy won't become available for almost a year, however, when the next appropriations bills come up. By then, the new relationship with Cuba may be so well established that even Republicans would be loath to turn back the clock.
While debate over Cuba rages on Capitol Hill, Washington and Havana will continue their dialogue, taking up issues that the recent agreement did not resolve. The U.S. continues to fund covert "democracy promotion" programs in Cuba to stimulate opposition — programs that led to the arrest of Alan Gross, a U.S. Agency for International Development subcontractor recently released by Cuba after being imprisoned for five years. In his speech, Obama signaled an end to U.S. efforts to destabilize the Cuban government, saying, "It does not serve America's interests, or the Cuban people, to try to push Cuba toward collapse." But senior U.S. officials are also saying that the democracy programs "are not going away." How will they be refocused in the new era of U.S.-Cuba rapprochement?
The U.S. still spends millions annually broadcasting TV and Radio Marti to Cuba, even though the television signal is effectively jammed and the radio has a diminishing audience. Cuba says the broadcasts violate its sovereignty and years ago offered to carry PBS and CNN on domestic television if TV and Radio Marti were halted. Could a similar deal be struck now?
While Washington and Havana are cooperating on the fight against Ebola, the U.S. maintains a program that offers Cuban health workers abroad a fast track to U.S. residency if they defect. Disagreement over this program doomed U.S.-Cuban cooperation on rebuilding Haiti's healthcare system after the 2010 earthquake. Eliminating it will be on the Cuban agenda for future talks about deepening cooperation in response to global health emergencies.
Finally, the last agenda item will be Guantanamo. Cuba claims it as sovereign territory and wants the United States out. Washington insists on the validity of the 1934 treaty leasing the base to the U.S.
The litany of obstacles to be overcome before U.S.-Cuban relations are fully normalized should not detract from the enormity of the steps taken by Obama and Castro. They replaced a Cold War framework of animosity with a 21st century policy of engagement and cooperation. This new chapter provides the means to manage issues where interests conflict, and to reach accord on issues where interests coincide. A series of such agreements should quickly follow — on counter-narcotics, Coast Guard search and rescue, disaster preparedness and response, and law enforcement cooperation against human trafficking.
In April at the Seventh Summit of the Americas in Panama, the two presidents will continue their dialogue face to face and take the next steps on the road to reconciliation. It is a long road, rife with curves and potholes that may slow progress and occasionally cause reversals. But finally, after 55 years of antagonism, the journey has begun.
William M. LeoGrande is a professor of government at American University and author with Peter Kornbluh of the recent book "Back Channel to Cuba: The Hidden History of Negotiations Between Washington and Havana."
Follow the Opinion section on Twitter @latimesopinion
---
A cure for the common opinion
Get thought-provoking perspectives with our weekly newsletter.
You may occasionally receive promotional content from the Los Angeles Times.