Op-Ed: This week's court filings in the Russia probe prove Mueller is after the truth and nothing but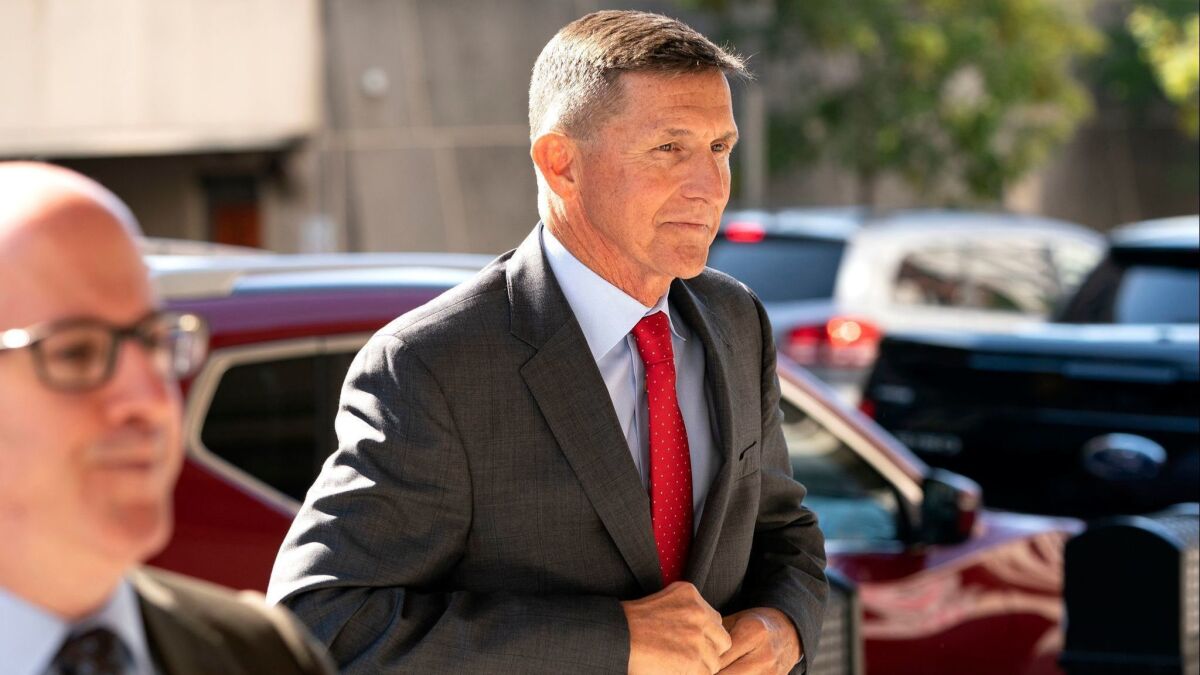 For Russia-investigation watchers, this week of sentencing documents provides a primer on the practice of flipping witnesses. It can seem like sordid deal-making, but strict ethical and practical concerns drive Robert S. Mueller III and his team. The special counsel won't abide even a valuable witness who isn't a truth-teller. And well-established prosecutorial practices determine whether defendants are treated gently, moderately, or harshly
The memos recommending sentences for Michael Flynn, Michael Cohen and Paul Manafort provide three different case studies. Call them the good, middling and bad defendants.
Flynn is the good guy, but not because of the gravity of his crime, which the president's lawyer, Rudolph W. Giuliani has, foolishly, compared to "spitting on the sidewalk." On the contrary, Mueller's memorandum in aid of Flynn's sentencing spells out persuasively why Flynn's offense was serious. His lies to the FBI sought to conceal a freelancing foreign-policy campaign that posed significant threats to the United States. (One revealing detail: The memo is signed by two of Mueller's assistants with particular expertise in counterespionage and national security.) In part for personal gain, Flynn monkeyed with Russian sanctions, nuclear balance in the Middle East and Israeli settlements.
Mueller may bring additional charges and seek maximum penalties for the ones already proven.
What distinguishes Flynn for favorable treatment — Mueller recommended a sentence with no jail time — is the nature of his cooperation with the special counsel: prompt, detailed, unfettered. Mueller has advised the court that Flynn's "early cooperation was particularly valuable" because his long-term, firsthand knowledge of the Trump campaign early in the investigation likely triggered cooperation among other firsthand witnesses.
The same dynamic obtains in nearly every multidefendant investigation. Somebody has to be the first to come in from the cold, a fact that defense attorneys know keenly and that often results in a race to the prosecutor's office. The handsome reward for the first in the door — broad leniency — serves vital interests: It's how cases are made. But there is also an emphasis in Anglo-American law on the moral (and exculpatory) worth of confession and cooperation. Thus, in the words of the Supreme Court, a defendant "demonstrates by his plea that he is ready and willing to admit his crime and to enter the correctional system in a frame of mind that affords hope for success in rehabilitation over a shorter period of time than might otherwise be necessary."
Mueller's Flynn memorandum presents a full picture of the man's character. It emphasizes his "exemplary" military and public service, though it presents it as a two-edged sword, meriting consideration but also requiring that he be held to the highest of standards. And in a statement that surely sent chills down the backs of other executive branch officials and members of Trump's inner circle, Mueller pointed out that Flynn alone among his targets has such a record of service.
President Trump's former personal lawyer Cohen is the middling defendant. Like Flynn, he appears to have provided the government with a treasure trove of information (including audiotapes, which are 24-karat gold contributions to an investigation) and to have done so, at least lately, without reservation. (If anything, there is a worrisome whiff of vindictiveness in his suddenly zealous fingering of the president.)
But Cohen came late to the prosecutors' door, and his entrance was apparently delayed by a series of feints and lost resolve. His prior life, moreover, was marked by heavy-handed devotion to Trump's sleazy, if not criminal, exploitation of anyone who got in his way. Look therefore for Mueller to recommend that the court give Cohen a break but nevertheless to send him to prison.
Which leaves the worst defendant: Manafort bottoms out on the practical and the moral scales. He turned out to be both useless as a witness and iniquitous. He came into Mueller's clutches with the mind-set of the mob capo and is clinging to it unrepentantly, even to the astounding extent of funneling information to the Trump camp when he was supposed to be cooperating.
Enter the Fray: First takes on the news of the minute from L.A. Times Opinion »
Mueller's outrage at Manafort's treachery fairly jumped off the page of his Nov. 26 filing, which asserted that Manafort had lied and committed federal crimes in his sham cooperation. The sentencing memo due on Friday will document those lies. What the court will see, but the public won't (expect long passages of redacted text) will be hard evidence involving high-level but so far uncharged targets of the investigation, possibly even the president. It's by comparing that evidence to Manafort's version of events that Mueller can prove Manafort's lies.
Manafort has already been found guilty and pleaded guilty to tax evasion and bank fraud. Now Mueller may bring additional charges and seek maximum penalties for the ones already proven. Manafort surely knew he would be crushed if he double-crossed Mueller. I don't think he's playing for a Trump pardon (which wouldn't keep him from prison time for state crimes). Instead, he seems to have decided, in mafia terms, not to die a stooge.
This week's court filings won't reveal what Mueller has on the president, if anything. The investigation is ongoing. The documents will, however, prove once again that the special counsel plays by well-known rules. Flynn, Cohen and Manafort will be rewarded and punished in accord with Mueller's brief as special counsel: Not just to make a case, but to get to the truth.
Harry Litman is a former deputy assistant attorney general. He is a law professor at UC San Diego and UCLA.
Follow the Opinion section on Twitter @latimesopinionand Facebook
---
Life is stressful. Our weekly mental wellness newsletter can help.
You may occasionally receive promotional content from the Los Angeles Times.