Column: Al Franken hates all those 'no joke' headlines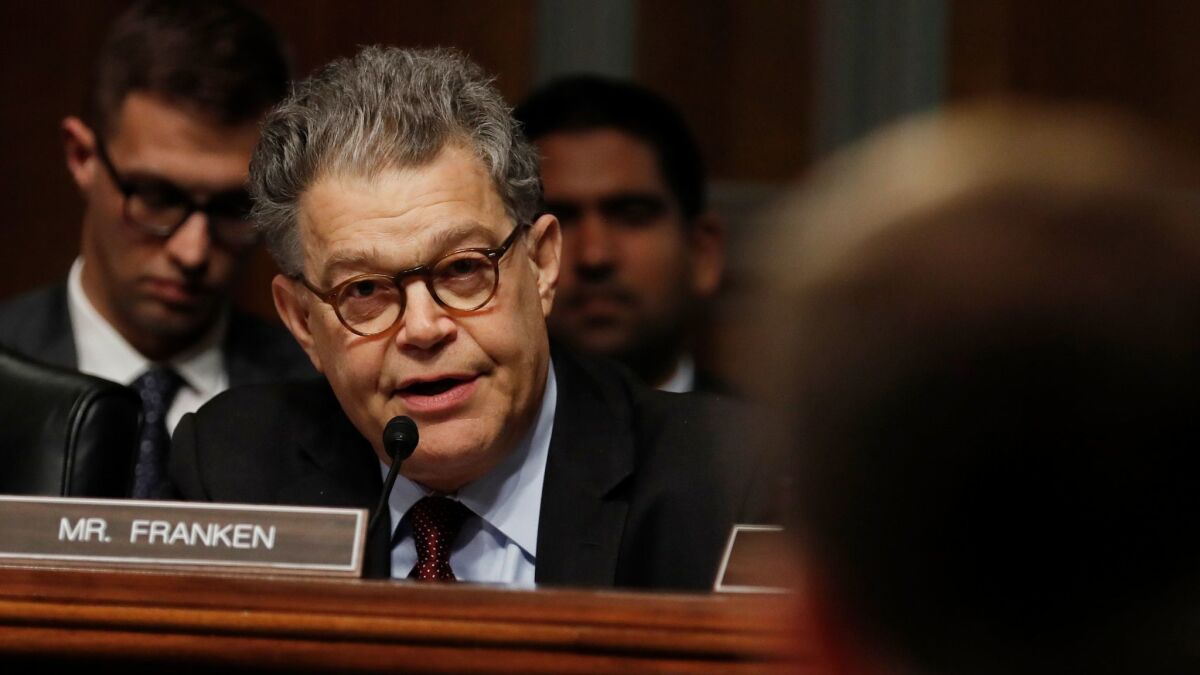 Ever so carefully, Al Franken is allowing himself to be funny again. The former "Saturday Night Live" star, now a second-term senator from Minnesota, spent a decade turning himself into a stolid, serious politician.
"When I first came to the Senate, I had to be very careful not to be funny," Franken recounted in an interview last week. He worried that if he told too many jokes, he'd get a reputation as the Senate's class clown, not a real-life legislator. And he succeeded. In 2008, the first time Franken ran for the Senate, he won by 312 votes out of almost 3 million. The second time, in 2014, Minnesotans sent him back to Washington by a 200,000-vote margin.
His easy reelection, plus the arrival of Donald Trump, has liberated the long-repressed satirist to resume "heaping scorn and ridicule" (his words) on the party in power.
At the Democratic convention last year, Franken said he was uniquely qualified to criticize: "I got my doctorate in megalomania studies from Trump University."
On Monday, he said the furor over Trump's contacts with Russia boils down to a new version of the Watergate question: "What did the president know — and when did his son-in-law tell him?"
And, breaking with Senate tradition, he's throwing shade at some of his GOP associates. "I like Ted Cruz more than most of my colleagues like Ted Cruz," he writes in his newly published Senate memoir. "And I hate Ted Cruz."
He might be good enough and smart enough, and Democrats like him, but he doesn't have the requisite fire in the belly.
Franken can play the straight man too. At the confirmation hearing for Energy Secretary Rick Perry, Franken asked if the former Texas governor had enjoyed their meeting.
Perry's reply: "I hope you're as much fun up on that dais as you were on your couch."
Franken: [Pause.] "Well."
Perry: "May I rephrase that?"
Franken: "Please. Oh my lord."
But except between the covers of his carefully edited book, Franken is still stepping gingerly.
"[Comedy is] a tool I can use …. the peaceful use of humor," he mused. "But you've got to use it right."
What he enjoys most about being a senator isn't telling jokes, anyway; it's the far safer practice of interrogating officials from an administration he abhors.
"There's nothing I like better than reading my briefing book [before a hearing] and realizing: Holy mackerel, this is going to be fun," he told me.
He prepares, long and hard. That's how he skewered Education Secretary Betsy DeVos with a question that exposed her shaky grasp of education policy. And how he opened a door for Atty. Gen. Jeff Sessions to claim that he had no contacts with Russian officials; when that was shown to be false, Sessions was forced to recuse himself from the Russia investigation.
Those gladiator moments got some Democrats' hearts racing: Could Franken be an answer to their search for a 2020 presidential candidate? Franken thought about it for a few days. He talked it over with his wife. And he decided: No. He might be good enough and smart enough, and Democrats like him, but he doesn't have the requisite fire in the belly.
"I just think the president of the United States should want to be president of the United States," he explained. "It's an enormous responsibility and I don't think I could bear doing it badly."
Franken's biggest ambition, it turns out, is simply to be recognized as a good senator — even though he couldn't resist making fun of himself in the title of his book, "Al Franken: Giant of the Senate."
So he still travels tirelessly around Minnesota, including farm counties that he says are full of "Trump/Franken voters." His Senate website is still all about Minnesota issues, from dairy price supports to his upcoming visit to the Vikings' training camp.
Though he feels freer now to talk to national media on non-Minnesota issues, a luxury he denied himself during his first term, he doesn't have a simple, easy answer to cure the Democratic Party's ills. He's found no simple messaging fix.
The lesson of Hillary Clinton's defeat, he told me, is that Democrats need to work harder, listen to every voter (including Trump voters) and explain themselves more clearly.
"We need to talk to people at the economic level and help people understand … that there is a difference between Democrats and Republicans," he said. "You're seeing it reflected in this [Trump] budget, seeing it reflected in the healthcare policy that passed out of the House."
He'd like to see more entertainers get into politics — people like Tom Hanks, David Letterman and Jon Stewart. "I'd like 50 comedians in the Senate," he said. "It would be a lot more fun."
But he has a warning for his old colleagues: Politics is hard.
The question he's asked most frequently, he says, is whether being in the Senate is as much fun as "Saturday Night Live." The answer: "No. Why would it be?"
He only wishes newspapers would stop using "no joke" in every headline about his political career. His obituary, he worries, will be headed: "No joke: former three-term senator dead at 93."
Twitter: @DoyleMcManus
Follow the Opinion section on Twitter @latimesopinion or Facebook
Life is stressful. Our weekly mental wellness newsletter can help.
You may occasionally receive promotional content from the Los Angeles Times.