Column: Trump undercuts Tillerson with every tweet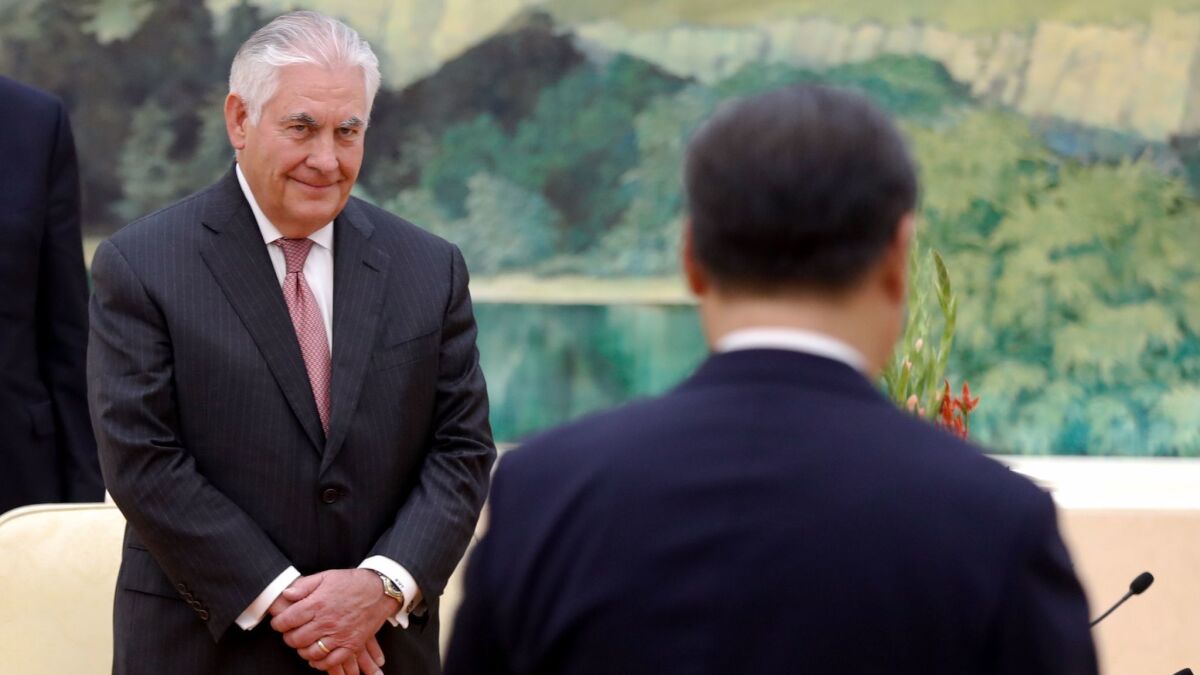 Last weekend, Secretary of State Rex Tillerson was hard at work in Beijing, trying to persuade China's leaders to tighten economic sanctions on North Korea. The United States wants a peaceful solution, he told them, and sanctions could force Kim Jong Un to negotiate.
"We're not going to accept a nuclear-armed North Korea," Tillerson told reporters after his meetings. But, he said, "it's going to be an incremental process to get there.... You'd be foolish to think you're going to sit down and say, 'Okay, done, nuclear weapons are gone.' This is going to be a process of engagement."
He added, "The most immediate action that we need is to calm things down. They're a little overheated right now."
Meanwhile, in the United States, President Trump erupted.
"I told Rex Tillerson, our wonderful Secretary of State, that he is wasting his time trying to negotiate with Little Rocket Man," the president tweeted. "Save your energy Rex, we'll do what has to be done!"
Presidents have overruled secretaries of State before, but normally they do it in private, without publicly undercutting their diplomat in chief.
In case those two tweets weren't enough to convey the nuances of nuclear diplomacy, Trump added a third. "Being nice to Rocket Man hasn't worked in 25 years, why would it work now? Clinton failed, Bush failed, and Obama failed. I won't fail."
It's tempting to focus here on the astonishing humiliation of Tillerson. Presidents have overruled secretaries of State before, but normally they do it in private, without publicly undercutting their diplomat in chief.
And this wasn't the first time. After Tillerson spent a week in the Middle East trying to negotiate a truce between Qatar and Saudi Arabia, Trump also disavowed his effort with a tweet. The two have disagreed openly about Russia, Iran and the Paris climate agreement — not exactly trivial issues.
Why does Tillerson stay? He won't explain. If his goal is to turn himself into a human guardrail to stop Trump from driving foreign policy off a cliff, he deserves our thanks.
Bu it's unclear that he can succeed. The downside of Trump's choleric diplomacy extends far beyond Tillerson's wounded dignity; his tweets interfered with a diplomatic effort that had actually been working.
In recent weeks, China has voted at the United Nations in favor of tougher sanctions on Pyongyang, and announced that it is ordering North Korean businesses out of the country. It's also cutting off loans to Chinese firms that do business in North Korea.
China's collaboration comes at a price, however. Its president, Xi Jinping, wants assurances that the United States is aiming for negotiations, not a military crisis that would create chaos on his border.
On the eve of Tillerson's visit, China's Foreign Ministry said it wanted both the United States and North Korea to show "sincerity" in the pursuit of a diplomatic solution. That's what Tillerson was trying to do when he apparently angered the president.
But if Trump's tweets are to be taken seriously, he doesn't think negotiations are worthwhile at all. He dismissed diplomacy as "being nice," and said it had never worked.
The president appears to believe the alternatives are already down to two: Either "Little Rocket Man" capitulates in the face of threats, or we go to war.
His ultimate goal is to force Kim Jong Un to capitulate. But his escalating threats may have made an unintended clash more likely.
"If [the North Koreans] think he's serious, that we might actually attack them first, then you have the risk of an accidental conflict," warned R. Nicholas Burns, a former undersecretary of State.
It's possible to theorize, as Trump defenders have, that this is all a sophisticated "good cop, bad cop" routine. For that technique to work, however, the suspect needs to believe the good cop's promises of lenient treatment; that's why suspects confess to the good cop. In this scenario, the bad cop is telling his adversary that the good cop can't deliver.
Ultimately, what happens in North Korea depends on China. Will Beijing continue to pile on sanctions, or throw in the towel? Xi wants stability, not crisis. The more Trump escalates, the less helpful China is likely to be.
Trump is scheduled to visit China next month, presumably with Tillerson in tow. Let's hope the president leaves his Twitter engine at home — and lets his top diplomat do the talking.
doyle.mcmanus@latimes.com | Twitter: @DoyleMcManus
Follow the Opinion section on Twitter @latimesopinion or Facebook
Our six-week newsletter will help you make the right decision for you and your property.
You may occasionally receive promotional content from the Los Angeles Times.