Op-Ed: Can Bobby Shriver reboot his campaign?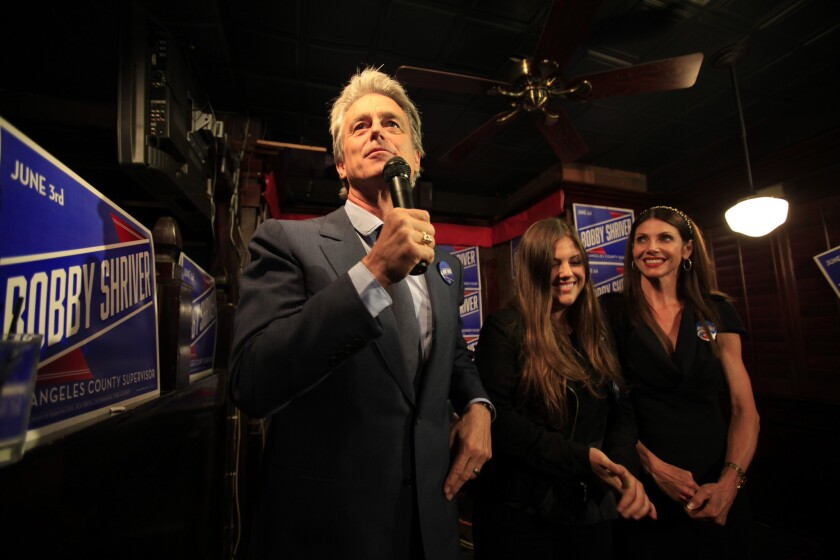 In politics, there are few positions that are simultaneously more desirable and more vulnerable than that of the "inevitable" candidate.
Candidates seen as near-certain winners have an easier time raising money, because donors want to secure favor with a winner. The money then feeds an upward spiral of momentum: buying advertising, which broadens support, which in turn brings in more money and support. But it all depends on a candidate appearing invulnerable. If a "sure winner" begins to show signs of weakness, donors get spooked, jitters set in, supporters drift away, and the spiral can quickly become a downward one. Case in point: Hillary Rodham Clinton in 2008.
That's where Bobby Shriver — the former Santa Monica council member and mayor, finds himself now as his campaign for Los Angeles County supervisor, replacing retiring veteran Zev Yaroslavsky, reboots after Shriver got clobbered last month by former state legislator Sheila Kuehl.
Shriver is a nephew of President John F. Kennedy, and because of the Kennedy buzz, his primary campaign drew national attention. His supporters predicted a win of 10 points or more. Some whispered that he might even win the election outright by garnering more than 50% of the vote in June. The campaign's confidence — bolstered by Shriver's infusion of $1 million of his own money — swept into election day. And he lost.
Kuehl, not Shriver, finished at the top of a big field, pulling in 36% of the vote to Shriver's 29%. She grabbed first place in more than 630 precincts; Shriver finished first in about 250. She carried nine of the district's 10 cities.
Such a broad and convincing win makes it hard to see where Shriver should focus his efforts. But that doesn't mean he's done for. His consultant, Bill Carrick, is one of California's best, and he argues that Shriver can build on relatively strong showings in the East and West San Fernando Valley, among other places. More important, Carrick said, the next round of voting will draw a far larger electorate, because many more voters turn out for general elections than for primaries, and this is a rare case of a hotly contested supervisorial seat. Most of those who cast ballots will be less dedicated political participants than the hard-core voters who turn out for primaries, and most will be taking the measure of Kuehl and Shriver for the first time.
What will they discover? Both are moderate to liberal Democrats, environmentalists with support from labor. Shriver nods toward the center as a sort of Chamber of Commerce Democrat, but that says more about the district than his politics: Only in Los Angeles could a Kennedy be taken seriously as a bipartisan figure.
But one clear difference is their emphasis on what constitutes the experience that best prepares a person to be a county supervisor. Kuehl argues that her time in state government — she was a member of the Assembly for six years and a state senator for eight — perfectly prepares her to help administer the county, which is an entity of state government and executes many programs created in Sacramento. Shriver, who served for eight years on the Santa Monica City Council, counters that local experience is more germane, that the best ideas germinate from the ground up. Carrick thinks voters will prefer that.
"'I'm from Sacramento, and I'm here to help,' isn't something you hear people asking for," he wryly remarked last week.
But Parke Skelton, Carrick's counterpart in this race and another of the most respected political consultants in the state, doubts that Shriver can turn many heads with that argument. Instead, he sees a race in which Shriver tries to court Republicans without alienating Democrats. Of course, that strategy hasn't always worked out so well for Democrats running in liberal Los Angeles.
There are still some unanswered questions and some cards to play, though. Will voters prefer Kuehl's amiable, warm style? Or will they like Shriver's more aggressive approach? (I've had Shriver shout me down a couple of times, and it's an experience.) Will Shriver's decision not to self-finance in the runoff, which he announced last week, loosen the purse strings of actual voters or merely limit his reach?
And will a few of the area's more influential voices endorse their favorites between now and election day? The most coveted endorsements would be from Rep. Henry Waxman (D-Beverly Hills), Mayor Eric Garcetti, and, perhaps most of all, Yaroslavsky, who told me last week that he's not ruling out an endorsement. This newspaper too will be making a new endorsement in the fall election, because the candidate it endorsed in the primary, West Hollywood Councilman John Duran, didn't make it into the runoff.
Few things in politics are certain, and the coming campaign is a contest between two formidable adversaries, determined and well-advised. Either could win. But for those who joined the Shriver bandwagon when it looked unbeatable, the challenge has gotten a lot tougher.
jim.newton@latimes.com
Twitter: @newton_jim
---
A cure for the common opinion
Get thought-provoking perspectives with our weekly newsletter.
You may occasionally receive promotional content from the Los Angeles Times.