Op-Ed: I got through college the hard way — and I'm grateful for it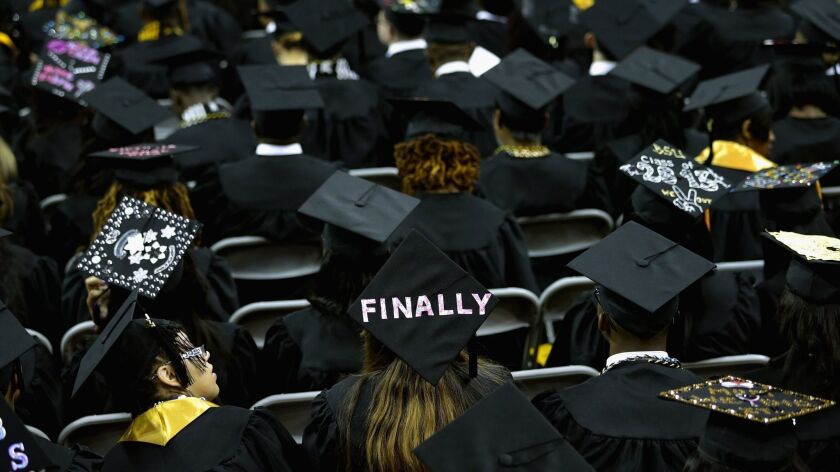 A lot of students graduating from Los Angeles high schools and hoping to go to college are probably feeling pretty discouraged this year. The college admissions scandal has made it clear that the deck is stacked against them. But I can say from experience that doing it the hard way is not only possible — it's better than simply sailing through life with every obstacle cleared.
I first heard of college when I was 6. My cousin asked if I planned to go. I said "yes," because I looked up to him. That was the last time anyone asked me about college until my senior year in high school. In my community of first-generation Latinos, college was not discussed; it was assumed we'd go to work after high school. I had the added disadvantage of being in foster care. It wasn't until my honors math teacher noticed my exceptional grades that he suggested I meet with the college counselor.
But without support or guidance on how to request transcripts, acquire letters of recommendation and write essays, I was unable to complete the applications.
That summer, my foster youth program hosted a graduation ceremony. Everybody had to share their plans for after high school. I wasn't sure what to say, but when it was my turn I stood up and spoke. "I'm going to attend Cerritos Community College." Now I had a plan.
Struggles can be a crucial part of learning.
I got lost my first semester at Cerritos and ended up withdrawing to work. I now know this isn't unusual. Judith Scott-Clayton, a leading researcher on community colleges at Columbia University's Teachers College, described the environment community college students confront upon entry as "the shapeless river," and that's certainly how it felt to me.
I was very lucky in my second semester to find an excellent river guide in the form of a fantastic counselor. This changed everything. With her support, I sailed along, enrolling in and successfully passing one advanced math and physics course after another. It was a glorious ride.
With no debt, and having more than made up for my weak public high school preparation, I transferred to Cal State L.A. Although I had other offers, I decided on this excellent yet often overlooked university while looking out the window from the Edmund D. Edelman Children's Courthouse. I was there with my aunt and two younger siblings, waiting patiently for a periodic hearing about our foster care. There, on the other side of the 10 Freeway, was Cal State L.A. I could see myself there.
At that time, I had no idea that the university's College of Engineering, Computer Science, and Technology was one of the top public school programs. But I knew it was where I wanted to go, and it was the right choice.
I immediately felt at home. More than three-quarters of undergraduates are students of color and more than 65% of my fellow engineering and computer science students were Latino. Like the community colleges, the 23 Cal State campuses look like the future of California. Contrast this to the University of California, where only 27% of undergraduates are Latino.
At Cal State L.A., I got tremendous support from young and diverse faculty members. I earned excellent grades and was encouraged after completing my baccalaureate in mechanical engineering to enroll in the master's program and was awarded a prestigious Louis Stokes Alliances for Minorities Participation Scholarship. For the first time since starting high school I did not have to work to pay my way. I had the luxury of being able to fully focus on my studies.
While I was glad to finally have financial support, I was also not sorry to have worked through college. While at Cerritos, I realized I needed hands-on experience in engineering. In a chance meeting at a gym, I heard of Absolute Technologies. I showed up there the next day and was quickly hired, not for the paid internship I had hoped for, but as a janitor. You have to start somewhere.
It was summer and in between washing floors and cleaning offices, I talked to everybody I could and learned about the company's operations. At the end of the summer, I went back to the manager, told him I was pursuing a degree in engineering, and asked for a chance to do what the summer interns had done. He agreed and I spent the next several years working and learning at the company two days a week during the academic year and full time during summer and winter breaks.
Enter the Fray: First takes on the news of the minute »
My scholarship offered not just financial support, but also professional development and research support. Once again, my world expanded. I attended conferences, presented papers and realized I fit into this brand-new world. So I stepped up again and won a scholarship that is paying my tuition to complete a five-year doctoral program in robotics and engineering at Purdue University.
The college admissions scandal was a reminder that not everyone struggles to get into and through college. But struggles can be a crucial part of learning. This country was built on hard work, and buying one's way into college feels not only immoral but profoundly un-American.
The community college system was proposed more than half a century ago by Harry Truman's Commission on Higher Education to create access and opportunities for higher education for everybody who wants to work hard. I am immensely grateful for having had that opportunity, and I will do everything I can to see that those who come after me do as well. This is what America is all about and this is why investing in our public education system is essential for the future of our nation. I have always wanted to build things, including better opportunities and a stronger and more equitable nation.
Salvador Rojas is a doctoral student in robotics and engineering at Purdue University.
---
A cure for the common opinion
Get thought-provoking perspectives with our weekly newsletter.
You may occasionally receive promotional content from the Los Angeles Times.