Op-Ed: Every Olympic athlete in Pyeongchang should be vocal about climate change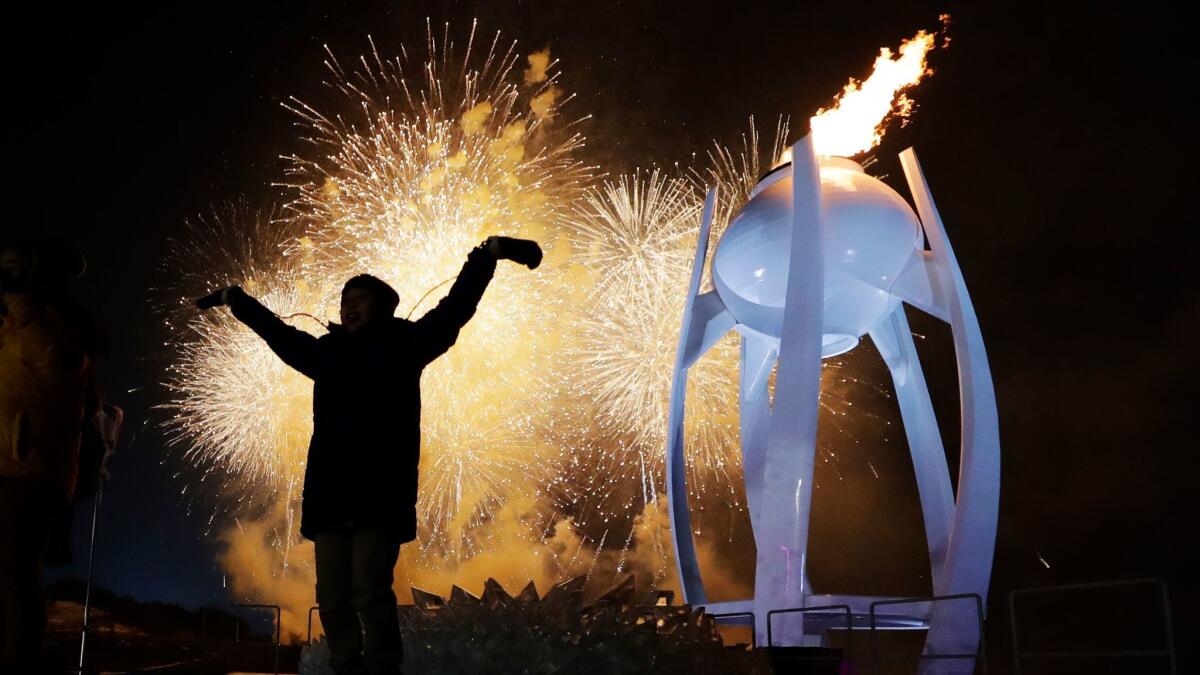 At a cross-country ski area outside of Carbondale, Colo., the thin track was recently refreshed with a meager two inches of snow. Yet people were out in droves, delighting in all manner of snow sliding. It was a hot January day, so blistering that a local rancher called it beautiful "for April."
Around one turn, some skiers had built two miniature snowmen. They had raisin eyes and stick arms, and they stood only 10 inches high — scale replicas, really, an homage to a past era of abundance. It didn't matter. Give people even a little snow and they will find a way to celebrate being alive.
Unseasonably warm temperatures and limited snow delayed resort openings across the country this winter.
It's not much of a leap from those two underweight snowmen to the Winter Olympics. Yes, the Games are big business. But every Winter Olympian's love of their sport began with a childlike vision of fun. That's the real reason climate change poses such a menacing danger to winter sports: Rising temperatures are threatening not just what we do, but who we are.
There's even a word for it: solastalgia. A climate scientist friend, Elizabeth Burakowski, told me the term describes "the existential distress caused by environmental change, the homesickness felt when one is still at home. It is the unease one feels during those warm, snowless winters." Today, many lifelong winter athletes are familiar with solastalgia — and a lot of everyday Vermonters and Utahans and Californaisn are too.
The anxiety is justified. NASA scientists named 2017 the second-warmest on record, surpassed only by 2016. According to both NASA and the National Oceanic and Atmospheric Administration, 17 of the 18 hottest years have occurred since 2001.
Colder places and colder seasons are changing faster than warmer ones. NOAA has reported that since the turn of the 20th century, winter temperatures in the U.S. have increased at almost twice the rate of summer temperatures. Researchers at the University of Waterloo predict that, by 2050, 9 out of 21 former Winter Olympic sites will be too warm to host the games. Pyeongchang, fortunately, is one of the predictably cold ones, though organizers still expect this year's games will require man-made snow.
The athletes grasp the full scope of global warming. Bode Miller, the most decorated American Olympic ski racer, recently told the Colorado Springs Gazette: "We're dealing with a climate issue that's massive, and it's going to screw everything up. If you're not on the cutting edge of that, you're going to get toasted."
It's fair to say that American ski areas already are getting toasted. Unseasonably warm temperatures and limited snow delayed resort openings across the country this winter. One season doesn't make a trend, but even one dry year means hundreds of millions of dollars in losses.
In a report that will be released after the Olympics, the nonprofit Protect Our Winters finds that high-snow years in the U.S. produce, on average, an additional $692.9 million in economic value and more than 11,750 additional jobs nationally. During low-snow years, snow country loses $1 billion in value and more than 17,350 jobs compared with an average season.
Of course the numbers distract from greater potential losses — afternoons of family sledding, the madness of skitching, the look of street lamps in a blizzard.
Olympic athletes are uniquely positioned to sound alarms about climate change. Many of them already do: Ski racing legends Ted Ligety and Steve Nyman; cross-country skiers Kikkan Randall, Andy Newell and Simi Hamilton; and snowboarders Jamie Anderson, Kelly Clark and Danny Davis. They represent a new breed of competitor, focused almost as much on the need to save their craft as they are on the craft itself. Increasingly, their sponsors align. Burton, the company that made the U.S. snowboard team's Olympic uniforms, is one of the most outspoken businesses about the perils of global warming.
But we need more than leadership from a few. The Olympics are an international stage from which athletes can demand action from the countries they represent and mobilize their sponsors and fans. This year, all the Olympians competing in Pyeongchang should be vocal in some way — every last one.
The Olympics are about achievement and execution, about pushing the limits of human physical ability. Pyeongchang, more than any other winter games in the past, will also be about other limits: how much humans will allow global temperatures to rise and the willingness of elite athletes to use their power, money and global platform to save their livelihoods, and ours.
Auden Schendler is a senior vice president of Aspen Skiing Co. and a board member of Protect Our Winters.
Follow the Opinion section on Twitter @latimesopinion or Facebook
A cure for the common opinion
Get thought-provoking perspectives with our weekly newsletter.
You may occasionally receive promotional content from the Los Angeles Times.