Op-Ed: California's cannabis marketplace is a mess. Here's how to fix it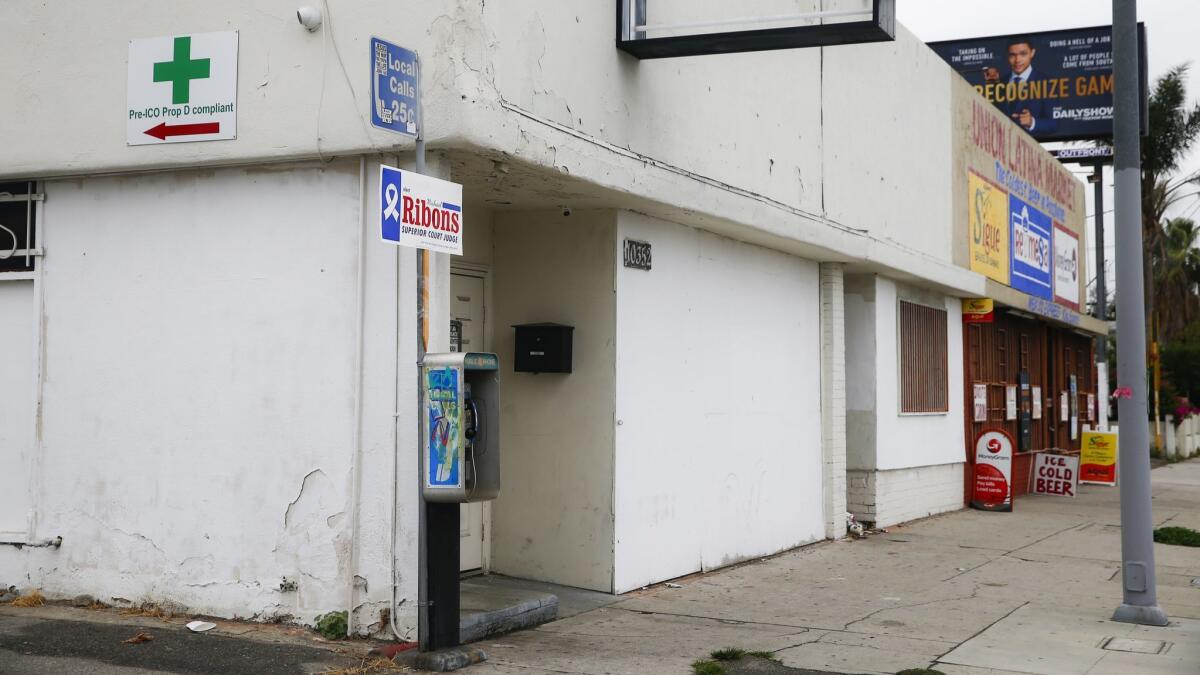 Let's face it: California stumbled out of the gate with its 2018 launch of regulated cannabis. Tax revenues of about $345 million in 2018 were a far cry from the $1 billion expected. Most California consumers still live in municipalities without dispensaries, due to defiantly anti-cannabis city councils and NIMBY objections. Megafarms are flooding an already oversupplied market. And illicit marijuana sales still dwarf those from the licensed market, with no sign of slowing.
Industry experts estimate that licensed cannabis sales of about $3 billion in 2018 accounted for only 20% to 25% of purchases in the state. That means that, while Californians are buying lots of cannabis, most consumers are not paying taxes or using the regulated system being built by the government to protect them. And cities are doing little to combat the problem, allowing unlicensed shops to continue operating in blatant violation of the law.
The Greater Los Angeles marketplace is among the most chaotic in the state. The city of L.A. has made little progress on cannabis policy since California passed Proposition 64 in November 2016. To date, the city has issued roughly 180 retail store licenses, but there are thousands of unlicensed pot shops in Southern California left over from the "medical marijuana" days. Additionally, pop-up vendors offer bootleg cannabis to cost-conscious consumers in rented halls or parking lots outside the notice of incurious local law enforcement.
The Greater Los Angeles marketplace is among the most chaotic in the state.
The problem is that the booming underground marketplace undercuts licensed operators, who are forced to spend their investment dollars on lawyers, compliance officers and excise taxes.
As a cannabis distributor operating within the law, I understand these realities from firsthand experience. In 2016 I founded a cannabis distribution company that became operational with the 2018 opening of the regulated market in California. We now have more than 30 people focused on distributing cannabis products to licensed dispensaries and delivery services in Southern California. But we have to compete every day with businesses willing to break the law.
Sacramento knows it has a problem, and the potential solutions under discussion include cutting taxes to reduce the price discrepancy between the licensed and unlicensed market, undertaking a consumer education campaign to convince cannabis users of the health dangers of untested, unregulated products, and deploying the California National Guard to shut down rogue cannabis farms.
None of these efforts is likely to have much impact. Reducing cannabis taxes would be helpful but insufficient, since state sales tax and local municipal taxes would keep the price of licensed products higher than those in the black market.
Using advertising and literature to point out the dangers of untested, potentially harmful cannabis products is expensive and unlikely to produce meaningful results. For a savings of 30% to 40%, most consumers will take their chances, particularly since the idea of testing for toxins and potency did not exist prior to 2018 in California. No one cared about these things in 2017, so why start worrying now? The answer to the question, "Why take the risk?" is simple. "Because I'm saving a lot of money and I haven't had a problem in the past."
Enter the Fray: First takes on the news of the minute »
Gov. Gavin Newsom's recently announced plan to use California's National Guard troops to root out unlawful cannabis growers is well-meaning and appreciated but aimed at the wrong target. Instead of focusing enforcement resources on the supply end of the chain, California needs to enforce the law and shut down unlawful retail channels.
In the old days, you got a bag of weed from your buddy's friend or on the street in a shady neighborhood. Then, starting in 1996 with the passage of Proposition 215 cannabis cooperatives popped up all over the state. By 2017 California had more than 800,000 "patients" buying billions of dollars of products from dispensaries masquerading as cooperatives.
Instead of trying to root out rogue suppliers, the governor should focus his approach and resources on the illicit sales channels that market unlicensed products. Stricter enforcement should start by shutting down all the rogue stores currently featured on Weedmaps, a sort-of Yelp for cannabis outlets. Enforcement efforts should then focus on big sales events that use the internet to advertise. Unlicensed delivery will be the hardest to corral, but a few big, publicized busts would go a long way.
Until it gets the problem under control, California should dedicate a significant portion of its cannabis tax receipts to enforcement aimed at shutting down illicit retail outlets that are an eyesore to neighborhoods and make a mockery of the law.
Eric Spitz founded the California cannabis distribution company C4 Distro.
A cure for the common opinion
Get thought-provoking perspectives with our weekly newsletter.
You may occasionally receive promotional content from the Los Angeles Times.