Op-Ed: Counties rarely collect fees imposed on those formerly jailed. So why keep charging them?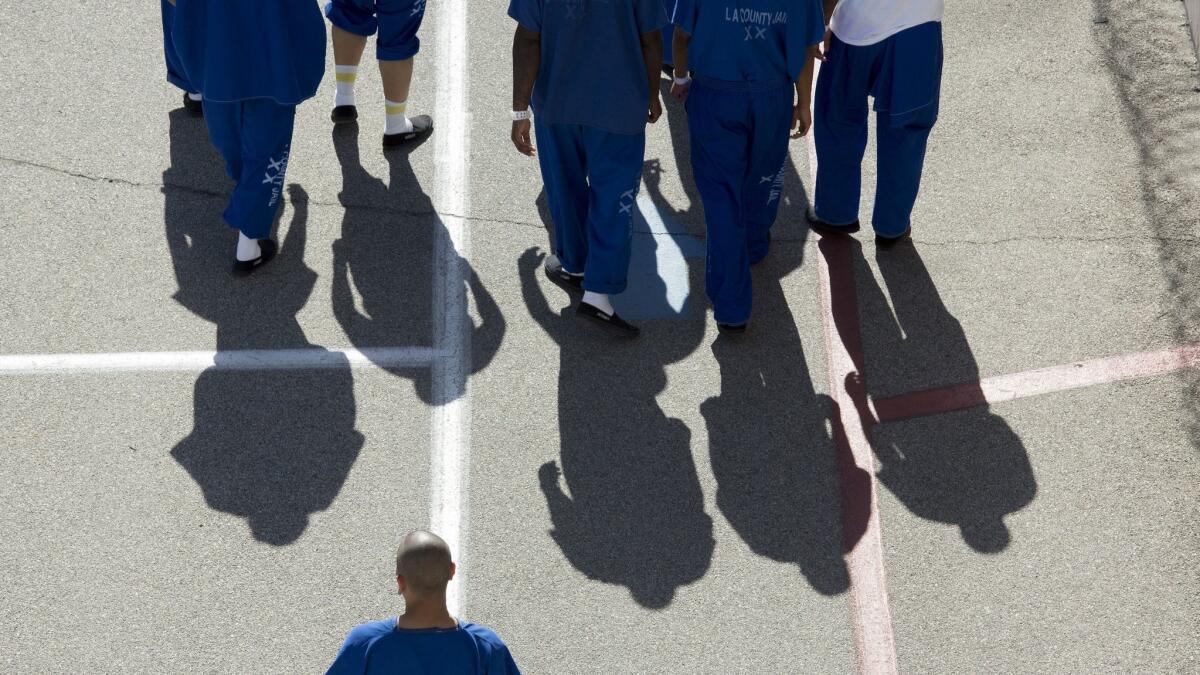 Anthony Robles thought things couldn't get worse. He had just gotten out of L.A. County Jail and was having trouble finding a job because of a felony conviction. His living space was in a corner of his grandmother's 500-square-foot apartment, where he rolled out his bed each night next to his small dresser.
Then, things got bleaker. Robles' probation officer told him he needed to pay $4,000 to the county to pay for the costs of his three-year probation term, with a minimum $50 payment each month. Robles had started back to community college and had found some odd jobs, but he needed what little money he earned to survive.
Unable to make a payment for 12 months, he got a letter from the county stating that he needed to make a payment within two weeks or risk being sent back to jail.
Every month people like Anthony Robles struggle with a harrowing choice: to pay rent and bills, or pay fees that will keep them out of jail.
Robles is not alone. Hundreds of thousands of Californians in the criminal justice system face bills for thousands of dollars in fees to cover such things as probation supervision, pre-sentencing reports, drug tests or electronic ankle monitors. The governments demanding the fees say they are meant only to recoup costs, not to further punish people who have already served their time. But every month people like Robles struggle with a harrowing choice: to pay rent and bills, or pay fees that will keep them out of jail.
California now has a chance to chart a new path. State Sen. Holly Mitchell (D-Los Angeles) has introduced the Families Over Fees Act, which would make California the first state in the nation to eliminate administrative fees charged to people in the criminal justice system. Mitchell says her bill, which will be heard Thursday before the state Senate Appropriations Committee, will "remove economic shackles on people who've already paid their debt to society."
Like Robles, most people leaving jail simply cannot afford the fees. Consequently, most governments collect little from them. Los Angeles County, for example, spends more to collect probation fees than they bring in, according to an analysis of public records by the Policy Advocacy Clinic at the UC Berkeley School of Law. The ACLU of Southern California and the Western Center on Law & Poverty also contributed to the analysis. In the last fiscal year, the county spent $3.9 million on collections to bring in $3.4 million in adult probation fees — for a net loss of $500,000, the clinic found, and the county collected only 4% of fees on active probation cases. Most counties collect so little from the fees they do not even track what they bring in, according to the clinic.
In recognition of these facts, San Francisco last year became the first county in the nation to eliminate all locally administered fees charged to people leaving the criminal justice system. After doing so, San Francisco wrote off $32 million in debt from the fees owed by 21,000 people. Alameda County has now also eliminated its fees.
In April, Los Angeles County Supervisors Hilda Solis and Sheila Kuehl co-authored a motion requesting a study of the fees in L.A. County. "We thought that the United States outlawed debtors prison in 1833, but did they really?" Kuehl asked.
Enter the Fray: First takes on the news of the minute »
The Senate Appropriations Committee will consider what statewide reform would cost. I hope they'll consider other costs too, including the human costs of the fees to people like Robles who are struggling to rebuild their lives. They should also consider the ultimate cost to taxpayers of fees that minimize a released person's chance of succeeding and maximize the chance he or she will end up back in jail or prison, according to a growing body of research.
Robles, who is now an organizer with the Youth Justice Coalition, is working to advance reforms in Los Angeles and also sits on the statewide steering committee of the Debt Free Justice California campaign, a coalition of 50 organizations that backs Mitchell's bill.
To Robles, the choice is obvious. It took him years to pay off his fees, even after the county Probation Department gave him a discount because he was barely getting by.
He graduated last year from Cal State L.A. and was a recipient of the Trustees Award for students who demonstrate superior academic performance, personal accomplishments, community service and financial need. Eliminating fees would help more formerly incarcerated people take paths that don't lead them back to prison or jail.
Anne Stuhldreher directs the Financial Justice Project for San Francisco and is a fellow at the Aspen Institute's Financial Security Program.
A cure for the common opinion
Get thought-provoking perspectives with our weekly newsletter.
You may occasionally receive promotional content from the Los Angeles Times.