Op-Ed: Justices are supposed to be above partisan politics. They aren't, even in retirement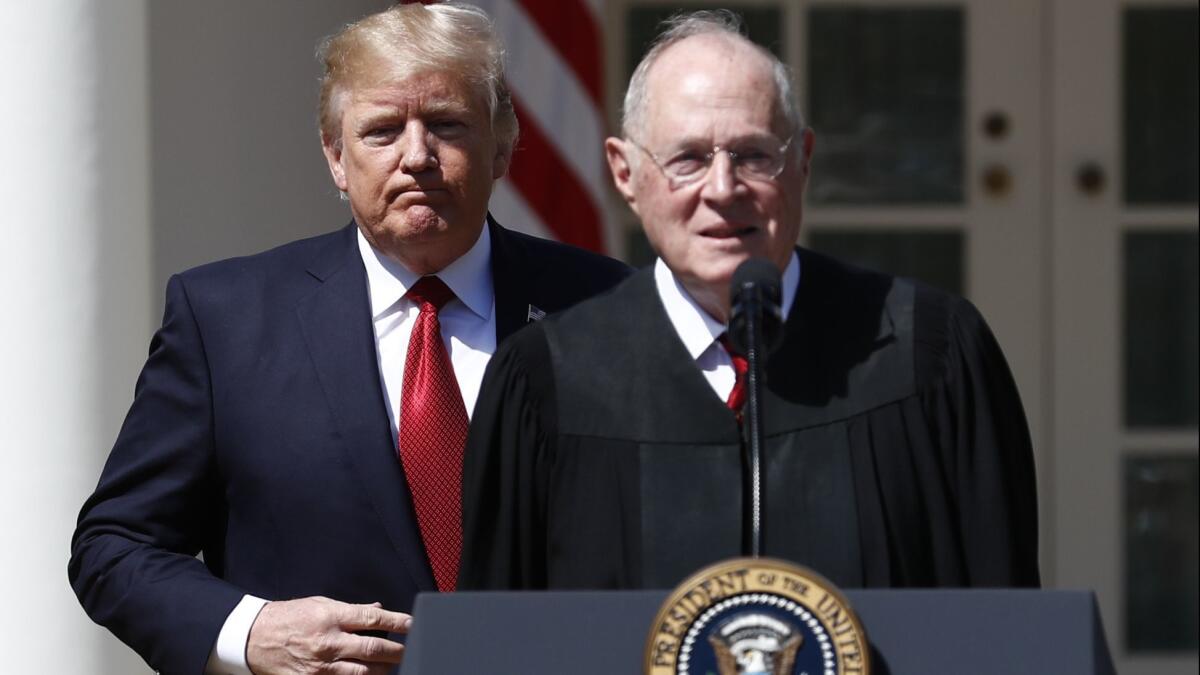 Justice Anthony Kennedy could have retired on May 30, 1990, when President George H.W. Bush was in office, the Dow Jones average hit a record of 2,878 and Boris Yeltsin was the newly elected president of the Russian Federation. Of course no one expected him to step down just two years into his tenure on the Supreme Court and 15 years after he began serving on the federal bench. But why did he wait until now?
Kennedy, a moderate conservative, did what all of his colleagues seek to do: depart under an administration likely to appoint a successor reflective of his partisan or ideological views. His retirement illustrates just how political the retirement decisions of Supreme Court justices are.
Consider the court's previous swing vote, Justice Sandra Day O'Connor. A lifelong Republican, she reportedly was dismayed on election night 2000 when it appeared that Democrat Al Gore would win the presidency as she was hoping to retire under Republican George W. Bush. Of course, Bush ultimately won — with O'Connor providing one of the five votes for his victory in the ensuing Supreme Court case — and she stepped down as planned. That kept the seat in GOP hands, although she allegedly was unhappy about her replacement, Justice Samuel A. Alito Jr.
Even when justices don't depart under like-minded presidents, they still may be playing politics with the retirement decision. Liberal Justice Ruth Bader Ginsburg could have departed under Democratic President Barack Obama (like Justices David Souter and John Paul Stevens did). Instead, she — like most Americans — was counting on a Hillary Clinton victory to pave the way for the first female president to select her successor. Now she's waiting, fingers crossed, for the 2020 election.
It is difficult to time a retirement decision for maximum personal and political gain.
It is difficult to time a retirement decision for maximum personal and political gain. Such was the case for liberal justices William Brennan and Thurgood Marshall. Both hung on through eight years of President Reagan, only to have their health start to fail during the George H.W. Bush administration. Because Bush looked to have his reelection locked up, they both stepped down. As with 2016, the 1992 election turned out differently than predicted. They both survived to see Bill Clinton elected.
The political aspect of judicial departures is a relatively new phenomenon. Initially, the job of Supreme Court justice carried little prestige and considerable inconvenience. Justices spent most of their time "circuit riding" via horse in dangerous conditions from one court to another. Justices either died of illness or willingly left their positions for more comfortable and influential positions. The first chief justice, John Jay, for example, left the bench to serve as governor of New York.
As the rigors of circuit riding were lessened over time, and the court gained influence, justices routinely served for life and died on the bench because of a lack of pension benefits. This state of affairs caused political problems for the elected branches who saw their actions thwarted by old, opposition justices who were seen as out of step with new policy developments. Accordingly, Congress passed legislation that enticed the justices to retire by providing increasingly generous pensions and ultimately allowing them to serve in "senior status" as judges on lower courts.
Currently, all federal judges — including Supreme Court justices — may retire under the Rule of 80, which is reached by adding one's years of service on the federal bench to one's age (after 65). This is a good deal for all federal judges, who may continue to draw their full salary and serve on lower courts as much or as little as they desire. Supreme Court justices get the additional benefit of an office at the Supreme Court, a law clerk to assist them in their work and invitations to events such as inaugurations and State of the Union addresses. Justice Stanley Reed retired in 1957 but took advantage of these benefits until his death in 1980.
Enter the Fray: First takes on the news of the minute from L.A. Times Opinion »
The problem today, however, is that the justices are chosen for their relative youth, they live longer and the generous retirement statute gives them a long window within which to time their departures. While there have been proposals to reduce the tenure of Supreme Court justices via term limits or other means, another solution to the politicization of retirement decisions is to simply increase the Rule of 80 to something like the Rule of 100. For example, a Rule of 100 comprised of age (after 75) and tenure on the federal bench of 25 years would have delayed Kennedy's retirement eligibility from 1990 to 2011, shortening his window by 21 years.
Political scientists have demonstrated again and again how Supreme Court justices exhibit political behavior in the many facets of their day-to-day work, from selecting law clerks to setting the court's agenda and deciding cases. It should not be surprising that their final move — the decision to retire — is similarly political. Indeed, by specifying a date — July 31 — in his retirement letter rather than using the common phrase "retirement upon confirmation of my successor," Kennedy will leave the court with only eight members, strengthening Senate Majority Leader Mitch McConnell's push for a quick confirmation for a replacement. This subtle change in timing was most assuredly another politically calculated act.
Artemus Ward is a political science professor at Northern Illinois University and the author of "Deciding to Leave: The Politics of Retirement from the United States Supreme Court."
Follow the Opinion section on Twitter @latimesopinionand Facebook
A cure for the common opinion
Get thought-provoking perspectives with our weekly newsletter.
You may occasionally receive promotional content from the Los Angeles Times.