Opinion: Larry Nassar duped me. He would have duped you too. Here's how to stop the next abuser from taking his place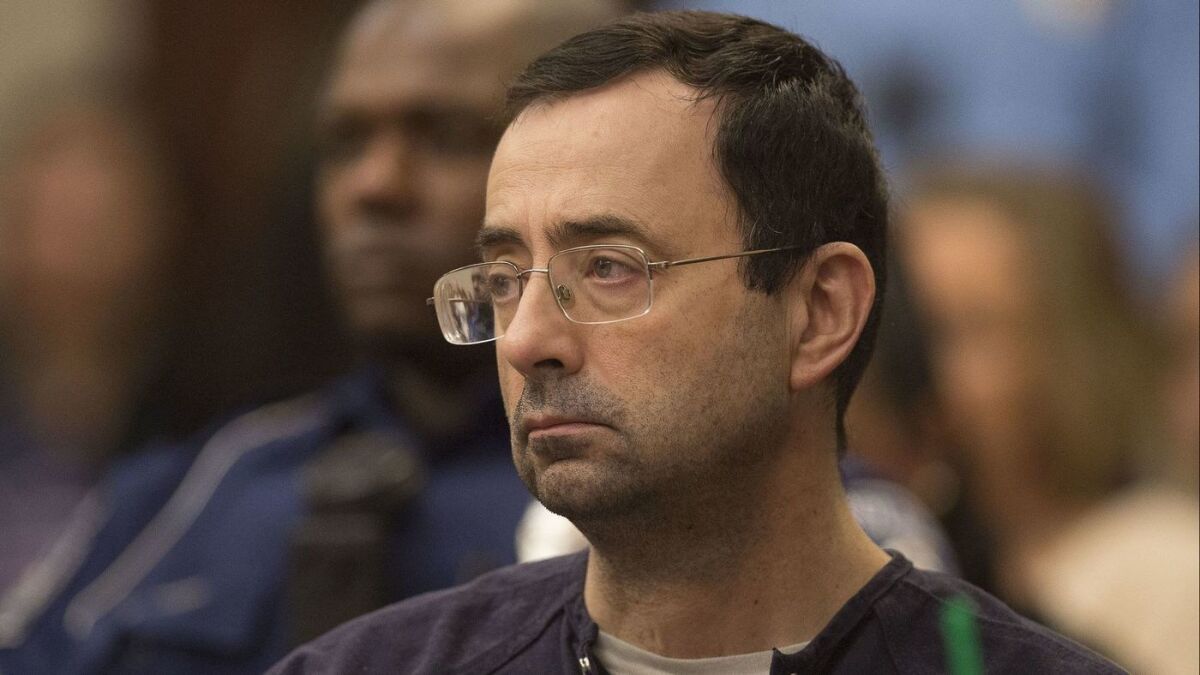 I first met Larry Nassar in the late '90s, when I was a student athletic training intern at the University of Washington. With a gymnastics meet in full swing on either side of us, Nassar let me help treat the athletes. He was kind and thoughtful, and explained to me every single thing he was doing as he worked. Even the coaches, ex-gymnasts themselves, would hobble their aching bodies toward Nassar in hope of relief. He was odd and a little dorky, but it was kind of refreshing compared to the ego-driven coaches and doctors I was used to dealing with.
I've spent most of my life in the world of gymnastics; I've competed, I've coached and I've been a fan since my dad took me to see the 1980 Olympic Team tour. The vast majority of my experiences with the sport have been positive. But I'm not naïve, nor was I then, about how cruel that world can be. Nassar seemed like one of the good ones. And everyone I asked said that he was.
In 2013 I invited him on my podcast for an interview. Listening back now, it's chilling how normal a serial pedophile — one with twenty-five times the number of victims of notorious Penn State molester Jerry Sandusky — can sound.
I, like so many others, believed Nassar to be a protector in a sport full of abusive coaches. I was wrong.
Nassar will spend the rest of his life in prison. But the soul-searching required to prevent the next abuser from taking his place has only just begun. Larry Nassar groomed me and my co-hosts for the entire world to hear.
Despite my guilt and shame, I have never taken that interview down. I hope others will learn from it. It's a lesson — a case study in why "stranger danger" is the least of our problems when it comes to protecting kids. Over 90% of reported juvenile sex assault victims know their assailant. Predators like Nassar will always seek out opportunities to be near children, and it will take more than outraged headlines to stop them.
Currently, child actors in Hollywood are better protected than the greatest athletes in the world. That's a scary thought, right?
California law requires all entertainment industry professionals who work with minors to obtain labor commission permits and have their fingerprints checked against the national database of registered sex offenders. There is no comparable federal requirement for people working with kids.
SAG-AFTRA union rules require a parent to be "within sight and sound of the minor at all times," including traveling in the same vehicle. The parents of Olympic Champion Simone Biles, meanwhile, weren't even allowed to stay in the same hotel as their daughter. Biles is arguably the greatest female gymnast of all time, yet she lacked even the basic protections afforded a Hollywood extra.
That hasn't changed.
There is currently no federal law forcing the gymnastics governing body, USA Gymnastics — or, for that matter, any amateur sporting entity overseeing your kids — to report abuse to law enforcement. From elite athletes to school band members, children are vulnerable.
A recent Indianapolis Star investigation found at least 368 gymnasts alleged sexual assault over a 20-year period — a rate of almost one every 20 days. USA Gymnastics kept sexual abuse complaints against 54 coaches a secret. It also allowed Nassar to practice in Texas, a state where he wasn't licensed.
Larry Nassar groomed me and my co-hosts for the entire world to hear.
The Karolyis, meanwhile, coaches/dictators who reigned over the U.S. gymnastics team for decades, allowed Nassar unsupervised access to minors in their rooms. And so did USA Gymnastics. In fact, a memo from one USAG camp instructed third-graders not to contact their personal coach if they had a problem at night, but to call Nassar instead.
Sexual assault isn't just a gymnastics problem. Even now, governing bodies such as USA Wrestling refuse to make their banned-coaches list public. The organization claims it doesn't see the need for a public list since it hasn't had "well-publicized abuse cases" like gymnastics or swimming have.That statement was made just a year after a wrestling coach was convicted of sex crimes involving 25 boys.
The good news? We can fight this.
We don't have to reinvent the wheel either; we can adopt the Safeguarding rules of the United Kingdom, which requires sexual abuse prevention training for anyone working with children, even volunteers. Or the Gedragdcode of the Netherlands Gymnastics Federation, which holds coaches to strict standards of conduct. For example, coaches may only have one alcoholic beverage per day with a meal while traveling with athletes.
Congress recently passed the Safe Sport Authorization Act, which requires amateur athletic governing bodies to report sex-abuse allegations to law enforcement within 24 hours. The bill awaits President Trump's signature.
In addition, we need to demand all youth organizations adopt and enforce safety best practices:
All youth facility workers (including coaches, volunteers, front desk etc.) need to have a current criminal background check on file.
Organizations need written policies that clearly define coach misconduct — grooming behaviors, harassment, abuse — and that prevent adults from being alone with minors.
Organizations need written policies outlining how misconduct will be enforced.
Staff need to be trained on preventing sexual abuse, harassment and abusive coaching.
Suspected abuse must be reported to police within 24 hours.
Perhaps most importantly, though, it's time for our society to stop putting winning and institutional reputation above the health and well-being of children. Our glory-mongering has left the door wide open for an abuser, disguised as a trusted adult, to walk in.
The shortsighted organizational focus on self-preservation only continues because it's believed that the fallout is manageable. Former USA Gymnastics President Steve Penny was in charge when Nassar's crimes were committed. He walked away with a $1-million severance package. That'll teach him!
Years of neglect can't be rewarded with intact reputations and golden parachutes. Those who failed their legal responsibilities need to be held to account — to the fullest extent of the law.
Justice isn't a one-time act. It requires systemic protections along with constant vigilance from all of us. Without coming to grips with how easily we can be fooled by predators — and the lax enforcement of rules and laws, along with practices that prioritize institutions over the people within — the Nassars of the world will continue to exploit our trust.
I met Larry Nassar and I was duped. The truth is, you probably know a Larry Nassar too.
Jessica O'Beirne is a former gymnast and coach. She founded GymCastic: The Gymnastics Podcast in 2012.
Follow the Opinion section on Twitter @latimesopinion and Facebook
---
Life is stressful. Our weekly mental wellness newsletter can help.
You may occasionally receive promotional content from the Los Angeles Times.