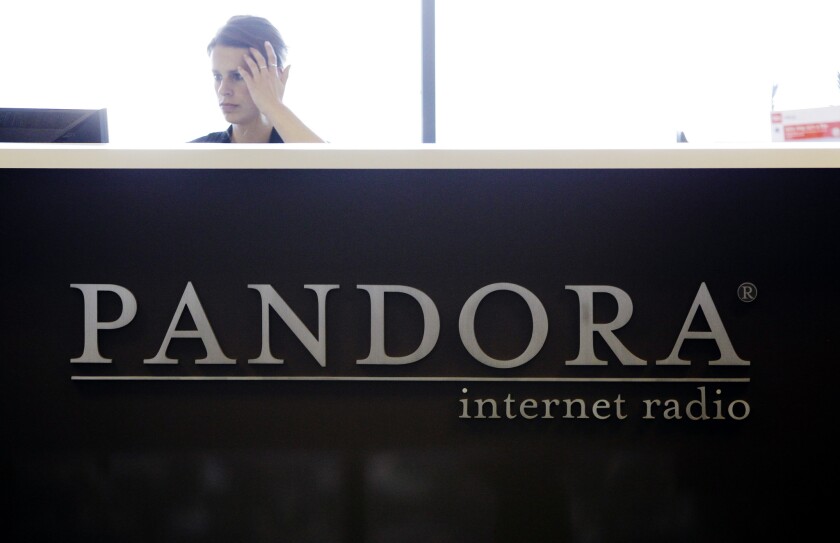 A federal judge has denied Pandora's motion to dismiss the copyright-infringement claims brought by pre-1972 recording artists, finding that the online webcaster's free-speech rights don't bar artists from demanding royalties for the songs Pandora plays.
The ruling by District Judge Philip S. Gutierrez in Los Angeles wasn't much of a surprise, considering that Gutierrez has ruled against Sirius XM in a similar case brought by the same plaintiff, Flo & Eddie Inc. (a corporation founded by two lead members of the 1960s pop-rock group The Turtles). It does, however, set the stage for the 9th Circuit Court of Appeals to consider Pandora's arguments, which are different from Sirius XM's.
Recorded music has been the red-headed stepchild of federal copyright law for decades. Until Congress rewrote the law in 1976, only the composition -- e.g., the sheet music -- of a song was protected by federal copyrights. The 1976 law granted federal copyright protection to sound recordings as of Feb. 15, 1972, with a notable exception: there was no copyright over their public performance. That meant radio stations, which had been paying songwriters royalties for years, still had no obligation under federal law to pay recording artists or record labels.
Eventually, Congress narrowed that exemption as well, agreeing in 1995 to grant a copyright over digital public performances of sound recordings. The law applied to nascent satellite radio and online music services, but not to over-the-air radio broadcasts. And notably, it applied only to recordings covered by federal copyrights -- that is, those made on or after Feb. 15, 1972.
Pandora, Sirius XM and other digital broadcasters have since been paying royalties to labels and artists only for material recorded after that date. Last year, though, Flo & Eddie convinced Gutierrez that a 1982 update to California's copyright law extended copyrights to public performances of pre-1972 sound recordings. In other words, the ruling held that California recognized a public performance right to sound recordings 13 years before the federal government did, and did not limit it to digital performances.
Flo & Eddie then quickly sued Pandora for violating its copyrights, and Pandora responded with a motion to dismiss based on California's ban on "strategic lawsuits against public participation." Known as the anti-SLAPP statute, the law makes it harder to win lawsuits against those exercising their 1st Amendment right to free expression.
Gutierrez rejected Pandora's motion Monday. The judge found that Pandora's streams are the sort of speech covered by the anti-SLAPP law, regardless of whether the recordings were copyrighted. But the second test of the law, Gutierrez said, is whether Flo & Eddie can provide evidence that their copyrights were, in fact, violated.
Pandora maintained that the state's 1982 law did not create a copyright over the public performance of pre-1972 recordings. Instead, the company argued, the update simply maintained the protections already in place, which applied only to unreleased recordings.
But Gutierrez ruled that Pandora's interpretation was too narrow. "That law would cover practically nothing," the judge wrote. If Pandora were correct, Gutierrez held, state law would essentially have put every pre-1972 sound recording into the public domain the moment it was released. To the contrary, "the case law indicates that sound recordings never dropped into the public domain so that people could freely exploit them," he wrote.
The ruling allows Flo & Eddie's claims to move forward on a playing field tilted heavily in favor of pre-1972 artists. The essential questions in the case were whether a sound recording copyright that apparently had never been asserted against anyone -- the one covering public performances -- nevertheless existed before the federal government recognized it, and applied to artists not covered by federal law. Gutierrez answered both questions Monday in the affirmative, as he did in the Sirius XM case.
While the legal proceedings are a bloodless examination of the meaning and intent of California's copyright laws, at their heart they address a crucial question of fairness. There's no way to distinguish the artistry, effort or value of a song recorded on Feb. 14, 1972, from one recorded the very next day. Yet Congress did make that distinction, just as it decided in 1995 that analog transmissions over the air wouldn't violate copyrights even as digital transmissions over the air or through the Internet did.
Pandora executives have urged Congress to eliminate both of these distinctions. "Pandora would be open to supporting the full federalization of pre-72 sound recordings," spokesman Dave Grimaldi said in an email Tuesday, "under a technology-neutral approach that affords libraries, music services and consumers the same rights and responsibilities that are enjoyed with respect to all other sound recordings." In other words, it's willing to pay royalties to pre-1972 artists too if Congress imposes that obligation on all of its competitors, while preserving fair-use rights.
That's not likely to happen anytime soon, considering how fiercely -- and successfully -- over-the-air broadcasters have resisted the recording industry's decades-long push for royalties. On the other hand, Gutierrez's rulings open the door for pre-1972 artists to collect royalties from oldies radio stations, which might make broadcasters more amenable to a deal. (One of the broadcasters' preconditions has been a requirement that all cellphones have over-the-air radios built in, a demand that the consumer electronics industry has rejected.)
In the meantime, Grimaldi wrote, "Pandora intends to immediately appeal this ruling to the 9th Circuit Court of Appeals, where we are confident our legal position will be affirmed."
Follow Healey's intermittent Twitter feed: @jcahealey
---