Opinion: Report the truth -- the whole truth -- on Robin Williams' death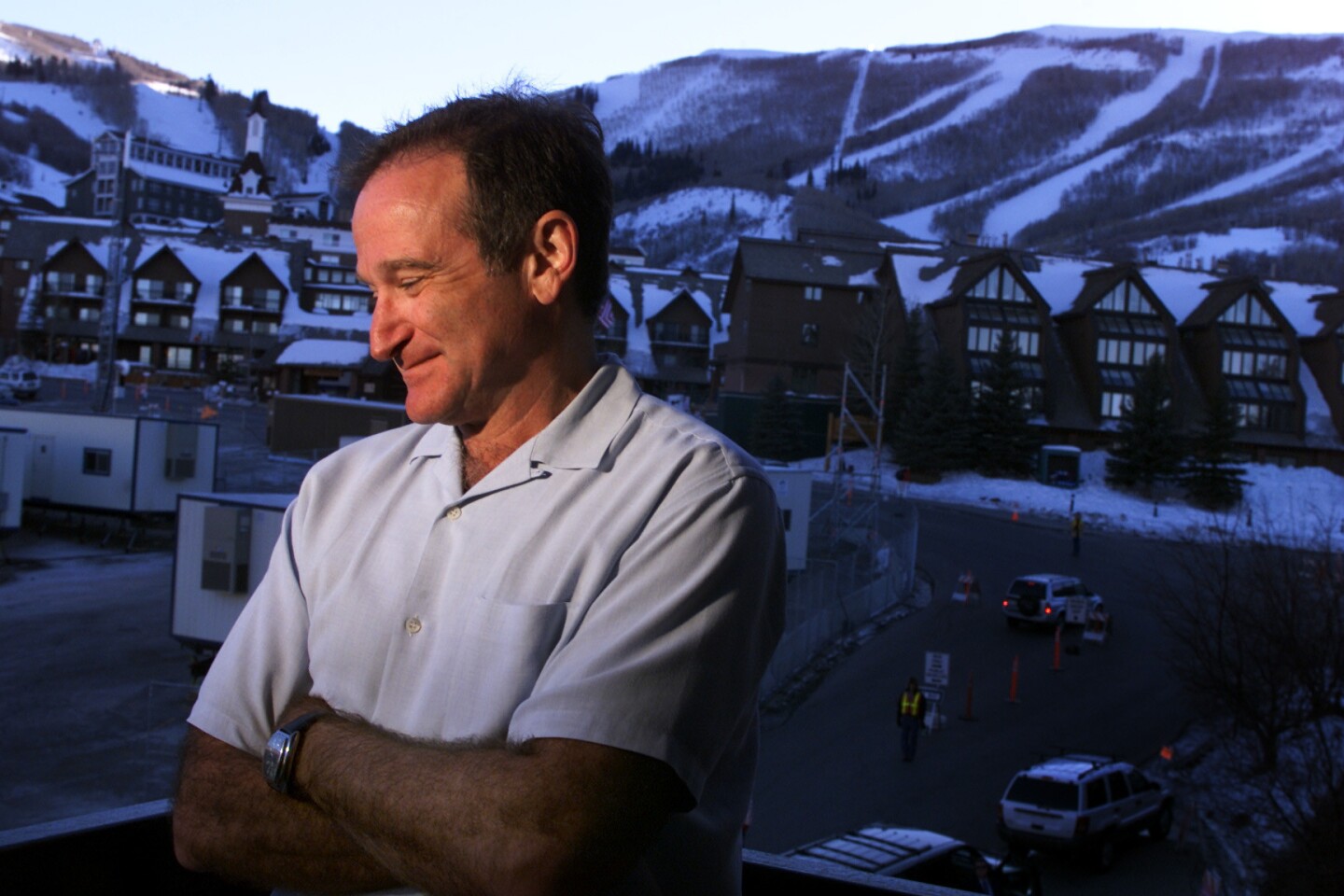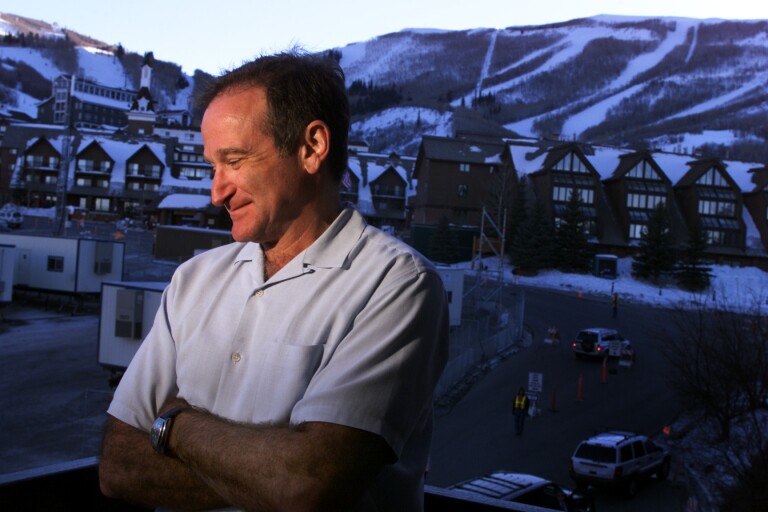 An iconic Bay Area tunnel, commonly known as the Waldo Tunnel or Rainbow Tunnel, will be named after the late actor Robin Williams.
(Robert Gauthier / Los Angeles Times)
Robin Williams plays the alien Mork in "Mork & Mindy" from 1978 to 1982, with Pam Dawber. The character was first featured in an episode of "Happy Days."
(ABC)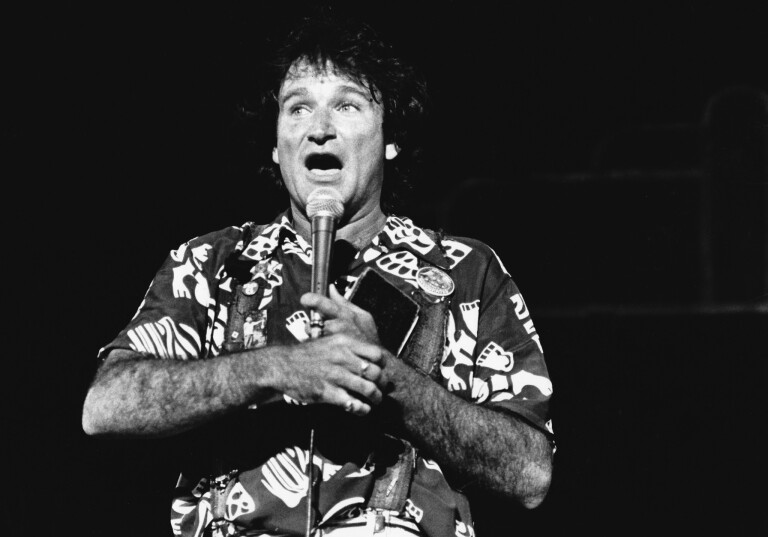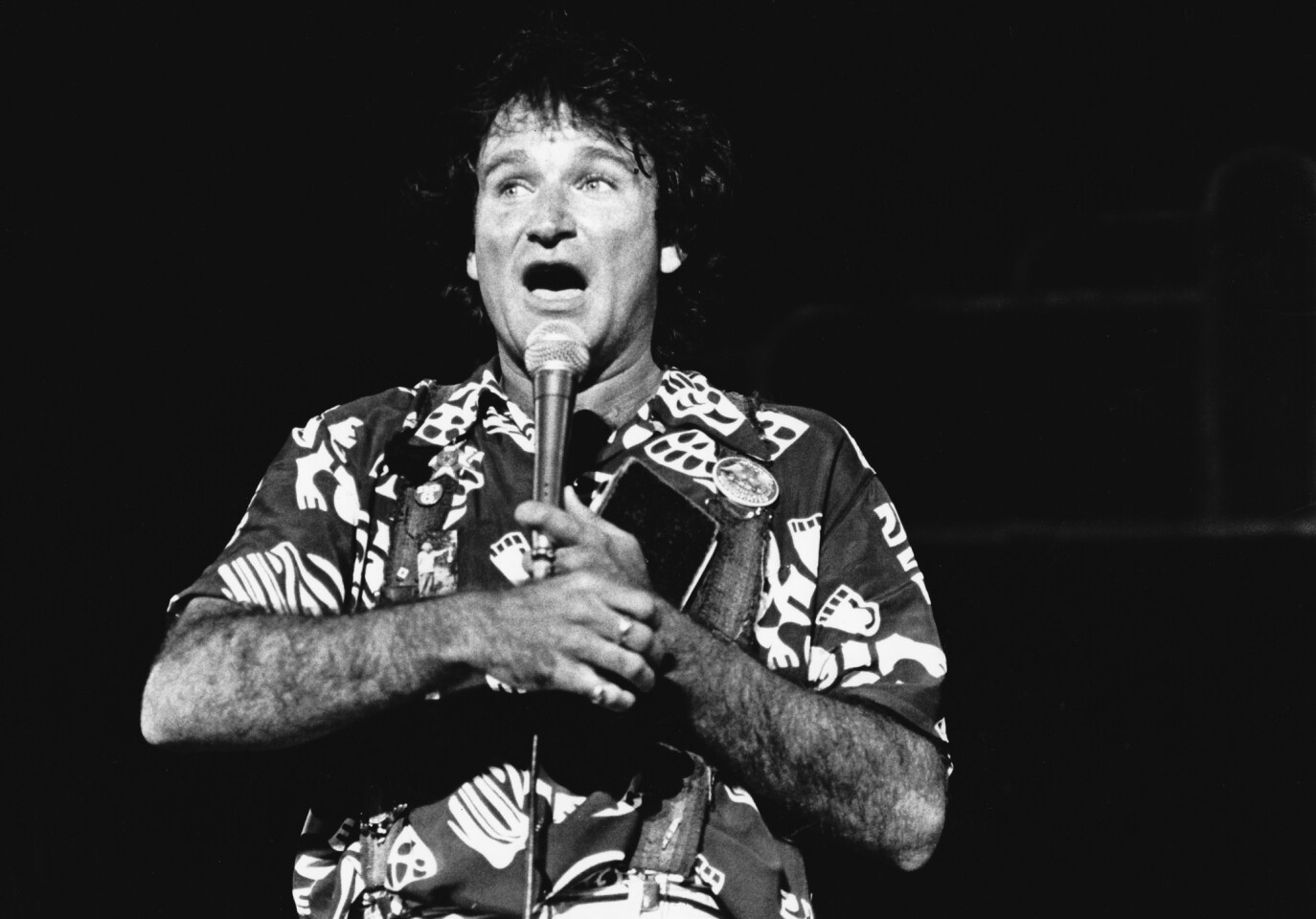 Robin Williams performs at the Universal Amphitheater on July 1, 1979
(Tony Barnard / Los Angeles Times)
Robin Williams performs at the reopening of the Improv in Hollywood on Aug. 13, 1979.
(Margaret Hartnett, Los Angeles Times)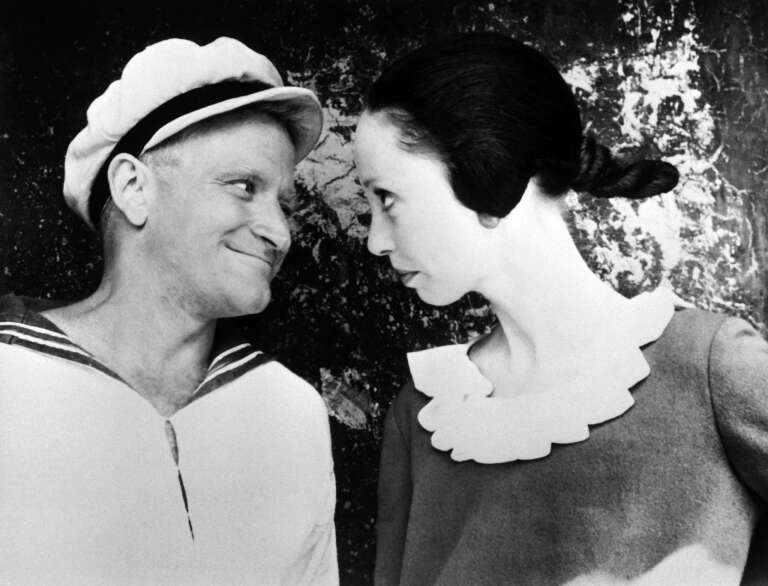 Robin Williams stars as Popeye the sailor man, whose secret source of strength turns out to be spinach, with Shelley Duvall as Olive Oyl, in 1980's "Popeye."
(File / AFP/Getty Images)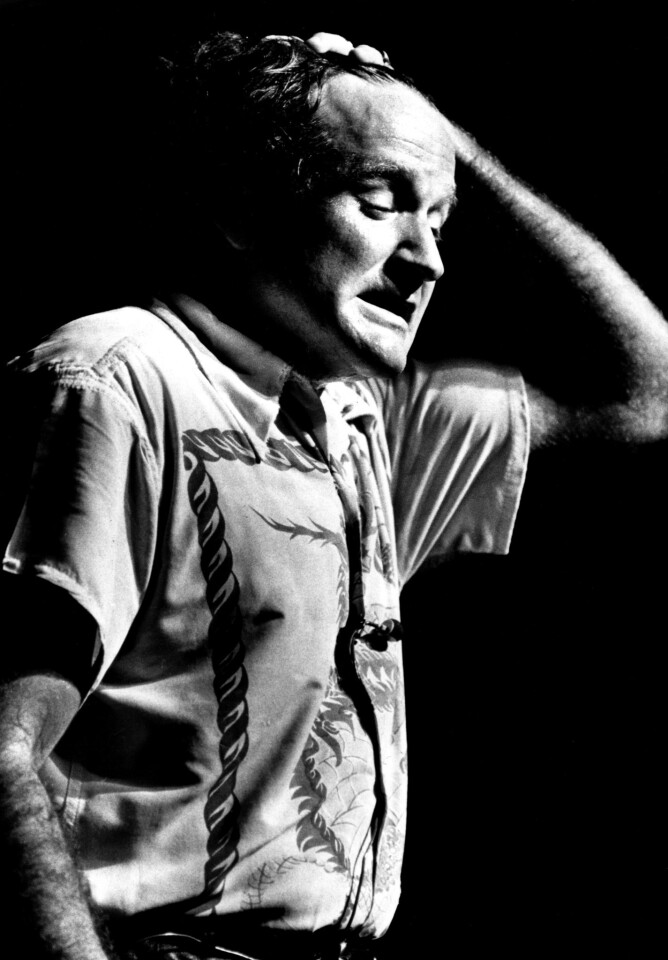 Robin Williams performs at the Universal Amphitheater on Aug. 16, 1982.
(Gary Friedman / Los Angeles Times)
In 1984's "Moscow on the Hudson," Robin Williams plays Vladimir Ivanoff, a saxophonist in the Moscow circus who defects to the U.S. Here, Williams is pictured with actor Cleavant Derricks and director Paul Mazursky.
(Michael Ochs Archives / Getty Images)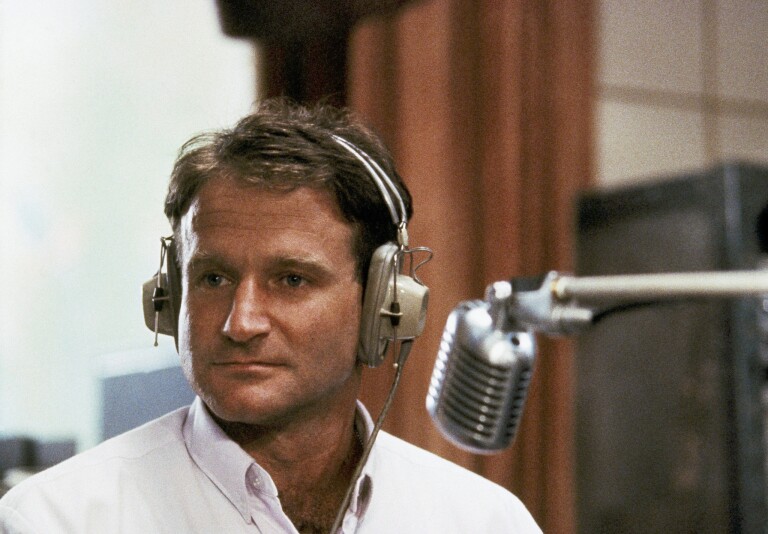 Robin Williams plays Adrian Cronauer, an airman who arrives in Saigon to work as a radio DJ for the Armed Forces Radio Service, in the 1987 film "Good Morning Vietnam."
(Touchstone Pictures)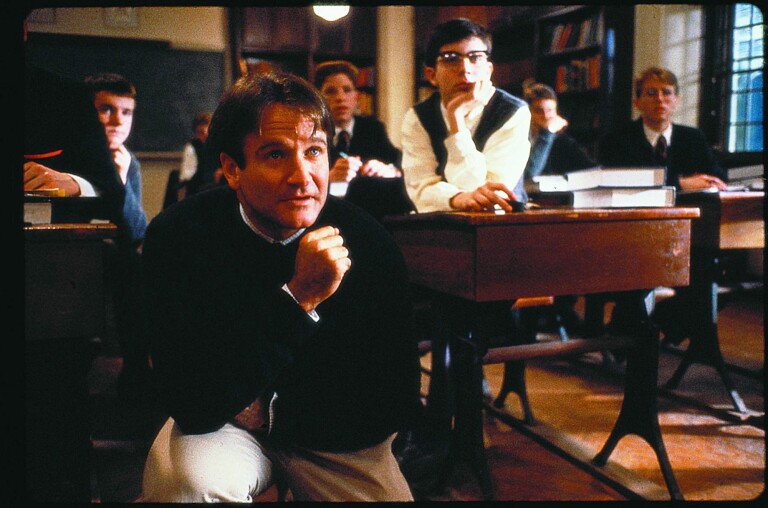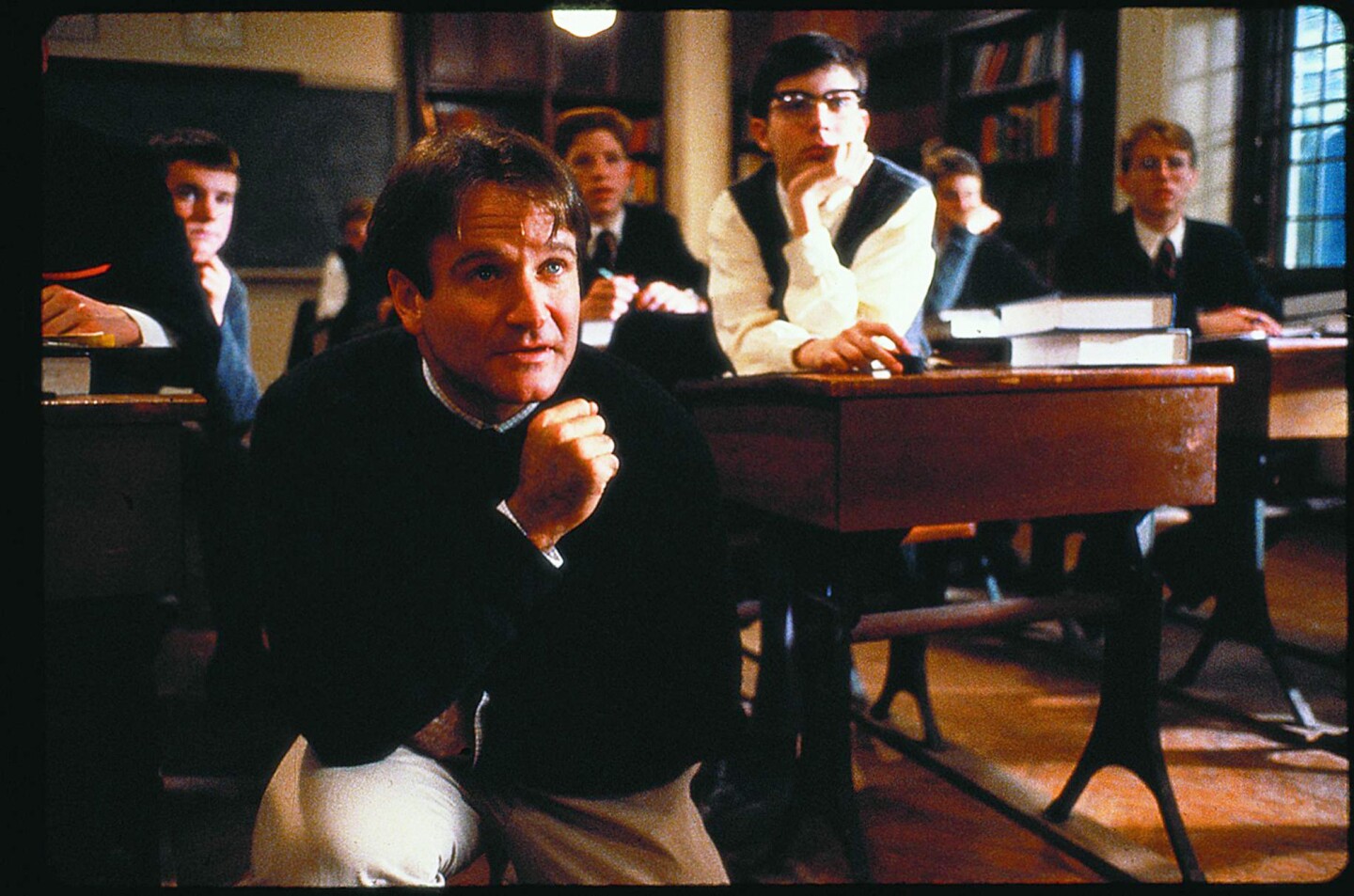 The 1989 film "Dead Poet's Society" stars Robin Williams as John Keating, an English teacher who inspires his students through his teaching of poetry.
(Touchstone Pictures)
Robin Williams earned an Oscar nomination for his portrayal of Parry, a homeless man who helps Jack Lucas (Jeff Bridges) in the 1991 film "The Fisher King."
(Steve Vaughan / Tristar Pictures)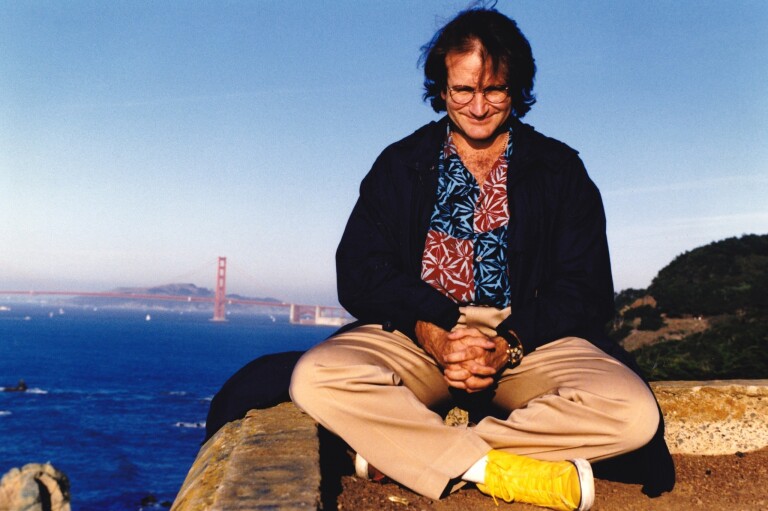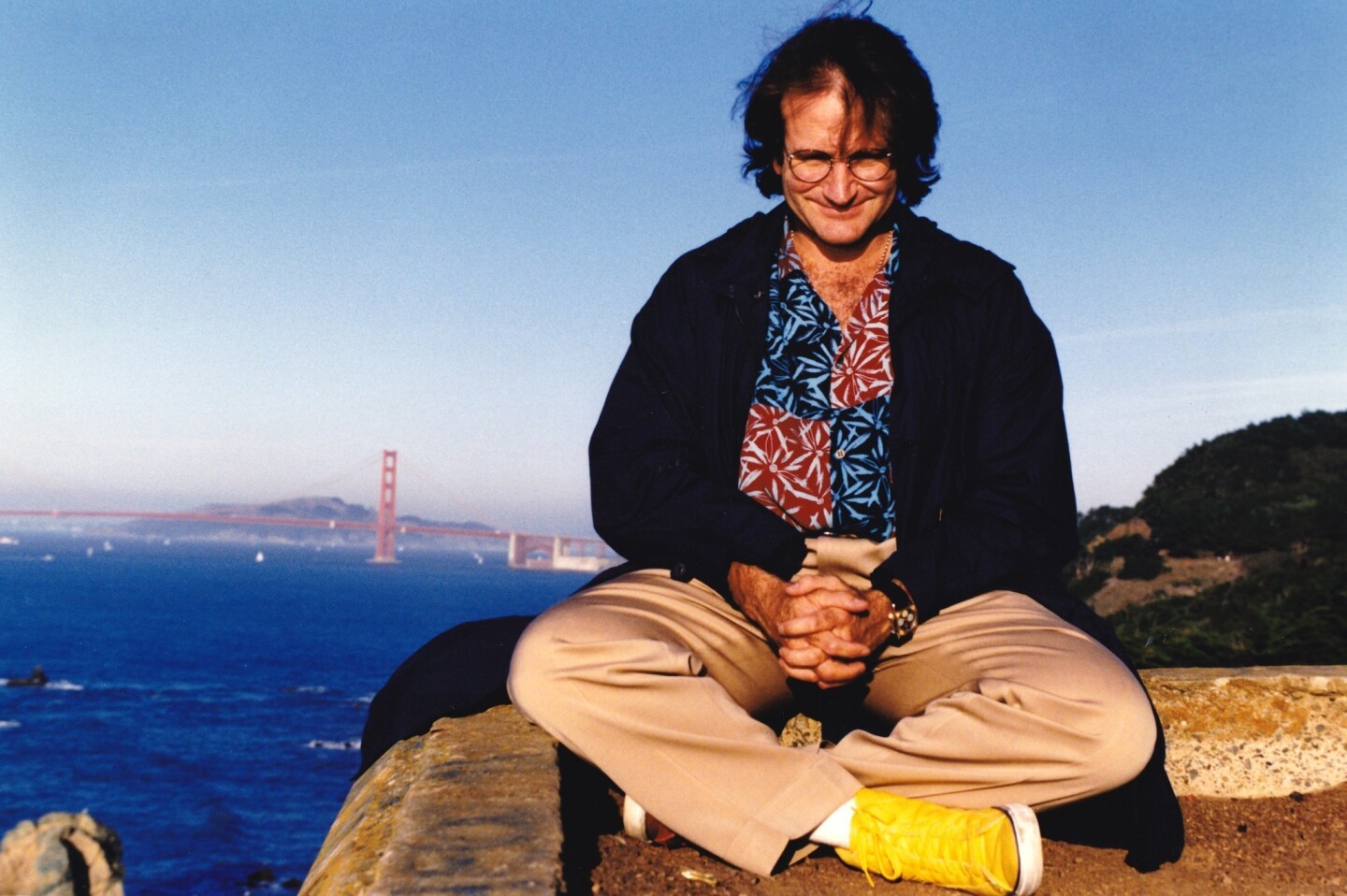 Robin Williams in San Francisco in 1991.
(Al Seib / Los Angeles Times)
Robin Williams, here in a scene with Dustin Hoffman, plays the grown-up Peter Pan in the 1991 film "Hook."
(Murray Close / TriStar Pictures)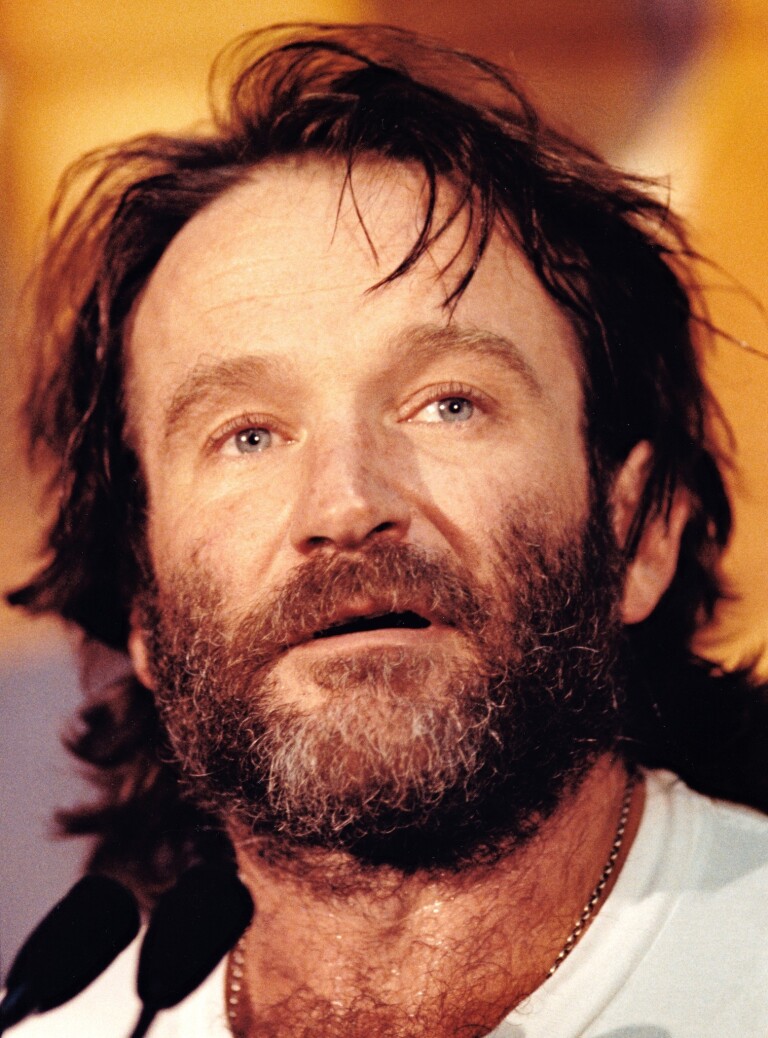 Robin Williams speaks to the media backstage after his performance at the Sam Kinison tribute held at the Celebrity Theatre in Anaheim, Sept. 3, 1992.
(Christine Cotter / Los Angeles Times)
Robin Williams plays Mel in Woody Allen's 1997 film "Deconstructing Harry." Here he shares a scene with Julie Kavner.
(J. Clifford / Fine Line Features)
In the 1992 film "Toys," Robin Williams plays Leslie Zevo, who has apprenticed at Zevo Toys his entire life.
(Twentieth Century Fox)
In the 1997 film "Fathers' Day," Robin Williams plays Dale Putley, a suicidal writer who hits the road with lawyer Jack Lawrence (Billy Crystal) to determine the paternity of the boy they have both been told is their son.
(Bruce McBroom / Warner Bros.)
Robin Williams stars as professor Philip Brainard, an inventor who develops a new energy source in the form of a green goo that increases in speed as it bounces, in the 1997 remake "Flubber."
(Hammerhead / Walt Disney Pictures)
Robin Williams voices the Genie in Disney's animated movie "Aladdin" in 1992 as well as in its direct-to-video sequel.
(Walt Disney Co.)
In 1993's "Mrs. Doubtfire," Robin Williams plays Daniel Hillard, an irresponsible father who creates an alter-ego in the form of a nanny in order to spend time with his children.
(Phil Bray / Los Angeles Times)
Robin Williams plays Alan Parrish, a man who was trapped in a board game for 26 years in 1995's "Jumanji." He costarred with Bonnie Hunt.
(Rob McEwan / Los Angeles Times)
In 1996's "Jack," Robin Williams plays Jack Powell, a 10-year-old boy who appears to be 40 because of a disease that ages him four times faster than normal children.
(Merrick Morton / Hollywood Pictures)
Robin William plays Armand Goldman, owner of a South Beach drag club who must hide his same-sex relationship with Albert (Nathan Lane) from their son's future in-laws in the 1996 film "The Birdcage."
(Lorey Sebastian / Los Angeles Times)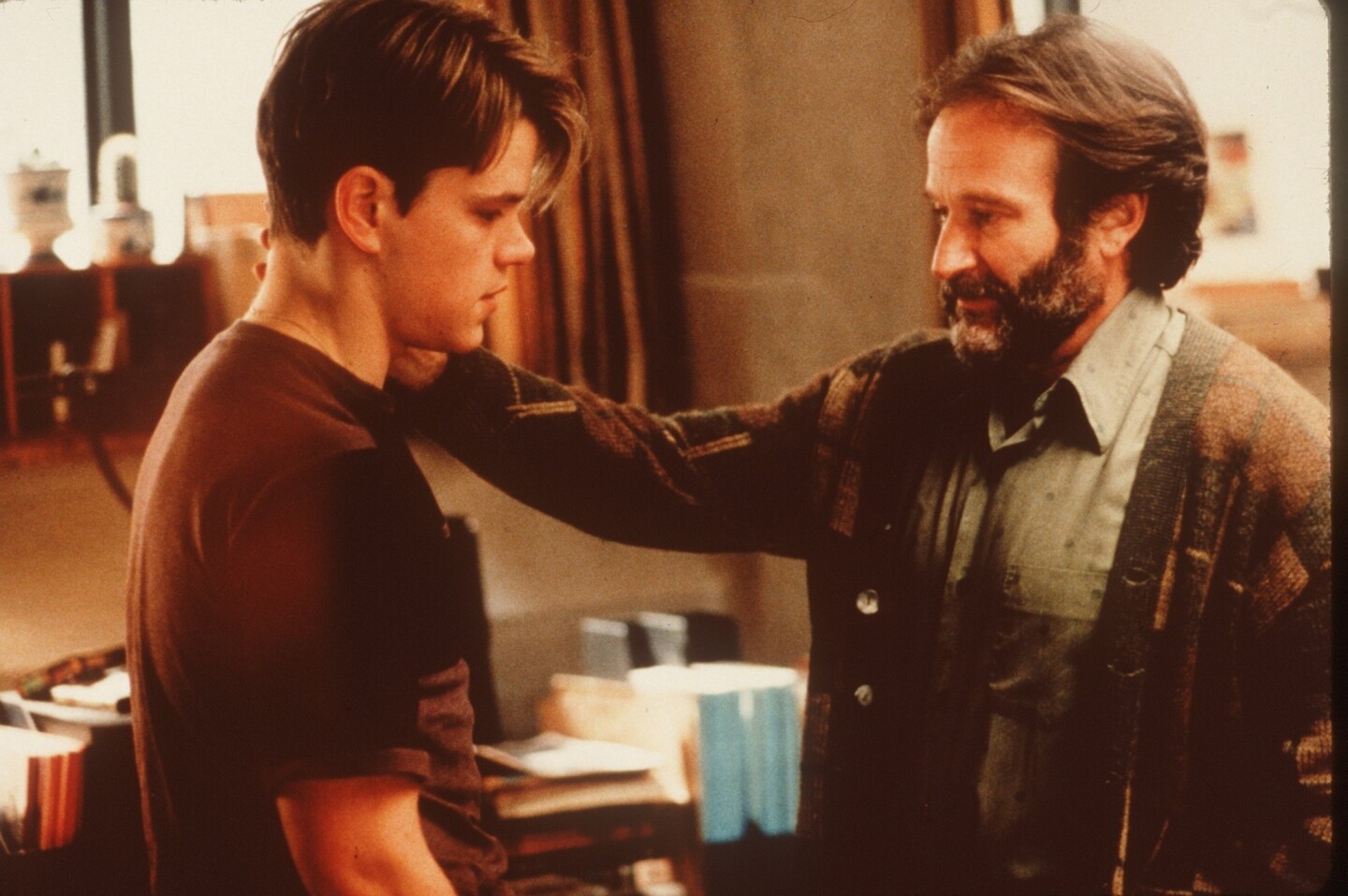 Robin Williams won a supporting actor Oscar for his portrayal of Dr. Sean Maguire, a psychology professor who helps Will Hunting (Matt Damon) in the 1997 film "Good Will Hunting."
(George Kraychyk)
Robin Williams starred in 1998's "Patch Adams," playing a medical student who treats patients with laughter.
(Melinda Sue Gordon / Universal City Studios Production)
In the 1998 film "What Dreams May Come," Robin Williams plays physician Chris Nielsen, whose idyllic life turns tragic after his children die in a car crash and who lingers on Earth after his own death.
(Polygram Films)
In the 1999 movie "Bicentennial Man" Robin William plays Andrew, a housekeeping robot who displays uncharacteristically human emotion, curiosity and creativity, above with Sam Neill.
(Phil Bray / Touchstone Pictures)
Robin Williams stars as a Polish-Jewish shopkeeper named Jakob who spreads hope throughout the ghetto by telling optimistic stories he heard on his "secret radio" in the 1999 film "Jakob the Liar."
(Egon Endrenyi / Columbia Pictures)
Robin Williams plays crime writer Walter Finch, here in a scene with Al Pacino, in the 2002 film "Insomnia."
(Rob McEwan / Alcon Entertainment)
Robin Williams plays a disgraced children's television show host, "Rainbow Randolph" Smiley, who plots to bring down his replacement (Edward Norton) after he is ousted for making deals with parents who want their kids on the show in 2002's "Death to Smoochy."
(Takashi Seida / Warner Bros.)
Robin Williams plays Sy Parrish, a photo technician who becomes obsessed with the Yorkin family, whose photos he has developed for years, in the 2002 movie "One Hour Photo."
(Francois Duhamel / Fox Searchlight Pictures)
In the 2004 movie "House of D," Robin Williams plays Pappass, a janitor and the best friend of 13-year-old Tommy (Anton Yelchin). The movie also features Williams' daughter Zelda as Melissa, Tommy's first love.
(Larry Watson / Lionsgate Films)
Robin Williams voices Fender, a robot living in Robot City who gets by selling souvenir photos and star maps in the 2005 animated movie "Robots."
(Blue Sky Studios / Twentieth Century Fox)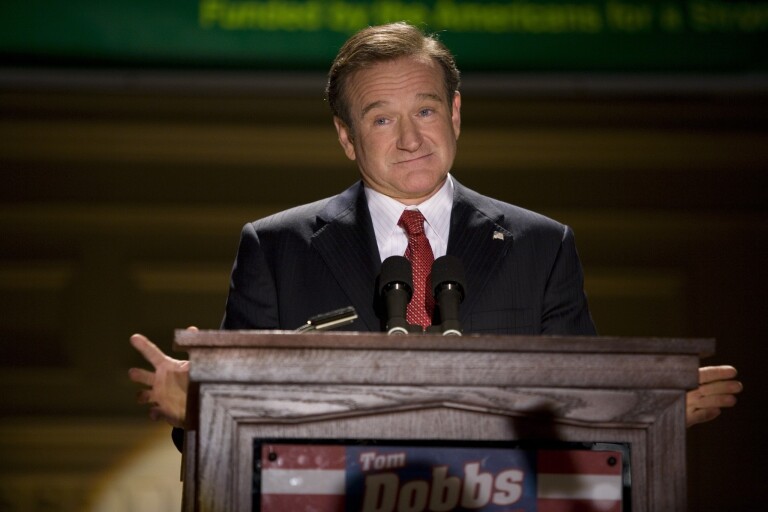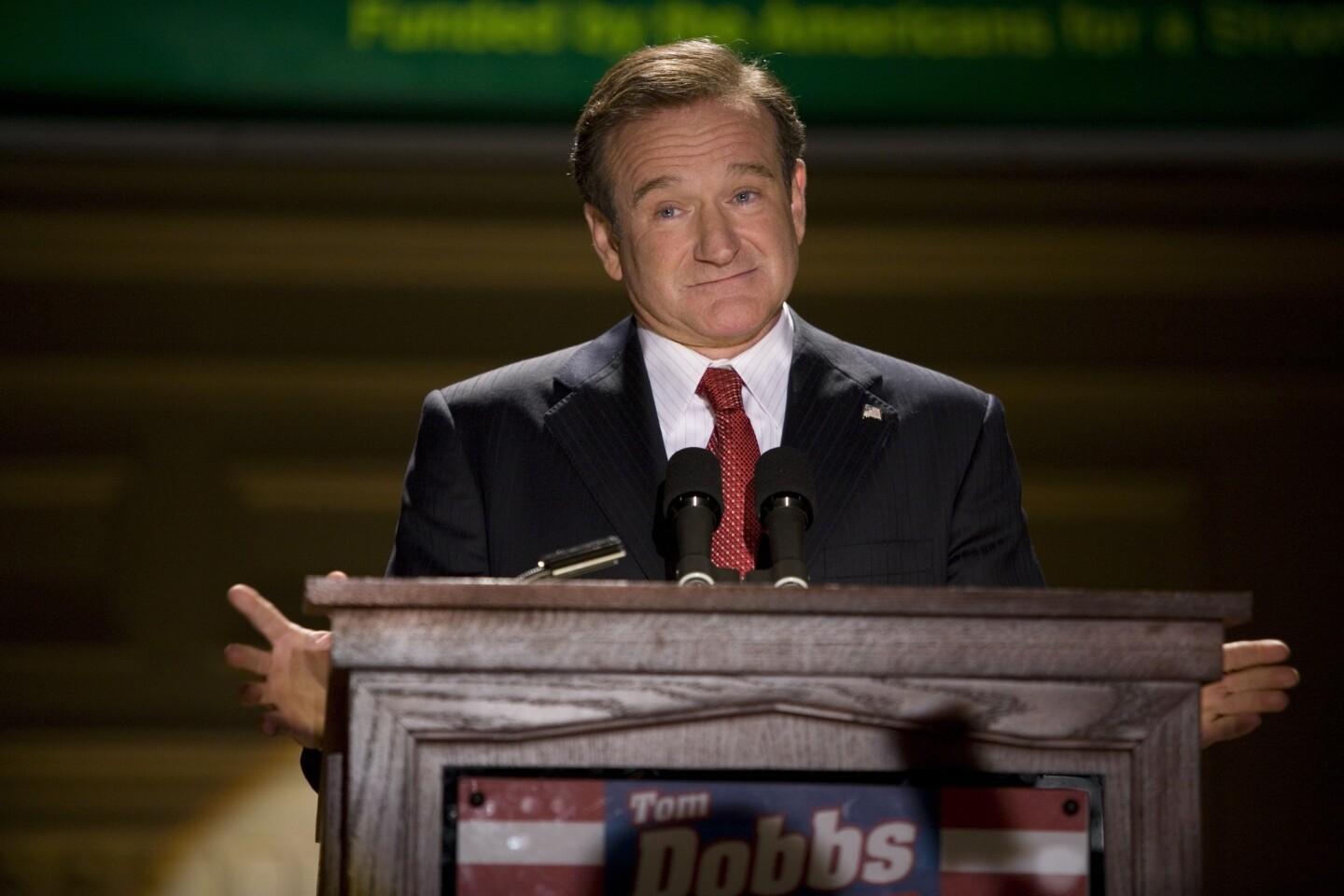 In the 2006 movie "Man of the Year," Robin Williams plays Tom Dobbs, a comedian and host of a satirical talk show who ends up running for president.
(Universal Pictures)
Robin Williams plays Theodore Roosevelt in the 2006 film "Night at the Museum" with Ben Stiller, as well as in the 2009 follow-up, "Night at the Museum: Battle of the Smithsonian."
(Doane Gregory / 20th Century Fox)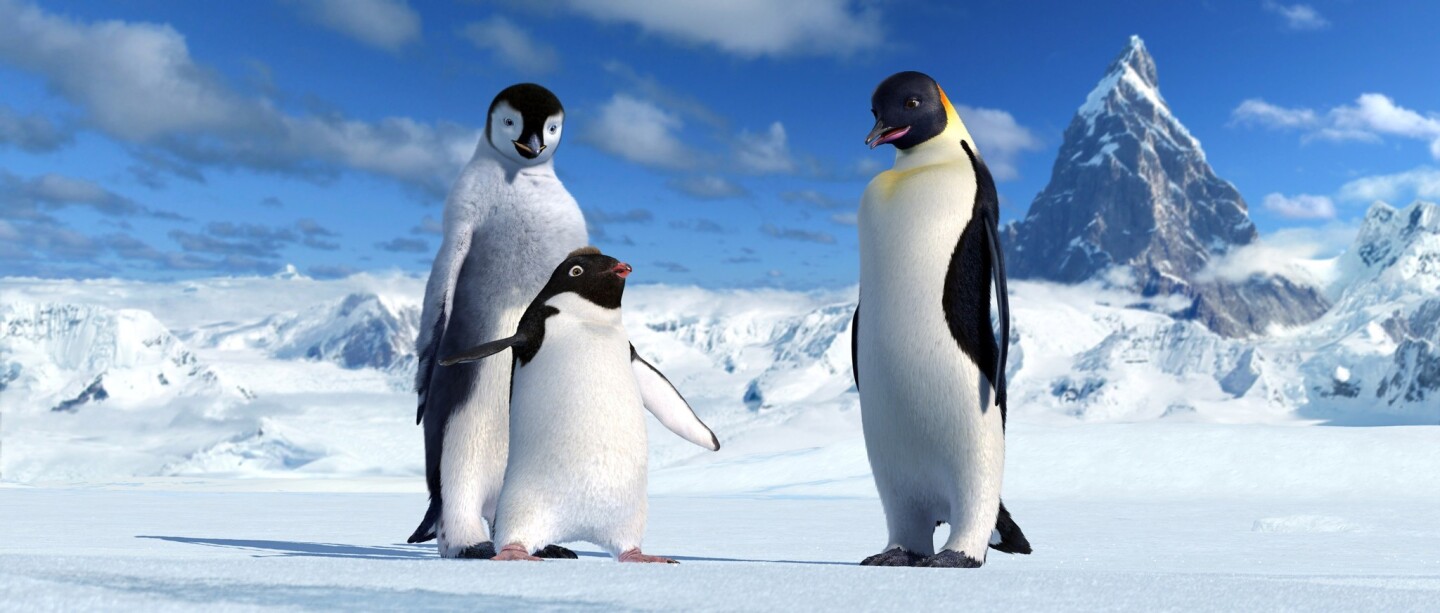 Robin Williams is the voice of Ramon, center, in the 2006 animated film "Happy Feet." Williams also voiced the penguin Lovelace.
(Warner Bros.)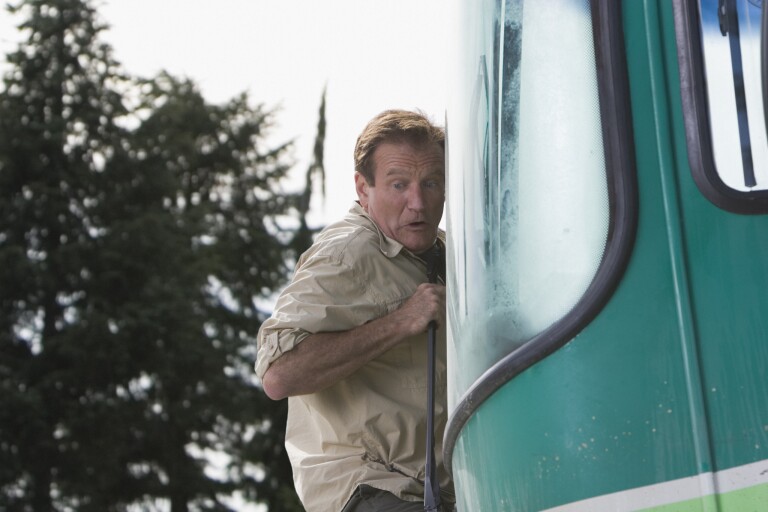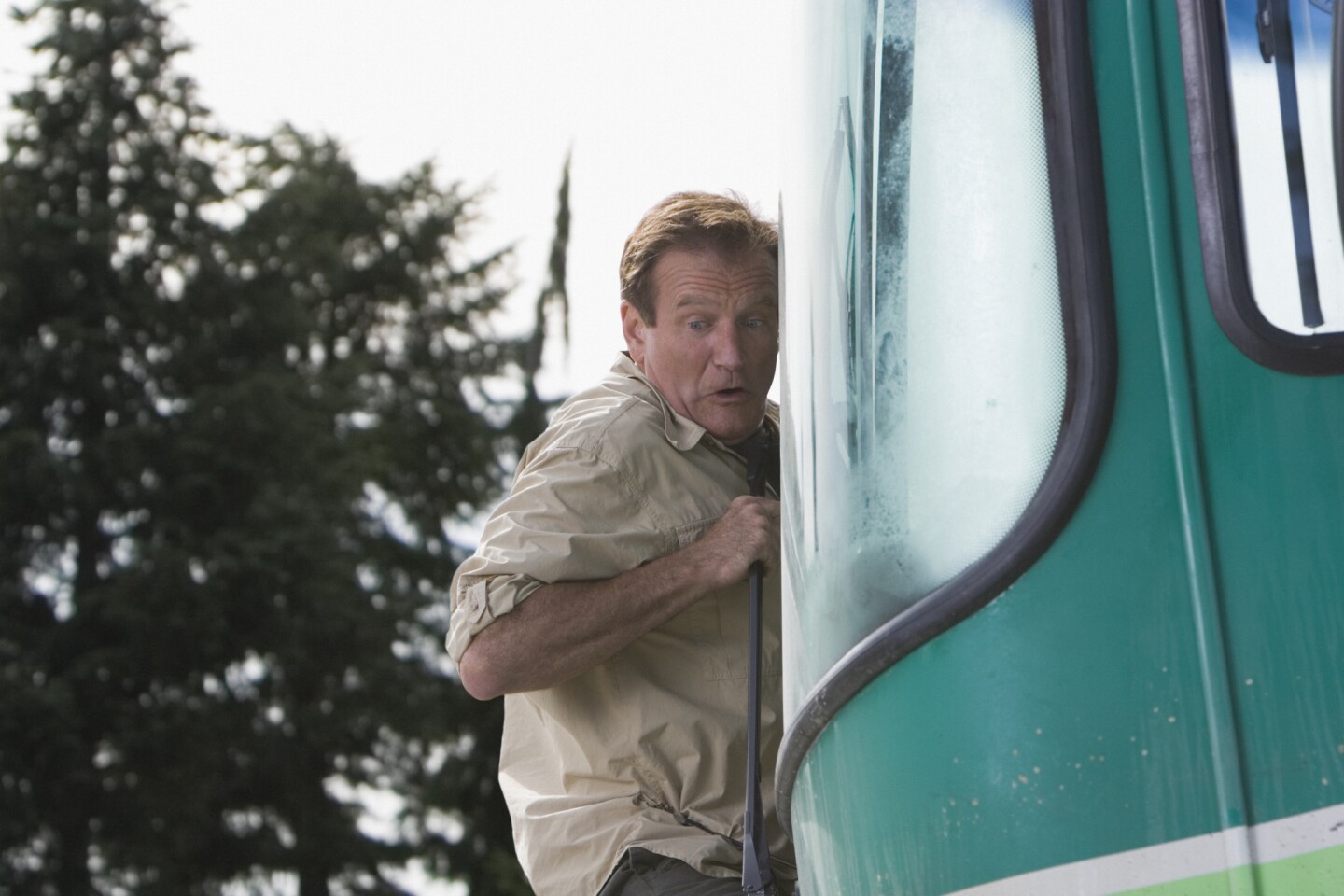 Robin Williams plays Bob Munro, a beverage company executive who rents a camper for a road trip with his dysfunctional family in the 2006 movie "RV."
(Joe Lederer / Columbia Pictures )
Robin Williams plays the eccentric Rev. Frank in the 2007 movie "License to Wed."
(Peter Sorel / Warner Bros. Entertainment)
Robin Williams, pictured with director Kristen Sheridan, plays Maxwell "Wizard" Wallace in 2007's "August Rush."
(Abbot Genser / Warner Bros.)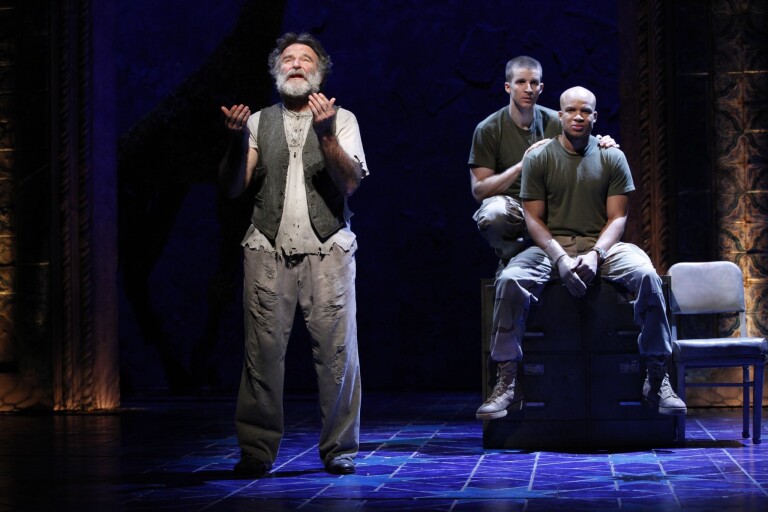 Robin Williams makes his Broadway acting debut in Rajiv Joseph's "Bengal Tiger at the Baghdad Zoo" in 2011 at the Richard Rodgers Theatre.
(Carol Rosegg )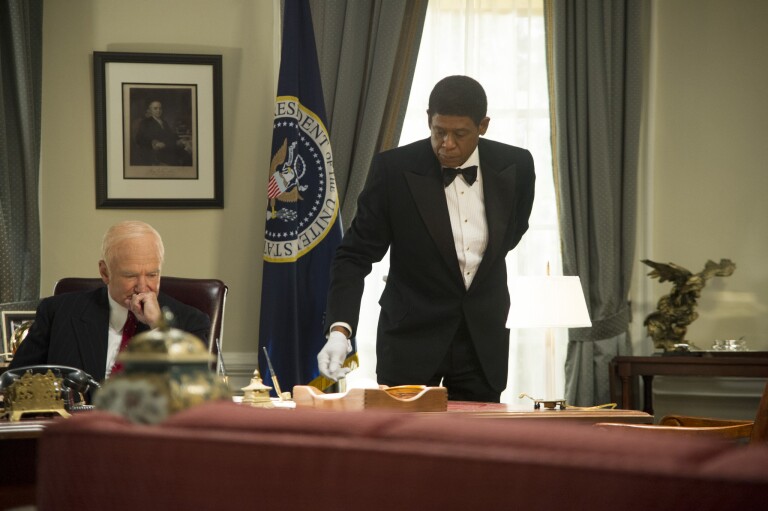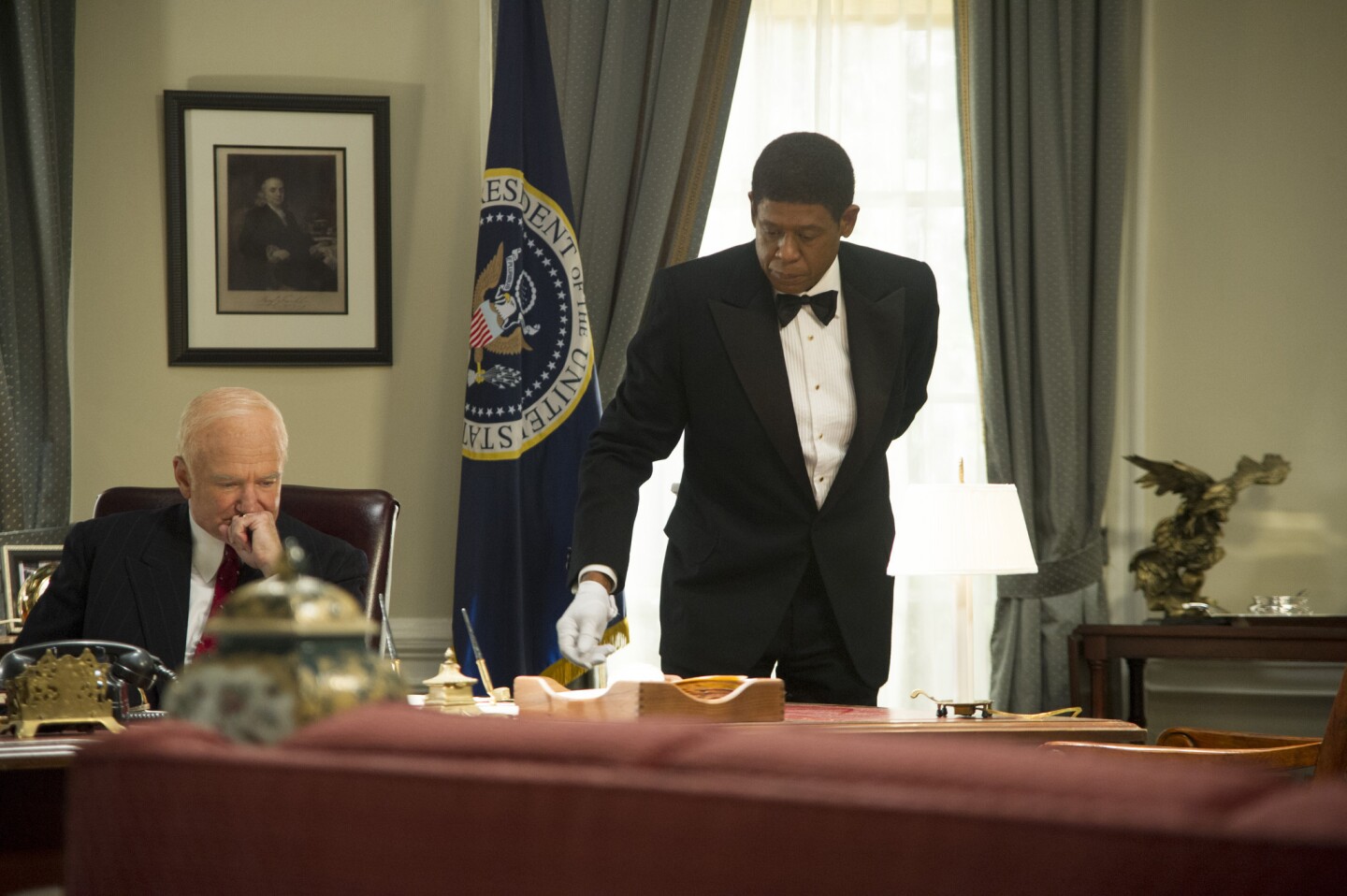 In the 2013 film "Lee Daniels' The Butler," Robin Williams plays President Dwight D. Eisenhower, who is in office when Cecil Gaines (Forest Whitaker) is first hired as a butler at the White House.
(Anne Marie Fox / The Weinstein Co.)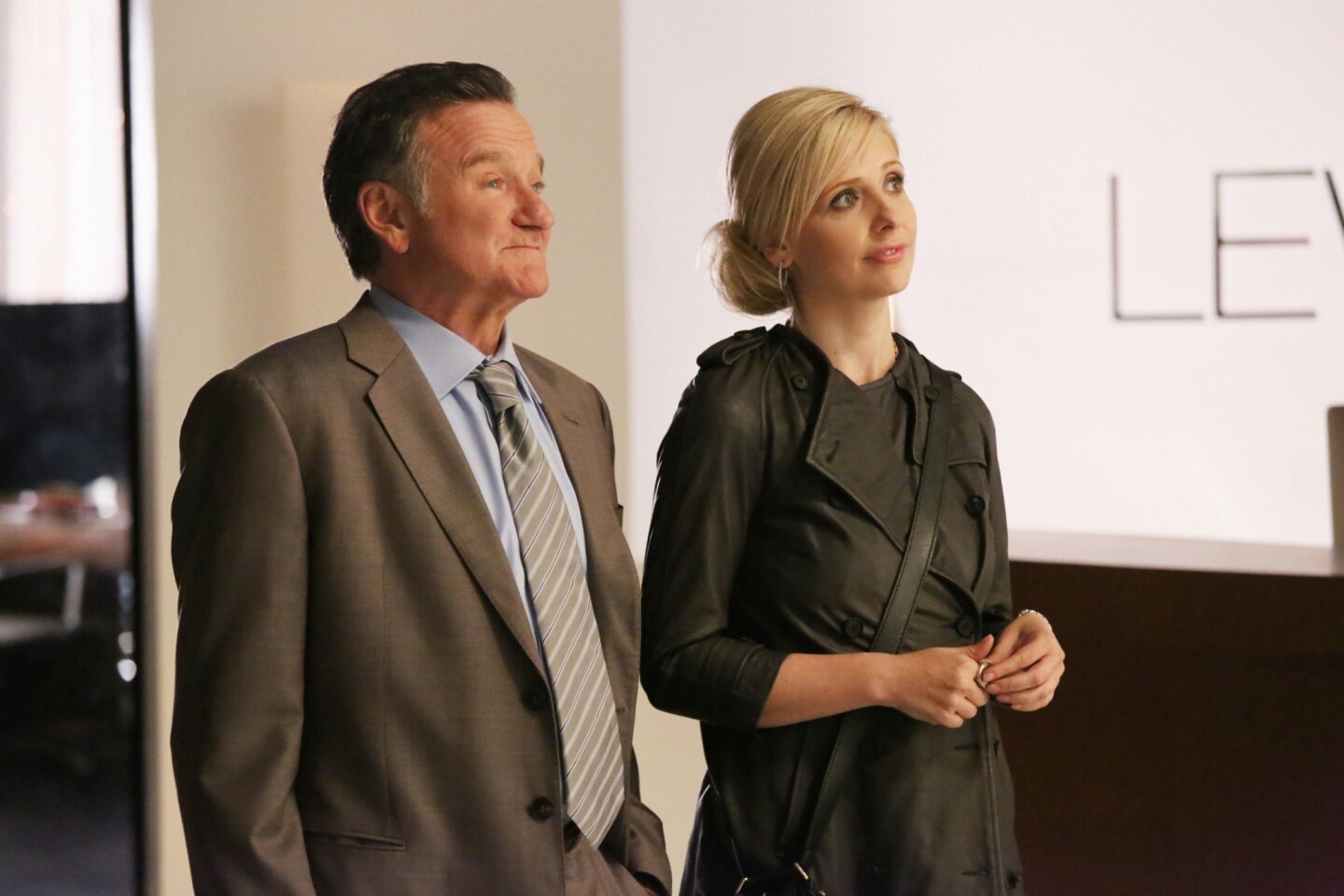 In his first regular television series role in 31 years, Robin Williams plays Simon Roberts, an eccentric advertising executive who works with his daughter Sydney (Sarah Michelle Gellar) in CBS' "The Crazy One," which aired from 2013 to 2014.
(Richard Cartwright / CBS)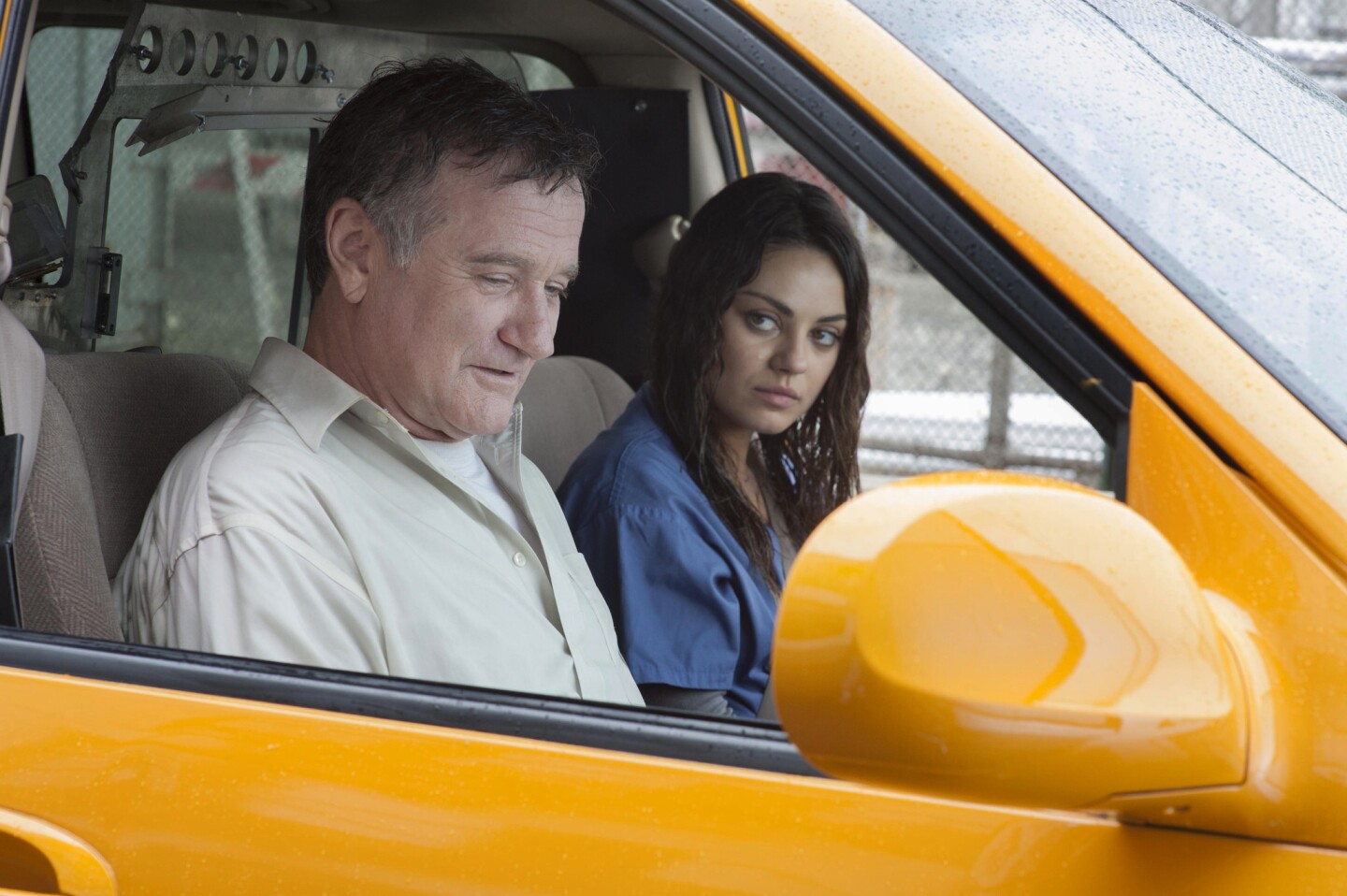 Robin Williams stars as Henry Altmann, a man who is told he has 90 minutes to live after Dr. Sharon Gill (Mila Kunis) discovers his brain aneurism in the 2014 movie "The Angriest Man in Brooklyn."
(Jojo Whilden / Lionsgate)
The details of Robin Williams' apparent suicide aren't pretty (not that anyone thought they would be): The beloved actor and comedian was reportedly found by his personal assistant suspended just off the ground by a belt wrapped around his neck. Cuts on his wrist suggest he may have attempted to kill himself one way before succeeding at asphyxiation.
You probably wouldn't know any of this if some enlightened journalists had their way. Those who missed the initial news conference where these details were first reported would have been kept in the dark, because journalists, some people say, don't have to continue reporting the disturbing facts after they've been delivered by the government officials obligated to do so.
Those thinkers are wrong. Journalists' job is to tell the whole story, and nothing less. I speak from experience.
Many years ago while working as a reporter in a small town, I received an obituary call from a local funeral director. The call was routine in every way but one: The subject of the obit was a young man in his teens. At the suggestion of my editor, I looked into the death and discovered the boy had hanged himself. I added that to the story.
A few hours before the final deadline, I received a phone call. It was the boy's mother. She had heard I was asking questions about her son. In a voice ragged with grief, she begged me not to print the fact that he had committed suicide. It was a call that would've moved a heart of stone.
I had no authority to change the story, so I handed the call to my editor, a woman as kind as she was wise and whose judgment I accepted without reservation. There was no doubt in my mind she would delete the offending sentences. Why not? Some kid kills himself in a small town; who needs to know?
I was shocked to find out I was mistaken. In the gentlest way possible, my editor explained to the grieving mother that the story had to run as it was.
My editor and I debated this decision until after midnight. My argument was that, in such a small story, our sacred duty to tell the whole truth might be harmlessly sacrificed to compassion. Her argument was that this boy's death was a small story, yes, but part of a bigger story, the story of the county we covered. It was our job -- and an important job -- to tell that story straight.
That my editor was wholly in the right became clear to me a few years later. It was then that county and state authorities discovered that, in fact, there had been a growing plague of teenage suicides in that area, starting right about that time. I can't say that the small obituary we ran directly contributed to that discovery. I only know we told our readers the whole truth about what turned out to be an important incident in their neighborhood. We did our job, in other words, and it was the right thing to do.
Robin Williams once made me laugh so hard I literally fell off the sofa in my TV room. It is deeply unpleasant to picture him dying the way he did.
The hive mind of the Twitterverse was outraged by the reporting of those details. Al Tompkins of the media watchdog group Poynter told USA Today that "journalists don't have the obligation to report that information over and over again in that level of detail."
Tompkins is wrong: The manner of Williams' death is public information. Journalists should report it as long as it remains of interest to the public.
It is not a journalist's job to protect us from the ugly facts. Neither is it his job to protect the sensitive from the painful truth or anyone, really, from anything.
In fact, speaking more broadly, it is not a journalist's job to make the world a better place, to ensure our right thinking, or to defend the virtuous politicians that sophisticates like himself voted for while excoriating the evildoers elected by those country rubes on the other side. It is not his job to do good or be kind or be wise. The idea that any of this is a journalist's job is a fallacy that seems to have infected the trade in the 1970s, when idealistic highbrows began to replace the Janes and Joes who knew a good story when they heard one.
Because that's the journalist's job: the story. His only job: to tell the whole story straight.
In the greater scheme of things, Williams' suicide is a small story, but it is part of a bigger story: the story of our country and our world. That story unfolds only slowly, and no one knows what wisdom it will ultimately reveal. The best we can do is tell each chapter whole and true, without piety or fear or favor.
The best we can do is journalism.
Andrew Klavan's latest book for young adults is "MindWar."
Follow the Opinion section on Twitter @latimesopinion
---
A cure for the common opinion
Get thought-provoking perspectives with our weekly newsletter.
You may occasionally receive promotional content from the Los Angeles Times.