Opinion: Is Jose Antonio Vargas an immigration martyr in waiting?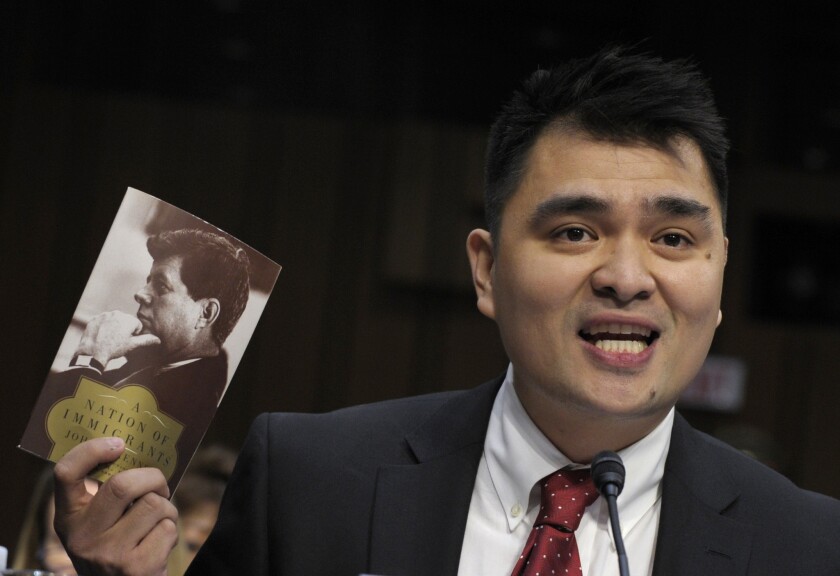 Most undocumented immigrants in the United States try to keep a low profile, for some pretty obvious reasons. If you're here contrary to immigration laws, the last thing you want to do is give immigration agents the opportunity to sweep you up and send you back where you came from.
Not so Pulitzer Prize-winning journalist Jose Antonio Vargas, who famously outed himself as an illegal immigrant from the Philippines in a New York Times essay three years ago. Since then, he has been an outspoken activist for undocumented immigrants. A few days ago he went to the Texas border to report on the humanitarian crisis there involving unaccompanied minors.
Early Tuesday, he got busted.
There are a few ways to look at this. Pro-immigration folks are outraged, which stands to reason. But Vargas saw it coming. Tweeting Tuesday morning that he was "about to go thru security at McAllen Airport. I don't know what's going to happen." Security at the airport, given its proximity to the Mexican border, also routinely includes checks of documents. And Vargas has none.
So he was asked, and then handcuffed and taken away.
Illegal immigrants get nabbed every day, but none with as high a profile as Vargas. What happens here will be a test of both the system and of politics. If the "deporter in chief" sends Vargas back to the Philippines, which he left as a 12-year-old in 1993, the government creates a virtual martyr for the pro-immigration crowd. But if immigration authorities find a bureaucratic trick to let Vargas stay, then the politics shift. Anticipate cries of "favoritism" and "double standard."
The oddest aspect of the story is that Vargas didn't seem to know what he was getting himself into before he headed to the border region, where immigration checkpoints miles from the border are standard. It was a region he could easily enter but faced long odds leaving. As he wrote at Politico last week:
"When my friend Mony Ruiz-Velasco, an immigration lawyer who used to work in the area, saw on my Facebook page that I was in McAllen, she texted me: 'I am so glad you are visiting the kids near the border. But how will you get through the checkpoint on your way back?' A curious question, I thought, and one I dismissed. I've visited the border before, in California. What checkpoint? What was she talking about?
"Then Tania Chavez, an undocumented youth leader from the Minority Affairs Council, one of the organizers of the vigil, asked me the same question: 'How will you get out of here?' Tania grew up in this border town. As the day wore on, as the reality of my predicament sunk in, Tania spelled it out for me: You might not get through airport security, where Customs and Border Protection (CPB) also checks for IDs, and you will definitely not get through the immigration checkpoints set up within 45 miles of this border town."
He gambled with the airport, and lost. Maybe. This is going to be one interesting case to watch.
Follow Scott Martelle on Twitter @smartelle
---
A cure for the common opinion
Get thought-provoking perspectives with our weekly newsletter.
You may occasionally receive promotional content from the Los Angeles Times.