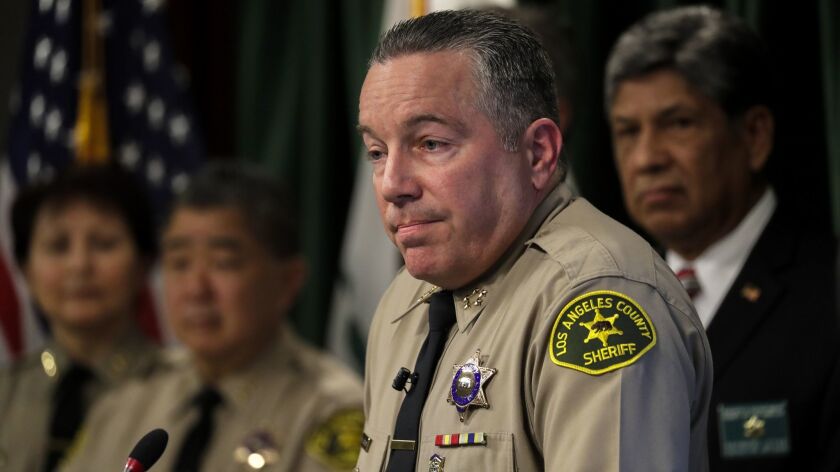 To the editor: The county office of sheriff, an elected position, is inherited from our former colonial masters. Police chiefs from Los Angeles to New York are appointed after an extensive selection and vetting process by elected city officials, whereas the sheriff of every county in America is elected directly by a majority of poorly informed registered voters who actually go to the polls. ("Alex Villanueva says he is just 'assuming the proper role' of an elected sheriff," April 5)
Voting is a poor way to determine the chief executive of a county law enforcement and corrections organization. The only requirement to be elected sheriff in any of California's 58 counties is to have been a peace officer.
This is an anachronism, and the result is Los Angeles County Sheriff Alex Villanueva.
Richard Goff, Ventura
..
To the editor: The sheriff blithely claims that his "support within the community is very, very strong." Is he kidding? Villanueva is rapidly losing the support of many of us who voted for him.
The sheriff says he is simply fulfilling campaign promises. That is not what I heard when he campaigned at the Cañada Crescenta Democratic Club before the 2018 election.
He did not promise to ignore lessons from the #MeToo movement and rehire a deputy who had been fired for allegedly stalking and terrorizing an ex-girlfriend. He did not promise to create a secret "truth and reconciliation" committee to reinstate deputies terminated for misconduct. The very name of the committee is reflective of his shocking obtuseness — does he really think the angst of fired deputies can be compared to the suffering of black South Africans under apartheid rule?
The sheriff is doing a great disservice to both law enforcement and the community he serves. He needs to embrace reform, not thwart it. He needs to listen to the Los Angeles County Board of Supervisors, not defy it.
Vicki Freimann, La Cañada Flintridge
..
To the editor: The situation with how Villanueva is conducting himself is just wrong and very disappointing. But at least I can say that as a voter, I have absolutely no regrets, since I did not vote for him.
Now my spouse, that's another matter. He has told me that if he could take back his vote, he would absolutely do so.
To both of us, the moral of Villanueva's stunning upset of then-Sheriff Jim McDonnell in 2018 is a lesson voters have felt so many times in this country, especially in that last several years: Elections have consequences.
Loren Mark, Los Angeles
Follow the Opinion section on Twitter @latimesopinion and Facebook
---