Readers React: Racism at a south Orange County high school? Not much has changed there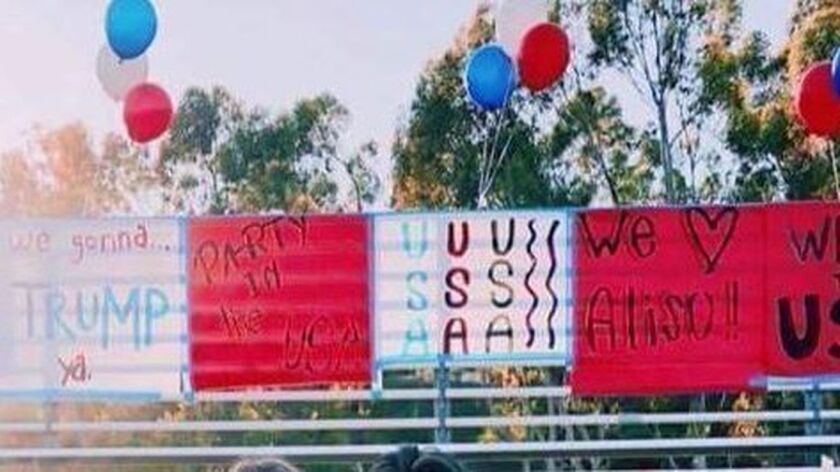 To the editor: Once again, racism has reared its ugly head, but it's especially disappointing to see it come from students at Aliso Niguel High School, and that their principal defended them. She did not think the students were being racist by putting up a sign that read, "We gonna TRUMP ya," ahead of a football game against mostly Latino Santa Ana High School, when anybody with half a brain knows the president is racist.
Things have not changed much in south Orange County since I taught at Saddleback College a few years ago. For example, when I once told students about an employment opportunity with the county, the only questions were whether they would have to work in Santa Ana.
On another occasion, when I was a speaker at Dana Hills High School, many students remarked that I spoke English very well. Of course I speak English well — my family has been a part of this country ever since it stole almost half of Mexico's land in an unjust, unprovoked war.
Ben Alvillar, Tustin
..
To the editor: For decades, the intellectual establishment has advocated black power, black identity, Latino power, Latino identity and so forth.
So, after children have been pounded in school with multiculturalism, in which they are taught to see themselves and others as ethnic beings rather than individuals, now there's shock that racism is increasingly overt among some whites.
What a surprise. It's called the racist chickens coming home to roost.
Mike Berliner, Los Angeles
..
To the editor: As a 20-year high school teacher, I can safely bet those Aliso Niguel High School administrators didn't mind those controversial banners being displayed. But let's forget that and create a win-win solution.
This incident should serve as the basis for a beneficial "bonding" opportunity for both campuses. They should do the right thing and establish a "sister school" exchange program so they can better understand and respect each other's communities. Enough with divisiveness.
Armando Cepeda, Yorba Linda
Follow the Opinion section on Twitter @latimesopinion and Facebook
---
A cure for the common opinion
Get thought-provoking perspectives with our weekly newsletter.
You may occasionally receive promotional content from the Los Angeles Times.