Readers React: Anti-Semites and white supremacists pose a far greater risk to American Jews than liberal college students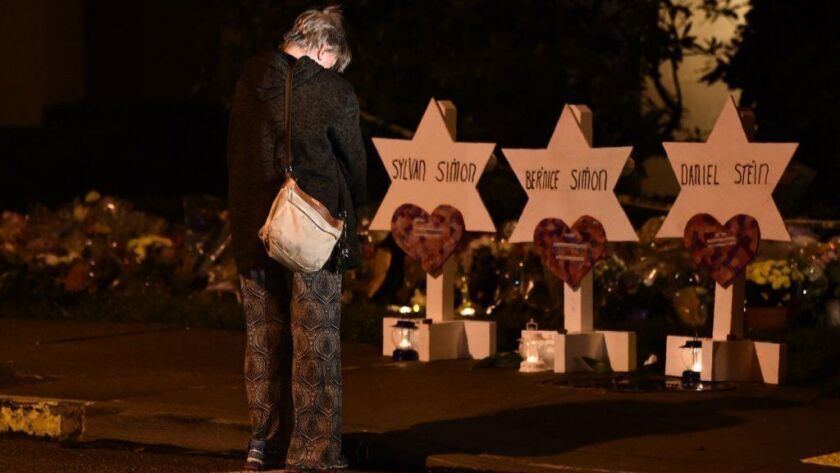 To the editor: In response to an opinion piece about Kristallnacht, a Jewish letter writer whose grandmother's family was killed by the Nazis states that she is not afraid of white supremacists, but rather her bigger fear is of the harassment of Jewish college students by liberals. She further states that her fears are held by many Jews.
I am a Jew born in the United States whose parents were refugees from the Nazis. My father lost two brothers and a sister in concentration camps, and my mother and her family fled their home in Vienna immediately after Kristallnacht in 1938.
There are anti-Semites on both the right and the left, but I am quite sure the 6 million Jews who died in the Holocaust would have preferred to have been harassed rather than killed. Given the horrific shooting at a Pittsburgh synagogue by someone who expressed white supremacist views, I believe that the writer's thinking is exactly backward and that most American Jews do not share her point of view.
I certainly don't.
Michael Asher, Valley Village
..
To the editor: Reading about Kristallnacht brought back memories of that time in my early childhood in a small town in Germany.
My father and grandfather as well as other male relatives were arrested during the night. Thanks to the efforts of a courageous attorney, they were soon released. However, the harassment continued to escalate and my mother, who was not Jewish, took me to live with her family in a larger city.
Eventually, my father and grandparents and the remaining members of the Jewish community were transported to concentration camps and killed. World War II ended, and the small town became part of East Germany.
Many years passed before local leaders decided to honor the memory of their lost Jewish community. With the help of a Canadian history professor, an archive was established and stories were collected from survivors. "Stumbling stones" — plaques engraved with the name of a Holocaust victim — were placed on sidewalks in front of the last known residences of those who were killed.
It occurred to me that we might adopt this practice to honor the victims of hate crimes in our community in the hope that it will make us stop and realize what an ugly emotion hate is.
Lotte Schaefer, Van Nuys
Follow the Opinion section on Twitter @latimesopinion and Facebook
---
A cure for the common opinion
Get thought-provoking perspectives with our weekly newsletter.
You may occasionally receive promotional content from the Los Angeles Times.