Readers React: How Germans maintain strict order on their roads, with or without autobahn speed limits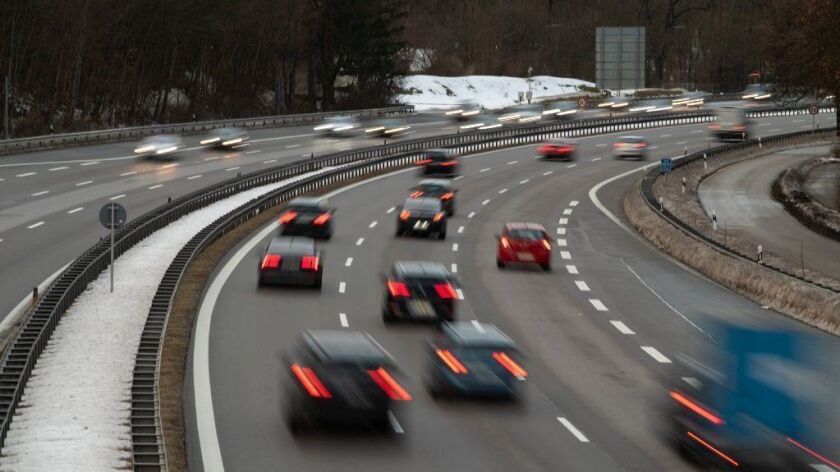 To the editor: I had the great fortune to live in Germany while my spouse was working there. Although the article on the backlash to speed limits proposed for German highways emphasizes how much of the autobahn is unregulated, the driving experience is quite different.
Speeds are controlled frequently, around villages, towns and cities, in hills and mountains, and for the never-ending summer construction season. This is illustrated in your photo of a highway near Munich, which shows a sign indicating a limit of 80 kilometers per hour.
Drivers almost always signal lane changes and wait if a faster car would be impeded. Only on very rare occasions are slow drivers anywhere but the right lane. It is an exceptionally orderly driving experience.
And yes, if the unlimited sign appeared, I was driving one of those fast cars.
Susan Elgin, Orange
..
To the editor: Let's offer a huge thank-you to Ferdinand Dudenhoeffer, analyst at the Center for Automotive Research at the University of Duisburg-Essen, Germany, for distilling our national debate on gun control so concisely:
"It's like people in America saying they won't feel free without guns. Everyone knows that doesn't make any sense. It's the same thing in Germany with speed limits. It's a myth."
Ginny Aitkens, Cambria, Calif.
..
To the editor: This article reminds me of the first time I rented a car in Germany.
After arriving at Frankfurt airport, I rented a Yugo and started my drive on the autobahn to Dusseldorf. In the fast lane I was, incredibly, able to keep up with the other cars.
A BMW, however, pulled up in back of me flashing its lights. My German wife told me that, by custom, it was frowned upon for inexpensive cars to drive in that lane. As an obstinate American, I refused to budge, and the BMW driver eventually ceased flashing his lights.
Bob Lentz, Sylmar
Follow the Opinion section on Twitter @latimesopinion and Facebook
---
A cure for the common opinion
Get thought-provoking perspectives with our weekly newsletter.
You may occasionally receive promotional content from the Los Angeles Times.