Opinion: All zoos are an abomination; ones that have elephants are even more so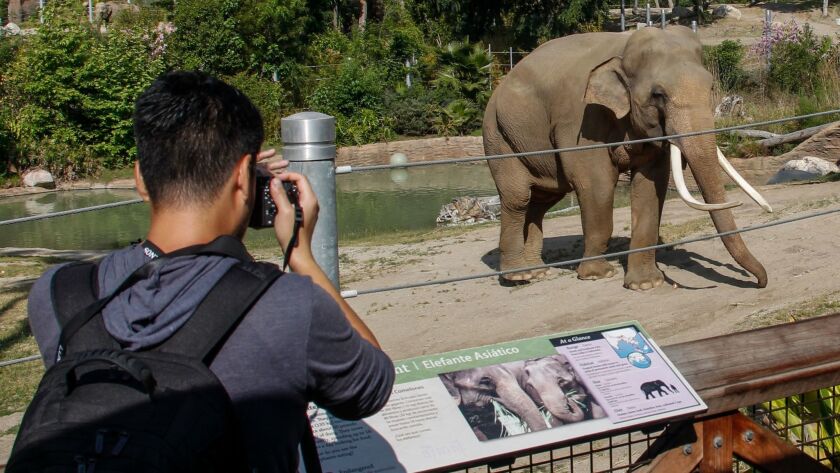 To the editor: It is far beyond time to free Billy the elephant. ("Two City Council members renew push to remove Billy the elephant from L.A. Zoo," Jan. 25)
All zoos are abominations, more or less. In Los Angeles, we have wasted millions of dollars trying to imprison various animals for our viewing pleasure, and it is time to stop.
Why not move the animals to far larger and more appropriate locations outside the city and then devote the existing animal prison to an exhibit of wildlife using giant video monitors that could simulate the reality of wildlife experiences? Disney could be brought in to help with this.
In the meantime, let's allow the L.A. Zoo's 32-year-old elephant Billy an opportunity to enjoy the company of some ladies and friends before he dies.
William Bergmann, Hollywood
..
To the editor: Our city uses volunteers to tally the number of homeless people on the streets. Our city's infrastructure continues to deteriorate, the streets are not swept, garbage is not being picked up regularly for some people, and sidewalks are a hazard.
Can't Councilmen Paul Koretz and Mitch O'Farrell find more important things to do than hold continuous meetings on removing an elephant from the L.A. Zoo to some "sanctuary"?
For its elephant exhibit, the L.A. Zoo has been recognized by the Assn. of Zoos and Aquariums with a Significant Achievement award. This acknowledges the zoo's innovation and dedication to the best in animal care and excellence in the area of public education.
Let's allow people who know about elephants and their welfare continue to do their jobs. Let's hope our City Council members will try to do theirs.
Jerry Leach, Studio City
..
To the editor: For all those concerned people envisioning Billy the elephant's life at the L.A. Zoo, envision this: one solitary human being, standing on the rock, surrounded by herds and herds of staring elephants.
Wendy A. Robinson, Saugus
Follow the Opinion section on Twitter @latimesopinion and Facebook
---
A cure for the common opinion
Get thought-provoking perspectives with our weekly newsletter.
You may occasionally receive promotional content from the Los Angeles Times.