Readers React: Without action now on climate change, California may not be able to feed the nation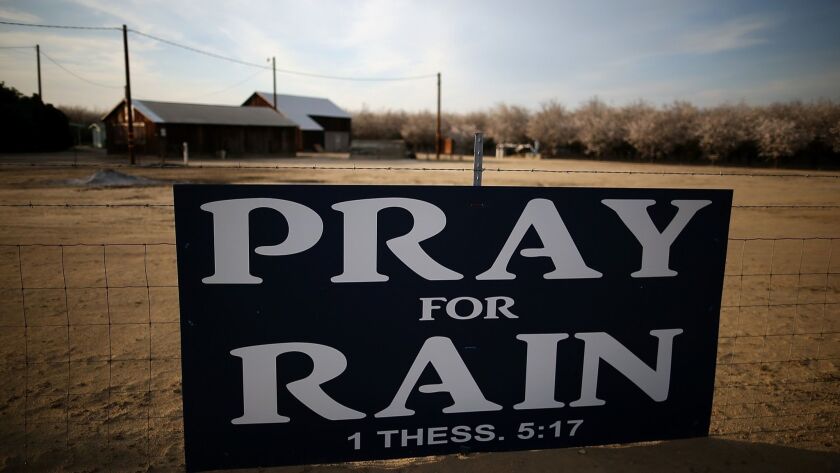 To the editor: I was struck by the appearance of two excellent articles in the Sunday print edition of the Los Angeles Times.
In one, punctuated by a dramatic photo of a lonely plant in an otherwise bleak, desert-like field, Michael Hitzlik summarizes the projected damage to California agriculture due to climate change expected over the next few decades. In the other, reporter John Myers discusses Proposition 70, which appears to be a rather heavy-handed attempt by polluters to manipulate the allocation of funds raised by California's cap-and-trade program, which were intended to be applied to the reduction of the greenhouse gases responsible for climate change.
The juxtaposition of these two articles reminds us of both the importance and the difficulty of developing the political will required to end our dependence on fossil fuels and preserve our fragile Earth for our grandchildren and their grandchildren.
Michael Werner, Pasadena
..
To the editor: Climate change is only the more recently recognized of two real threats to California agriculture. The other, groundwater overdraft (defined as extraction or pumping of groundwater that exceeds total replenishment) in the state's Central Valley, has been in play since the 1960s.
Despite huge aquifer capacity, groundwater overdraft over time has resulted in lowering (or deepening) groundwater levels, surface subsidence of up to 30 feet and ever-diminishing aquifer storage capacity in the Central Valley. The overdraft has been persistent, not just in drought years when snowpack and surface water supplies are diminished, but also in years of normal and above average precipitation.
Consequently, there is no question that reduced groundwater supplies due to overdraft will drive a significant amount of agriculture out of California, even without climate change. But, as noted in the article, climate change will dictate which crops will stay and which will go.
Dan Masnada, Valencia
The writer was general manager of the Castaic Lake Water Agency from 2002-16.
Follow the Opinion section on Twitter @latimesopinion and Facebook
---
A cure for the common opinion
Get thought-provoking perspectives with our weekly newsletter.
You may occasionally receive promotional content from the Los Angeles Times.