Readers React: With wildfires raging globally, we have exactly the wrong president for fighting climate change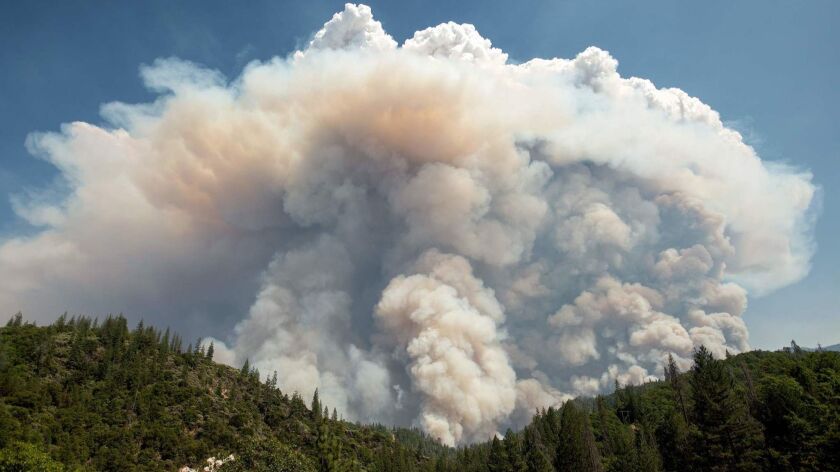 To the editor: Having been born and raised in Los Angeles, I've seen many fires tear through the southern part of this state since I was old enough to understand what was going on. The first one I remember was the Bel-Air fire in 1961, because I was able to stand in the middle of the street with neighbors one evening and watch the flames come over the hills up on Mulholland Drive.
Back then, large wildfires felt like a mostly local phenomenon because of California's climate. It doesn't feel that way anymore. Greece, Sweden, Norway, Latvia, even Ireland — known as the Emerald Isle because it is always so green — have been devastated by fires this summer because of high temperatures and less rainfall.
Meanwhile, the Trump administration wants nothing to do with the fight against global warming. The president's first Environmental Protection Agency chief, Scott Pruitt, tried to roll back policies aimed at helping the planet fight climate change. He had to resign because of so many scandals, leading to his replacement by Andrew Wheeler, a former coal industry lobbyist. He may be worse than the guy he replaced.
This is just the guy you want looking out for the protection of the planet.
Daniel V. Shannon, Chatsworth
..
To the editor: Thank you for highlighting how climate change will continue to make California wildfires worse. However, Los Angeles County could significantly reduce human casualties and property damage caused by wildfires by declining to approve large-scale development in high fire hazard areas.
Unfortunately, the county appears intent on remaking past mistakes.
At the request of developer Tejon Ranch Company, planning staff have recommended approval of an entirely new community called Centennial on wildlands in the remote northern corner of the county. With a footprint twice the size of Santa Monica, Centennial would sit directly on "very high" and "high" fire hazard areas that are subject to intense winds.
The county planning commission also recently approved a 1,000-acre housing development near Castaic Lake called Northlake, which lies entirely in a "very high" fire hazard area. Adding tens of thousands of residents to wild and undeveloped areas will lead to more human-caused wildfires, loss of life, property damage and increased firefighting costs.
J.P. Rose, Santa Monica
The writer is a staff attorney at the Center for Biological Diversity.
..
To the editor: In 1996, our family's Montana cabin burned to the ground in the Beartooth Mountains. That Shepard Mountain Fire was caused by lightning, and the area had not burned in 100 years, so there was some acceptance of what was likely inevitable.
Then in 2017, wildfires burned hundreds of thousands of acres in Montana amid record-setting heat despite ample precipitation the previous winter.
As reported, documented temperature increases are a common thread in such fires. Greenhouse gas emissions contribute to the atmosphere's rising temperature, and those emissions can be reduced and controlled.
My family's loss is not comparable to the loss of human life, vegetation and livelihoods in California, other states and Europe. We should not accept these losses as inevitable. Be informed and take action.
Kathleen Brown, Santa Clarita
..
To the editor: I would disagree with anyone who says the recent wildfires indicate a new normal. This would be our new normal if we had done something to stop climate change, but we haven't.
What we are seeing now is the beginning of the transition to the new normal, which will be where we end up when we finally do get serious about stopping climate change.
Brad Flanders, Whitter
Follow the Opinion section on Twitter @latimesopinion and Facebook
---
Life is stressful. Our weekly mental wellness newsletter can help.
You may occasionally receive promotional content from the Los Angeles Times.