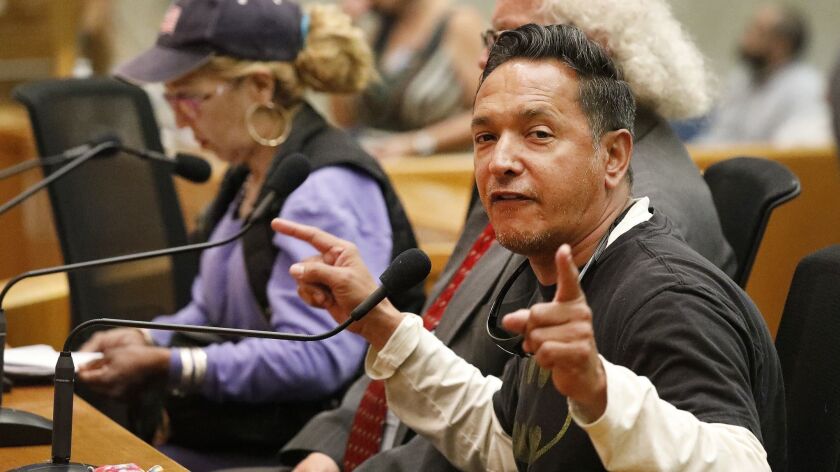 To the editor: It isn't any wonder that the incidence of profanity and brutish disregard for other people attending L.A. City Council and County Board of Supervisors meetings has risen so drastically.
The threats, name-calling and profanity that spew from the mouth of the president of the United States have inspired the angriest, most destructive members of our society to embrace their lowest impulses and intentions.
President Trump did not invent hatred, greed or disrespect, but he has recognized their usefulness and put them to work to aggrandize himself in the eyes of a certain subset of Americans at the expense of the rest of us.
Ina Scott, Lancaster
..
To the editor: Government officials are helpless to curtail profanity or slurs directed against them because they have been told by judges that such abusive language in public meetings is speech protected by the 1st Amendment.
But do the same judges tolerate such abusive speech in their own courtrooms? Of course not. Even though courtrooms are intrinsically just another type of public meeting, they are also the last vestige of royalty in which members of the public would be instantly held in contempt for using such language.
Perhaps officials could pass an ordinance that all public meetings should be conducted with freedom of expression, subject to the same degree of decorum as in public courtrooms.
Cyril Barnert, Los Angeles
..
To the editor: It's a sad state of affairs when people attending meetings of the Board of Supervisors and the Los Angeles Police Commission can use slurs and profanity whenever they feel like it. It's a reflection of the general lack of civility in our society.
The use of this language demeans the public hearings to the point where people who want to attend will instead skip these meetings because they do not want to subject themselves to this disgusting behavior.
The U.S. Supreme Court has ruled there are limits to our freedoms of speech and expression. This problem is serious enough that the county and city must appeal any court losses to the highest courts of the land.
Robert Newman, West Hills
..
To the editor: Perhaps people shouting expletives at the City Council are simply channeling Los Angeles Mayor Eric Garcetti.
At a public celebration of the L.A. Kings winning professional hockey's Stanley Cup in 2014, Garcetti said to the crowd, "This is a big f------ day." It was heard loud and clear.
Norm Zareski, Palos Verdes Estates
Follow the Opinion section on Twitter @latimesopinion and Facebook
---