Readers React: Fire-ravaged California needs to stop building homes out of wood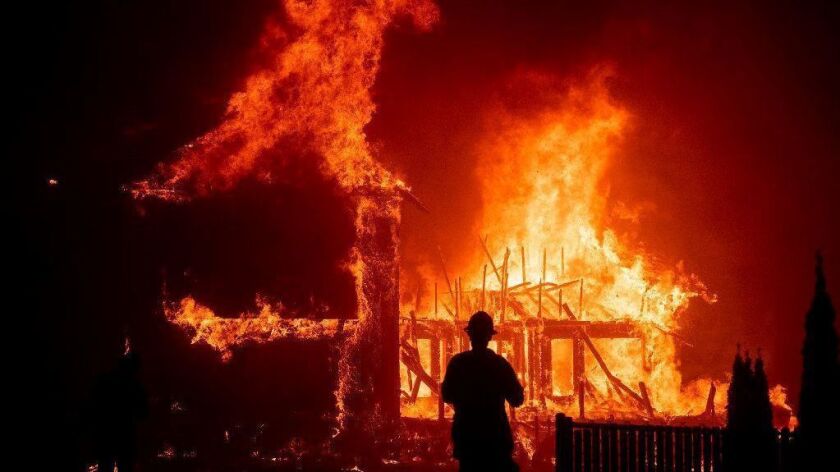 To the editor: I don't disagree with USC historian Peter Westwick's assessment that California's use of long-distance electricity transmission lines has significantly added to our wildfire risk, but it misses the real cause of devastating house fires: the use of wooden two-by-fours in house construction.
Ignition origin is important, but there are other sources: lightning, barbecues, house electrical shorts and more. On average, American homes last a fraction of what is expected in parts of Europe and Asia. I have a place in Paris for which I have not bothered to buy fire insurance.
London banned wood construction after much of the city burned down in 1666, and Moscow significantly reduced the use of wood for building after its 1812 fire.
We would save our housing stock for future generations if we required that homes be built with inert materials. This is especially necessary in California, since brush and forest fires are going to increase as the planet warms.
Mike Roddy, Alameda, Calif.
..
To the editor: My dad was a surveyor for the Los Angeles Bureau of Power and Light, a predecessor to the Department of Water and Power, in the 1930s. He was part of a crew that surveyed the "emergency" line from Hoover Dam (then Boulder Dam) to Los Angeles. Those steel towers are still in use.
It is worth saying: If you are a runner, hiker or mountain biker and see a potential problem with a power line, please make it known either to the responsible power company or to city or county officials. I have done this with some questionable lines near Topanga State Park, and the problems were corrected pretty quickly.
Paul Cooley, Culver City
..
To the editor: Westwick explains the power grid history and identifies the problem. The future, and the solution, is distributed energy resources.
Our new Clean Power Alliance, as a core goal, will develop clean, renewable electricity generation closer to users, obviating the need for risky long-distance high-voltage transmission lines. We'll pay existing rooftop owners more for their excess generation. In new power facilities, we're committed to well-paying new local jobs in an environmentally sustainable economy.
The Clean Power Alliance will reduce power grid fire risks and be a major Southern California agent of a Green New Deal.
Kevin McKeown, Santa Monica
The writer, a Santa Monica city councilman, is a member of the Clean Power Alliance board of directors.
Follow the Opinion section on Twitter @latimesopinion and Facebook
---
A cure for the common opinion
Get thought-provoking perspectives with our weekly newsletter.
You may occasionally receive promotional content from the Los Angeles Times.