Readers React: Better zoning laws, not forest management, will save lives in future wildfires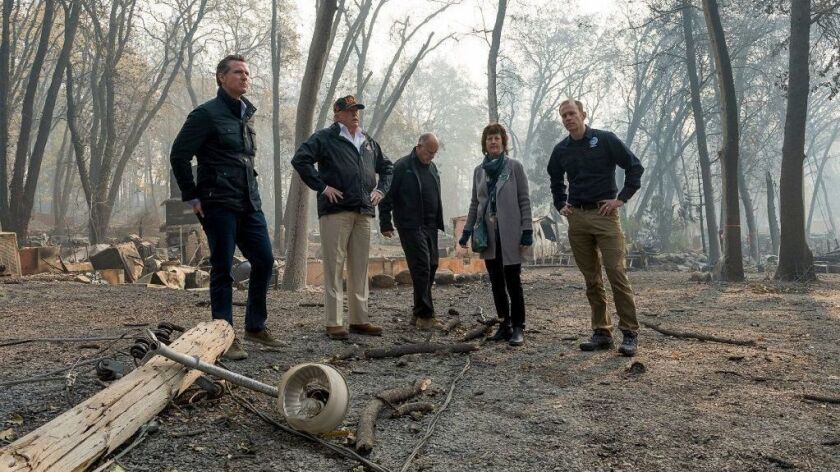 To the editor: President Trump is wrong about why California wildfires have been so deadly. As a retired firefighter, I know there are many factors that have led to these disasters, and "poor forest management" is down on the list.
One key factor is that many homes and even entire cities have been built in what is called the urban-wildland interface. Paradise and Malibu are good examples. People want to live in these beautiful areas, but moving there comes with great risk.
When we have years of drought and higher temperatures, disaster looms. How do we fix this problem?
We should develop new zoning laws, adopt and enforce strict brush clearing rules, and require new homes to be built with greater fire resistance. It seems like insurance companies should take a more active role in evaluating risk and seeing that brush is cleared away from the homes they should want to be protected.
Mike Reardon, Fallbrook
The writer is a retired Los Angeles County Fire Department captain.
..
To the editor: During this tragic period in California, I won't even begin to comment on Trump's ill-informed statements. I could not, however, help but notice the photos of him with Gov. Jerry Brown and Gov.-elect Gavin Newsom in Paradise.
Where I have been visiting in the San Francisco Bay Area, the air quality has been declared the worst in the world. Everyone outside has been wearing a respirator mask. Schools have been closed, the roads empty, and all activities canceled.
And yet, in the immediate fire area, our president and others were not wearing masks.
Barbara Rosen, Fullerton
Follow the Opinion section on Twitter @latimesopinion and Facebook
---
A cure for the common opinion
Get thought-provoking perspectives with our weekly newsletter.
You may occasionally receive promotional content from the Los Angeles Times.