Readers React: Not all college students need a lesson on free speech — only left-wing students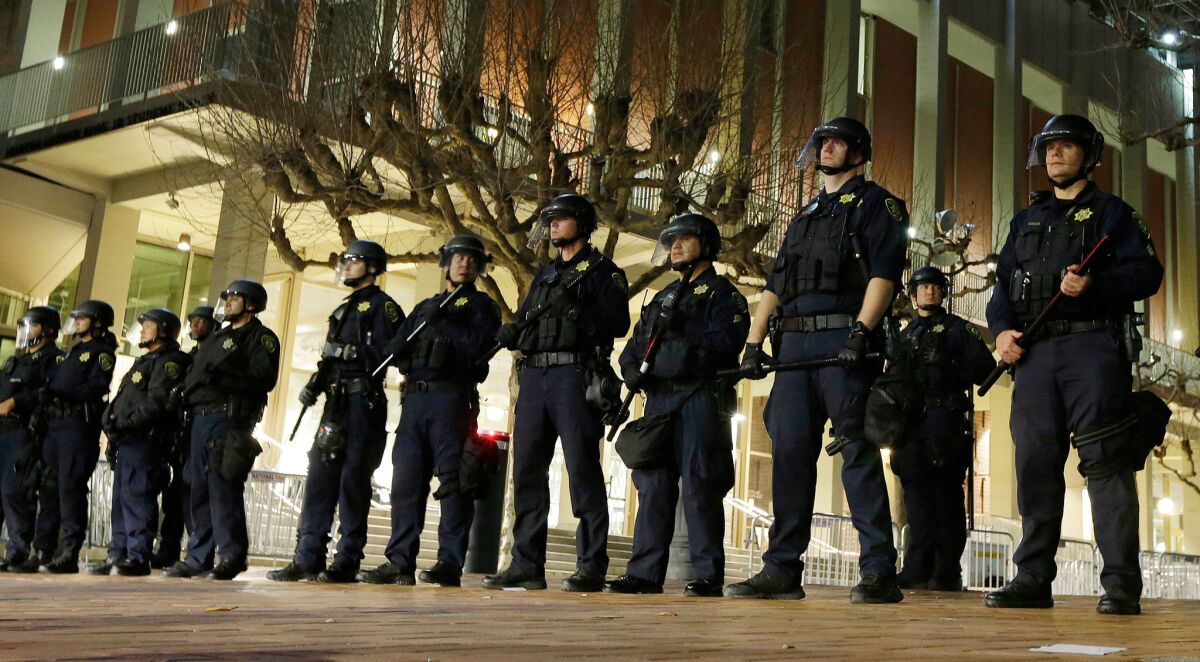 To the editor: The Times Editorial Board urges a "nonpartisan commitment to free speech" on California campuses. ("How to bolster the 1st Amendment on college campuses," editorial, April 27)
This is disingenuous; the issue is inescapably partisan. Right-wing students are not the problem. We need a leftist commitment to free speech.
On California campuses, many leftists are trying to prevent the expression of certain views. Right-wingers are not. Leftists sometimes resort to violence to shut down speakers. Right-wingers do not.
Students who deny free speech to others must be expelled immediately from any institution of higher learning funded by California taxpayers. Only then will true discourse again flourish on our campuses.
Rob Dean, Los Angeles
..
To the editor: Lately it seems that free speech on our state campuses applies only to every kind of right-wing extremist but not to students. If we say that the hatemongers have a right to speak unchallenged, are we not normalizing intolerance?
Ideally some acceptable compromise that would allow dialogue is better.
I recall an incident from my own college years a long time ago. A purveyor of pseudoscience was set to come speak, so all the science students and their friends came to the event. After the speaker's remarks, there was a designated question-and-answer period during which the science community could challenge the speaker's points.
The pseudoscientist talked, and the science people talked back. The head of the physics department was allowed to say, "Utter claptrap, dammit!" No one had to be disciplined or legislated about.
What's wrong with a plan like that?
Cynthia Hart, Culver City
Follow the Opinion section on Twitter @latimesopinion and Facebook
---
Life is stressful. Our weekly mental wellness newsletter can help.
You may occasionally receive promotional content from the Los Angeles Times.