Readers React: A school shooting is nothing new, but Times readers are dialing up their outrage to a new level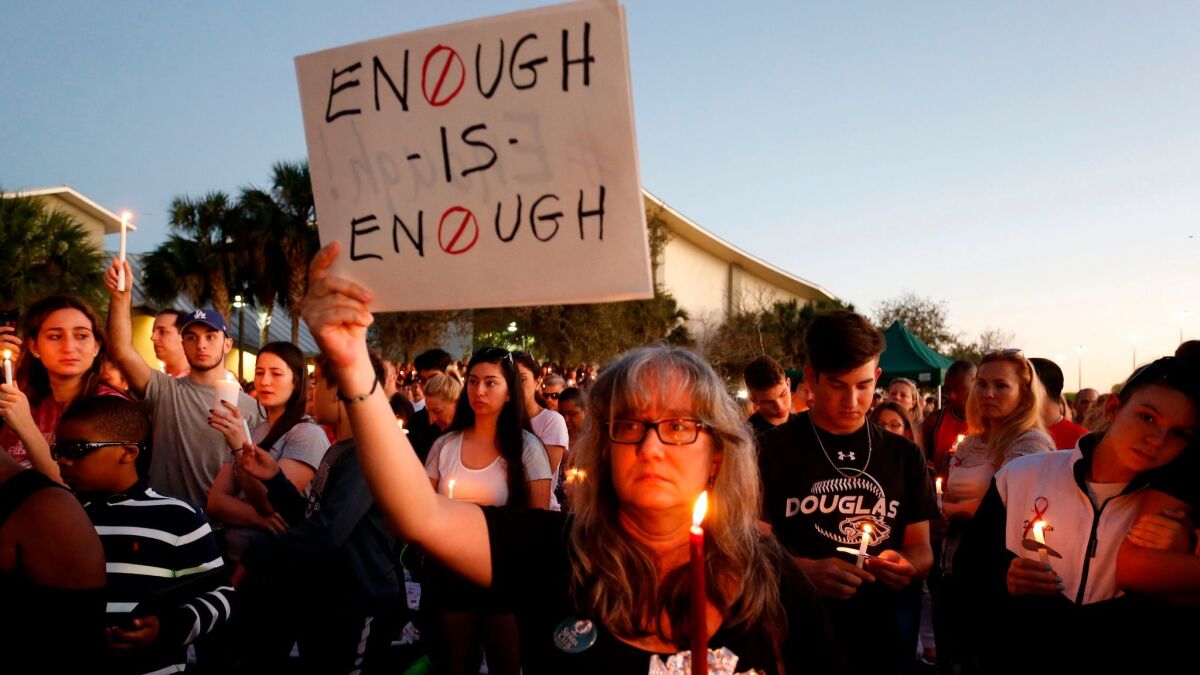 The killing of 14 teenagers and three adult staff members at a Parkland, Fla., high school Wednesday is not the once-in-a-generation story of unspeakable tragedy that it may have been decades ago or in another country. But one thing that distinguishes this mass shooting from others is our letter writers' reaction to it.
So far, more than 200 printable letters to the editor have been submitted in response to the shooting. Most of the people who write to The Times after any given shooting tend not to be pro-gun, but even against that backdrop, the reaction by our readers has been notable for its outrage and extreme one-sidedness. As of this writing, no more than five of the letters submitted after the Parkland shooting have expressed skepticism about increased gun control.
The primary targets of our readers' anger: the National Rifle Assn. and the Republican Party, both of whom have received criticism that's for more pointed and voluminous than after past shootings. Here is a selection of reader responses that reflect the anger and frustration expressed by our letter writers since Wednesday.
Donald E. Williams of Costa Mesa says he had to stop driving because of his anger:
Upon hearing the news of yet another school massacre on my car radio, I had to pull off the road because of my anger and anguish. I no longer have kids in school, but I have grandchildren who will be at risk because of this insane violence. It breaks my heart.
If the Republican-controlled Congress and President Trump do not do something substantive now to address this national disgrace, the letters NRA will forever stand for "National Republican Army."
Guns don't die; people do.
— Tim Bradley, Altadena
Paul Smith of Milwaukee, Wis., calls for naming congressional names:
Sen. Charles Grassley (R-Iowa) may bear more responsibility that any lawmaker for the school shooting in Florida. He was the lead sponsor of a bill that made it easier for people with mental illness to buy a gun.
Why don't you publish a list of all those members of Congress who received money from the NRA, gun manufacturers and other pro-gun groups?
Del Mar resident Kevin Patrick, a physician and professor of family medicine and public health at UC San Diego, suggests one way to address gun violence:
Seventeen dead bodies are found outside a restaurant that is known to serve undercooked and contaminated food. Media reports relate comments from the owners of the restaurant: "We have no idea why this happened. Our thoughts and prayers go out to the families."
The National Organization for Poisonous Eateries (NOPE) states that poisoned food doesn't kill people by itself — that it must be eaten by people to kill people. Plus, consuming the food one chooses is a constitutional right.
Meaning? Public health solutions exist for this. Do we have the will to use them?
Tim Bradley of Altadena puts a new twist on an old saying:
Guns don't die; people do.
Yucca Valley resident Patricia Freter encourages students affected by school shootings:
So, to all you students who are made to run from your school with your hands up: Study, go to college, get a degree and run for office. Give us something other than "thoughts and prayers."
Redlands resident Kim Eifert Krogstad makes a grim comparison:
Other countries have mentally ill people capable of harming others. Other countries have young people who have been bullied or attacked by fellow students and are filled with rage. Other countries have despondent people who have given up on life and want to go out in a blaze of glory.
But other countries do not have the kind of school shootings that we have here in the United States. The difference is that in the United States, we value our guns more than our children.
Follow the Opinion section on Twitter @latimesopinion and Facebook
---
Life is stressful. Our weekly mental wellness newsletter can help.
You may occasionally receive promotional content from the Los Angeles Times.