Readers React: It's time to say 'yes, in my backyard' to homelessness projects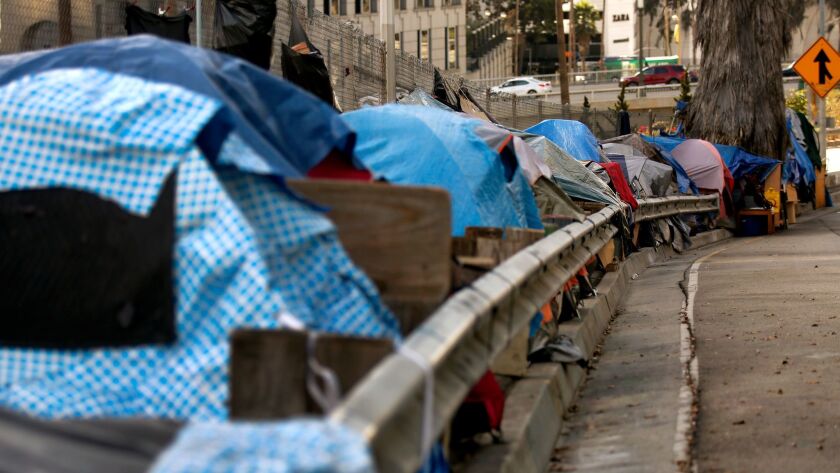 To the editor: Steve Lopez mentions that millions are spent every year in Los Angeles County to address homelessness with only marginal success. Our city and county leaders must stop the bleeding and stop expecting the same old, same old to bring different results. ("L.A. homeless crisis grows despite political promises, many speeches and millions of dollars. How do we fix this?" Jan. 28)
There are examples of successful programs that have significantly reduced the number of people living unsheltered, including LA Family Housing's supportive housing model in North Hollywood, L.A. County's Housing for Health program, and San Diego's three new temporary shelters with a total of 700 beds and on-site supportive services.
To those who state "not in my backyard," you are ignoring the truth that homeless individuals are already living in all our neighborhoods. It is time to open our hearts and minds, make the choice to be part of the solution, and accept that some of the projects will be close to you.
Without this change, the status quo will prevail, and that would be expensive, unhealthy and unsafe — not to mention an embarrassment to humanity.
Julie Lie, Long Beach
..
To the editor: As usual, Lopez pulls on our heartstrings and invokes political guilt for falling short of solving the problem. Interestingly, he does not even mention Costa Hawkins, the legislation that restricts rent control to buildings built prior to 1978, and permits those rent-controlled-building landlords to raise rents to whatever they want on vacated units.
With more than 58,000 people living on the streets of Los Angeles County, if there is a bed somewhere, someone is in it.
Marsha Temple, Integrated Recovery Network executive director
Costa Hawkins ensures that the stream of people from housing onto the streets is guaranteed. It must be defeated as soon as possible to at least slow down the eviction of currently sheltered households onto the streets, as rents continue to skyrocket.
Lois Arkin, Los Angeles
..
To the editor: The apocalypse is now. This degree of homelessness isn't just deplorable, it also indicates the breakdown of our society.
What about seniors on a fixed income who live in non-rent control buildings? When rents go up, another senior takes her belongings in a cart to the street. Teenagers leaving foster care sleep on sidewalks and in alleys every day. Parents with small children are living in their cars.
With more than 58,000 people living on the streets of Los Angeles County, if there is a bed somewhere, someone is in it. Let's have some of the Measure H and HHH money for more interim housing when people need it — now.
Marsha Temple, Los Angeles
The writer is executive director of the Integrated Recovery Network.
..
To the editor: I hope people take to heart the Los Angeles Times' new series on homelessness. It's going to include a lot more of us before too long, as the American middle class is fined, fee'd and otherwise pauperized out of existence.
The downside to lower unemployment statistics is their reflection of people no longer eligible for benefits, those who have simply given up looking for a job, and workers who remain a paycheck away from disaster.
If these words sound cranky, perhaps it is because I've just been notified that my health insurance premium, which has doubled in the past decade, is about to go up another 25% because my "age may have changed." Only in the land of opportunity are you punished over the inevitable march of time.
Save me a space on that sidewalk.
Kevin Dawson, Los Angeles
Follow the Opinion section on Twitter @latimesopinion and Facebook
---
A cure for the common opinion
Get thought-provoking perspectives with our weekly newsletter.
You may occasionally receive promotional content from the Los Angeles Times.