Readers React: Don't portray the Joshua Tree couple as similar to the Turpin family, readers say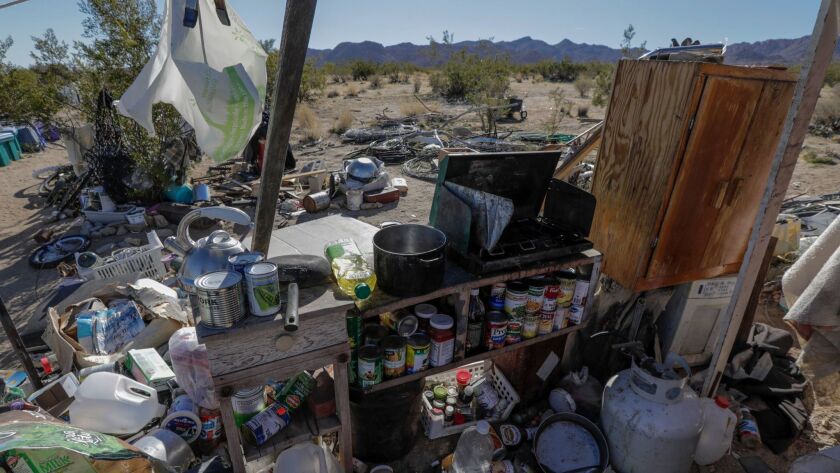 In January, after David and Louis Turpin were arrested and accused of imprisoning their 13 children, readers wrote to the Los Angeles Times for weeks expressing dismay over much more than just the alleged abuse. The fact that the suspected mistreatment of so many children could have gone on for years in picturesque middle-class housing tracts — the Turpins lived in Perris — unnerved letter writers who believed neighbors must have simply looked the other way.
More recently, readers reacted much differently to the arrest last week of a Joshua Tree couple whose three children lived in a filthy plywood structure with no electricity or running water. Some sympathized with their mother and father as simply doing what they could for their children, and a few responses had one thing in common with the Turpin letters: In both cases, letter writers blamed a societal failure for the suffering of the children.
Rockie McKee of Desert Hot Springs cites a lack of affordable housing:
I have read and reread articles on the Joshua Tree family that has been broken apart because they are poor and homeless, and each reading has made me angrier than the last.
Here are parents who, though they could not provide running water and electricity, managed to encourage their children to pursue personal passions such as dance and soccer, to develop their imaginations and resourcefulness, and to instill a sense of compassion and love for all creatures. The kids were fed and clothed.
Evidently, failure to achieve some consumer-driven standard of living is now a disqualifier for parenting. Never mind that the reason this family and so many others are living like coyotes is so that their neighbors can turn a not-so-tidy profit on housing.
Let's not forget that once these kids leave foster care, they stand an excellent chance of becoming homeless. We need housing for everyone, everywhere.
Sheridan West of Sherman Oaks believes it isn't a crime to refuse government handouts:
Are we seeking to punish these people because they chose not go live on Section 8 or on welfare or to send their children to the (usually substandard for the poor) neighborhood schools? Theirs is independent thinking. Wouldn't the real cruelty be creating service-dependent children?
Can we just admit that the Turpin case prompted someone to panic? The real crime is arresting this couple for being poor and not accepting handouts on behalf of their children.
Los Angeles resident Pamela Froust sees things differently:
No one should be charged with child abuse merely because they're poor and homeless. However, these people aren't homeless.
They have a home, but they choose to use it to house cats instead of people. Their poverty is aggravated by their choice to use part of their meager resources to feed dozens of cats that continue to multiply. They choose to reject government resources as a matter of principle because they want to be independent. That's fine for them, but not for their children, whose government benefits are not theirs to reject.
Unfortunately, there is no easy solution that will make things right for the children, and prosecuting the parents could make the situation worse.
Follow the Opinion section on Twitter @latimesopinion and Facebook
---
A cure for the common opinion
Get thought-provoking perspectives with our weekly newsletter.
You may occasionally receive promotional content from the Los Angeles Times.