Readers React: Koreatown's hellish parking will spread if SB 50 backers get their way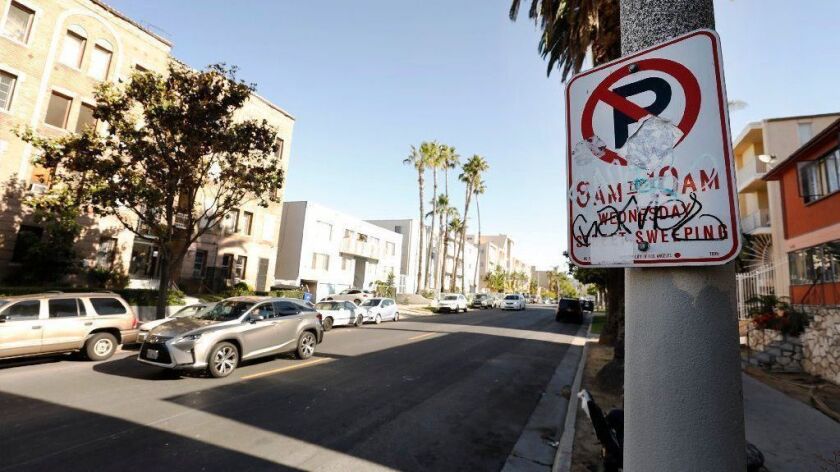 To the editor: As I read the article on the parking problems in Koreatown, I saw the future of California if state Sen. Scott Wiener (D-San Francisco), the author of SB 50, and his fellow social engineers get their way.
What if they include in their attempts to address the state's housing crisis a serious reduction in parking requirements for the apartments and condominiums they are pushing?
Wiener and his fellow social engineers are the political heirs to the people who pushed prohibition — they think that if they make something policy, they can change our behavior. They're wrong.
Thomas Smith, Alhambra
..
To the editor: The parking situation is dire not only in Koreatown, but in much of Los Angeles.
How about allowing parking on the diagonal? Or making the narrow streets of Koreatown and nearby neighborhoods one-way and allowing parking on both sides of the street in the direction of traffic?
This scarcity of parking is an example of the city planners being asleep at the switch.
Now, city planners are awarding "density bonuses" to developers and relaxing parking requirements for projects built near transit corridors. Where is the foresight in this? Is the city simply not paying attention?
Andrew E. Woodward, Los Angeles
..
To the editor: If city officials had an ounce of compassion for their constituents, they would stop writing tickets after the street sweepers had come and gone. To enforce the ordinance until the very last minute is unnecessary and truly heartless.
Norm Zareski, Palos Verdes Estates
..
To the editor: This is why high-density housing will not work in Southern California.
In the real world, usable public transit must come before high-density housing (emphasis on the word "usable"). Yes, it is backward, but we have created this monster we call Los Angeles.
People who do not live here simply cannot understand this reality.
Rich Flynn, Huntington Beach
Follow the Opinion section on Twitter @latimesopinion and Facebook
---
A cure for the common opinion
Get thought-provoking perspectives with our weekly newsletter.
You may occasionally receive promotional content from the Los Angeles Times.