Readers React: How Memphis' black residents were mistreated the night of Martin Luther King Jr.'s death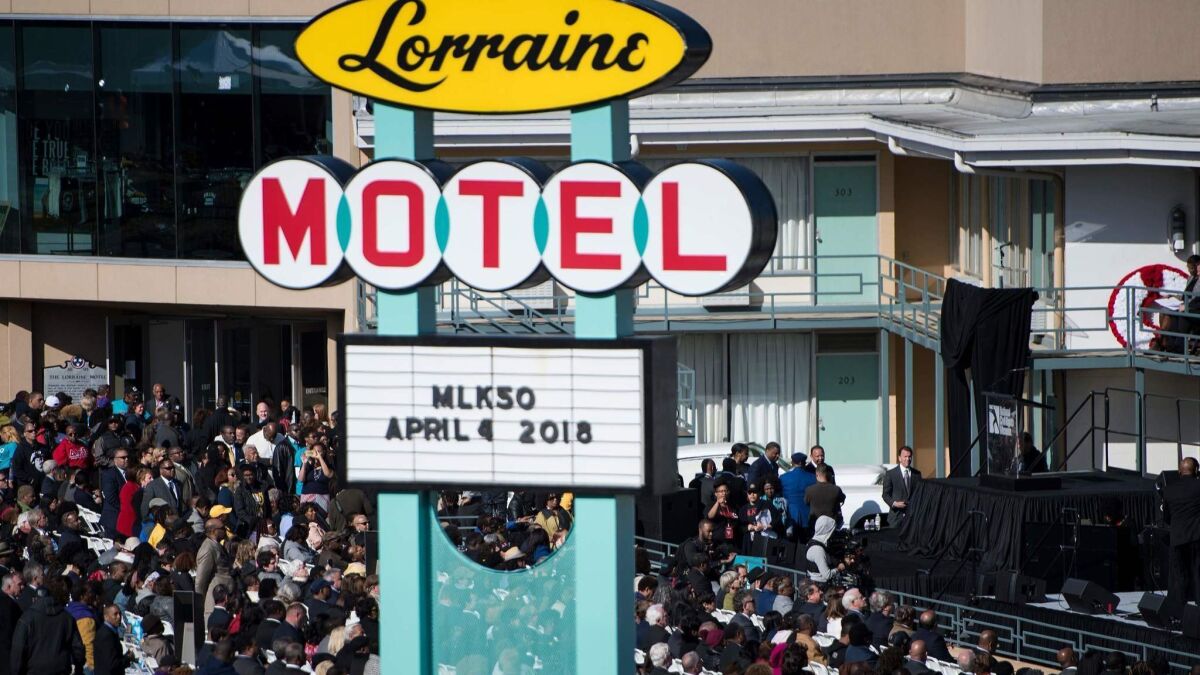 To the editor: Two years after the assassination of Martin Luther King Jr., I belatedly joined countless others in abandoning the turbulent American South and fleeing to a liberal state.
The night of the killing on April 4, 1968, my hometown of Memphis, Tenn., saw troops in the streets and racist determinations of how citizens caught out after curfew were treated. Still oddly memorable was an uncharacteristic indecision about which route to take through downtown on the way home from business travel earlier that afternoon. My eventual decision ironically spared me the potential of being uncomfortably close to the shooting when it happened.
Later, after a post-curfew check on my mother, troops and police urged my recognizably white face through intersections at high speeds at the same time that people of color were being mistreated. Little did I understand that this marked the beginning of the time when Memphis would never feel like home again.
Cay Sehnert, Eagle Rock
..
To the editor: In reading reporter Michael Livingston's moving piece on remembering King on the 50th anniversary of his assassination, one can't help but relate the dark times that King lived through to the challenges facing us today with the rise of authoritarianism, nationalism and racial bigotry.
Like Dietrich Bonhoeffer, the German Lutheran pastor and theologian who was executed by the Nazis in 1945, King criticized the complacency and timidity of his fellow clergymen, accusing them of hiding behind the "anesthetizing security of stained glass windows." Bonhoeffer wrote that the church should "not just … bandage the victims under the wheel, but ... jam a spoke in the wheel itself."
Both wrote prison memoirs that have inspired generations of seminarians, clergymen and activists. Eerily, both died at the age of 39.
How sorely we need men like them, rather than those who sacrifice their Christian faith to sit at the table of power and prestige.
Mark R. Day, Vista, Calif.
Follow the Opinion section on Twitter @latimesopinion and Facebook
---
Life is stressful. Our weekly mental wellness newsletter can help.
You may occasionally receive promotional content from the Los Angeles Times.