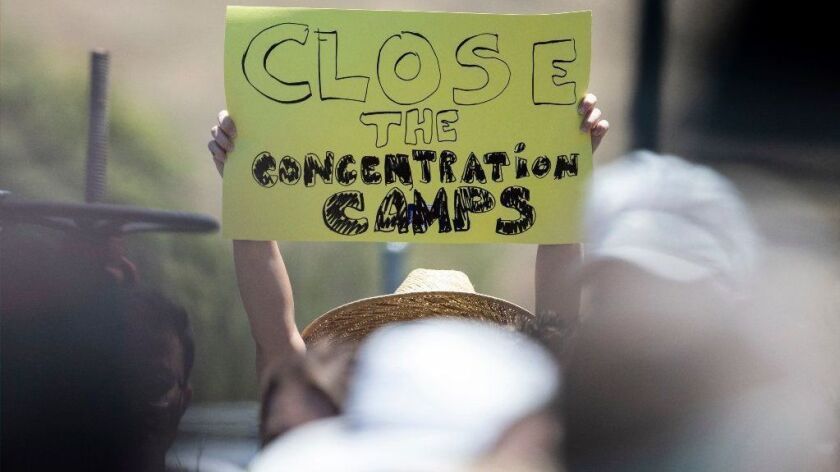 To the editor: With great sympathy and respect for the survivors of Nazi concentration camps and those who were held in American concentration camps for people of Japanese descent during World War II, I believe no one holds a trademark on the term "concentration camps." ("Some Holocaust survivors oppose 'concentration camp' comments. But they're also upset by treatment of migrants," June 28)
While we argue over semantics, babies and children at our border are imprisoned and being treated inhumanely. Some children have died.
Shall we now waste our time and attention arguing about those terms, while nothing is done to stop the cruelty? Let's instead discuss how best to end this horror immediately.
Walter and Shelley Dominguez, Los Angeles
..
To the editor: As the son of an Auschwitz survivor, I am stunned that the comparison by Rep. Alexandria Ocasio-Cortez (D-N.Y.) of migrant detention facilities with Nazi concentration camps is even seriously debated at all.
The fundamental difference is this: Immigrants are trying to gain entry into the United States illegally. The Jews of Europe were not allowed to leave; rather, they were targeted for extermination by the Nazis.
Ocasio-Cortez's analogy is as offensive as it is ignorant.
Richard Friedman, Culver City
..
To the editor: What do we call migrant camps? Here's a novel idea.
Let's call them what they are: illegal alien detention centers.
Jack Berkus, Laguna Niguel
Follow the Opinion section on Twitter @latimesopinion and Facebook
---