Readers React: Don't even think about praising Mike Davis while much of Malibu is burned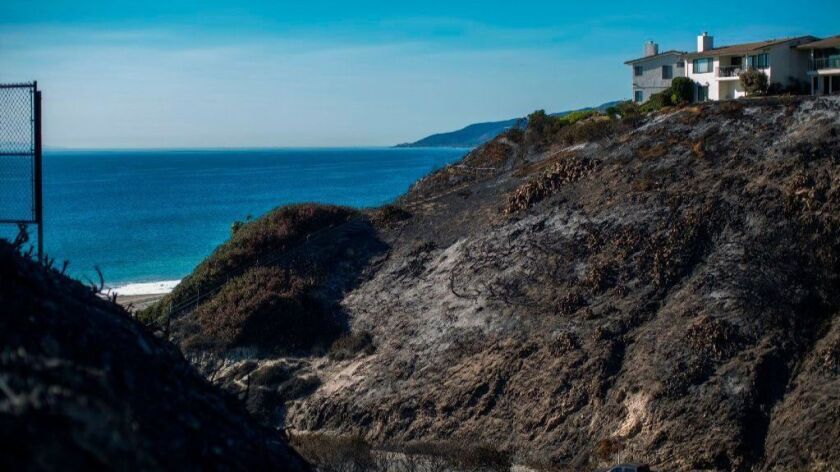 To the editor: Writing an article about historian Mike Davis' 1995 work "The Case for Letting Malibu Burn" while people are still evacuated from homes is horribly insensitive.
Having lived on Point Dume in Malibu where at least 10 of my friends' houses have burned so far, I find Gustavo Arellano's column insensitive in its timing. When a tragedy strikes, can't he just see the grief and the humanity? Why depict Malibu as some white-flight haven?
Arellano quotes Davis as saying, "I'm infamous for suggesting that the broader public should not have to pay a cent to protect or rebuild mansions on sites that will inevitably burn every 20 or 25 years." The majority of houses on Point Dume were built in the mid-1950s by middle-class residents. In the time since, there has never been a fire there like this.
Davis claims people who live in Malibu don't have a "love of the great outdoors." Anyone who has spent time there knows that is an absurd comment. A love of the outdoors is exactly why people live on Point Dume.
Eric Cooper, Santa Monica
..
To the editor: Interesting idea, to let Malibu burn. Davis asked a pertinent question: Why do we pay for fire protection so rich people can live in dangerous places?
We humans have an altruistic tendency to help, especially when a natural disaster strikes. But if you have ever seen embers swirling from a fire in sustained winds of 30 mph, you know that any attempts to fight that are futile.
Back in the mid-1990s, I went to bed when a fire was burning near Thousand Oaks. The next morning, I drove on my morning commute along Pacific Coast Highway from Camarillo toward Los Angeles and saw the most spectacular sight: The fire had burned all the way to the beach, and the air was filled with glowing, burning embers that were flying a good mile out to sea.
Once I saw this, I understood what firefighters are up against when the winds are very strong.
John Gleason, Camarillo
Follow the Opinion section on Twitter @latimesopinion and Facebook
---
A cure for the common opinion
Get thought-provoking perspectives with our weekly newsletter.
You may occasionally receive promotional content from the Los Angeles Times.