Readers React: Oh, great — Mike Pence tells West Point grads to 'expect combat'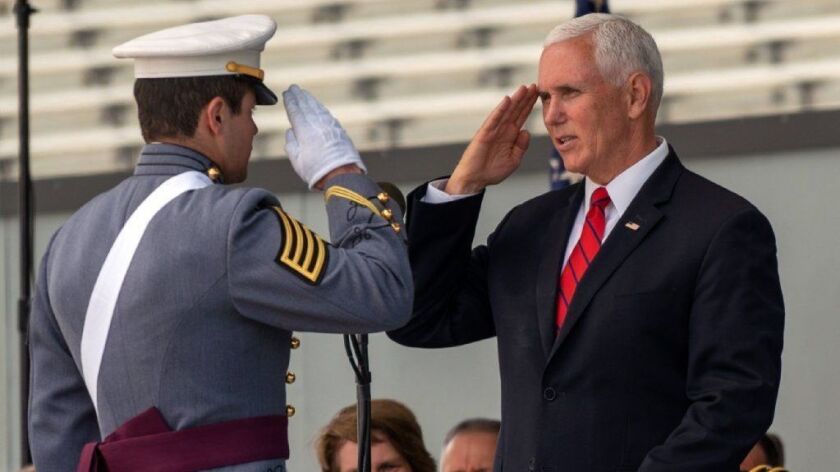 To the editor: U.S. Military Academy commencement addresses by high government officials are an annual ritual. Quite often, they will hint at an administration's intentions for the newly minted shavetails among their usual encomiums to "duty, honor, country."
In his remarks to the West Point Class of 2019, Vice President Mike Pence didn't hint. He flat-out told them "that you will fight on a battlefield for America at some point in your life," and that "some of you may even be called upon to serve in this hemisphere."
Pence is the putative point man for the administration's ham-handed efforts at regime change in Venezuela. He is leagued in this effort with national security advisor John Bolton and diplomat Elliott Abrams, the latter of whom was involved in the Central American dirty wars, and the former in our disastrous 2003 Iraq invasion.
Now that Pence has told the graduates to "expect combat," it is obvious what this trio has cooked up for this year's crop of second lieutenants. God help them.
Stuart Sheldon, Murrieta
..
To the editor: Along with the version of this article published in the May 26 print edition, there is a picture of Pence saluting a cadet, under which the caption reads, "Pence — who like President Trump, did not serve in the military — noted his father's service in Korea."
While I have no real feelings regarding Pence but an overall loathing of President Trump, I can't help but wonder if you would have printed the following caption with a similar picture taken during the previous administration: "Biden — who like President Obama, did not serve in the military…"
Somehow, I think not.
Bernie Taupin, Solvang, Calif.
Follow the Opinion section on Twitter @latimesopinion and Facebook.
---
Life is stressful. Our weekly mental wellness newsletter can help.
You may occasionally receive promotional content from the Los Angeles Times.