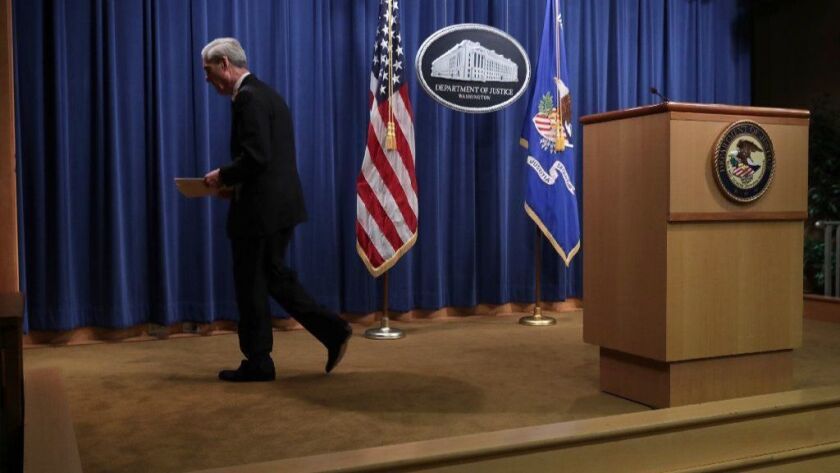 To the editor: Former Justice Department special counsel Robert S. Mueller III has spoken. Rep. Justin Amash (R-Mich.), the sole House Republican to call for President Trump's impeachment, who received a standing ovation at a recent district town hall, has spoken.
The House must now pursue the issue of Trump's obstruction of the Russian investigation.
Mueller made it very clear that his decision to not bring any charges against Trump was really not a decision at all, since Department of Justice policy holds that a sitting president cannot be indicted. He further stated that "charging the president with a crime was not an option we could consider," and that the Constitution "requires a process other than the criminal justice system to formally accuse a sitting president of wrongdoing."
Impeachment in the House is that process. Our democracy and the integrity and legacies of each member of Congress will be determined by how they act right now.
In hopeful anticipation, I say to Congress: Thank you for your courage.
Tony Haftel, Palm Desert
..
To the editor: What we should have heard from Mueller was that Atty. Gen. William Barr did indeed distort his report and that Trump should be impeached.
Mueller, for all his composure and straightforward resolve, said he could only tell us that he could not call the president innocent. This was not enough. Mueller had a chance to step up to the plate and clear the bases with words that could have changed the world; instead, he struck out.
Now, Barr will protect a man who does not care about the truth.
Leonard A. Zivitz, Fullerton
..
To the editor: Before he accepted the assignment as special counsel, Mueller knew that such an investigation had a strong chance of implicating the president in illegal acts. He also knew of the Justice Department policy that a sitting president could not be indicted — a policy that, in my view, he should have challenged strongly.
This combination could lead to a situation in which Mueller's investigation would allege that the president committed crimes, but the special counsel's hands would be tied. He would be unable to indict a person whom he believed to be guilty.
All this was entirely predictable at the outset. Mueller should have declined the job.
Donald J. Loundy, Simi Valley
..
To the editor: Trump tweeted that "there was insufficient evidence and therefore, in our Country, a person is innocent."
He should explain, "Lock her up!"
Laura Owen, Pacific Palisades
Follow the Opinion section on Twitter @latimesopinion and Facebook
---