Readers React: How can Trump be a good president with the unwieldy Mueller investigation dogging him?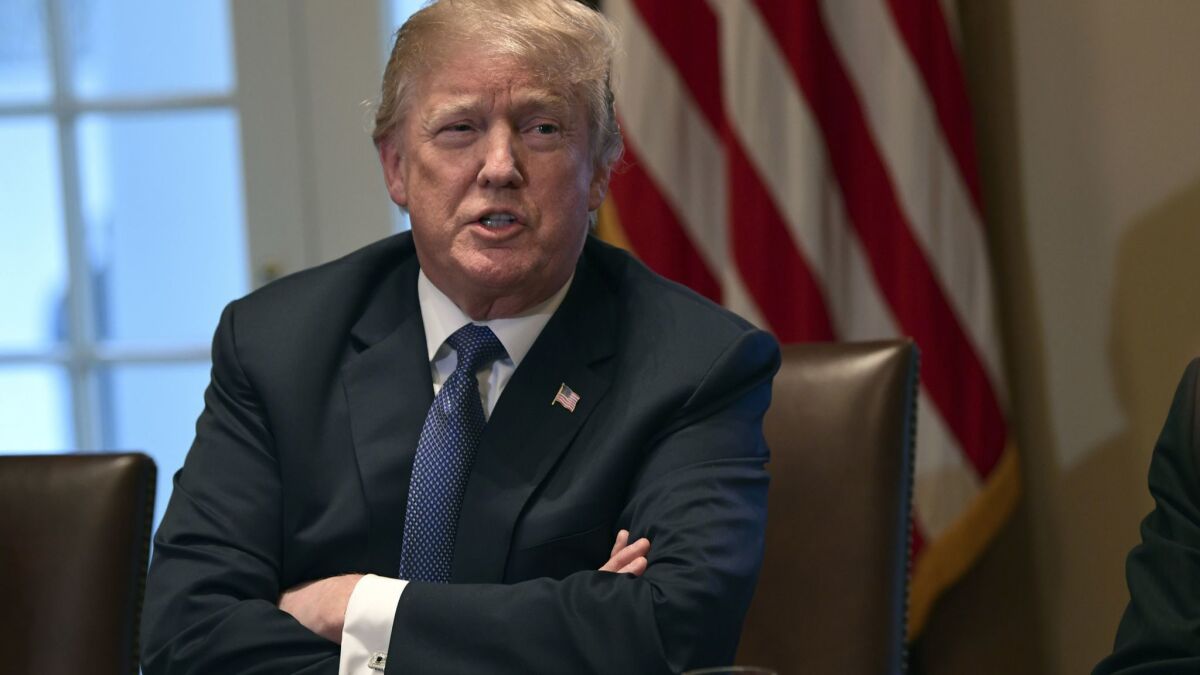 To the editor: Perhaps to have a more balanced article you could include insights by esteemed constitutional and liberal lawyer Alan Dershowitz, a Harvard law professor. ("As Trump vents anger over Russia probe, some senators propose protecting Mueller from getting fired," April 11)
He has a completely different take and has repeatedly stated that the Justice Department has run amok and violated the law.
This inquiry by special counsel Robert S. Mueller III started after former FBI Director James Comey was fired and subsequently leaked via a surrogate unverifiable documents he had written. It has become so large that it has now spun off another investigation into the payment of a pornographic actress, who has said her relationship with the president was consensual.
Good Lord. You'd think the president has better things to address, including Syria, preparing for his negotiation with North Korea and passing immigration reform.
Jeff Whitfield, Santa Ana
..
To the editor: Even if Trump got Mueller fired, there is no need to worry about the special counsel's fate. His reputation will be untarnished, and he will always be regarded as someone who fought honorably for his country.
Trump, however, will be remembered as someone who lied, cheated and bullied. It doesn't take too much thought to determine which of the two will fare better when the history of this truly awful time in our country is written.
Marilyn K. Brown, Beaumont
..
To the editor: I had to laugh reading what Michael Cohen was overheard saying at a Washington restaurant: "People don't even know the name of Barack Obama's personal attorney, but everybody knows my name."
Why would anyone need to know the name of President Obama's personal lawyer?
He never entered into questionable deals, nor was there any suspicion he obstructed justice, colluded with Russians to win an election or was a serial adulterer and liar. Obama never needed the services of a stable of lawyers to "fix" things.
Penelope Burley, Camarillo
Follow the Opinion section on Twitter @latimesopinion and Facebook
---
Life is stressful. Our weekly mental wellness newsletter can help.
You may occasionally receive promotional content from the Los Angeles Times.