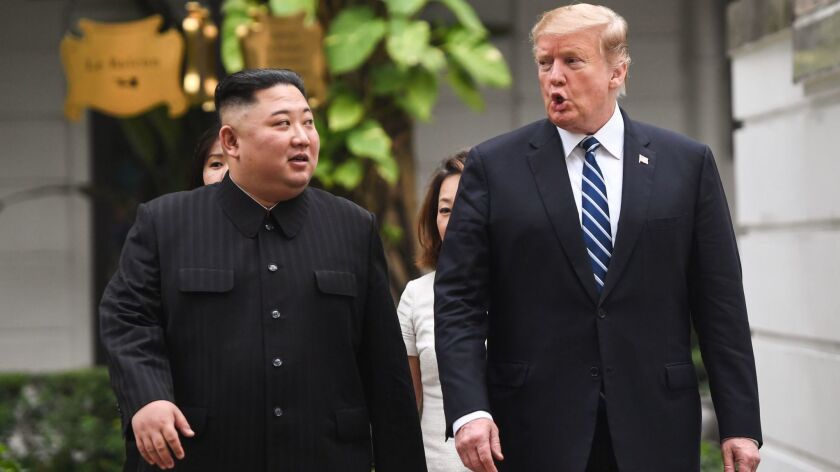 To the editor: In calling into question White House national security advisor John Bolton's take-it-or-leave-it approach to North Korea's nuclear disarmament, Robert Carlin ignores the commitment Kim Jong Un made in the Singapore summit joint statement, namely the "firm and unwavering commitment to complete denuclearization of the Korean peninsula."
Since the Singapore summit last June, U.S. intelligence reported the continuing production of nuclear weapons materials, weapons and delivery systems. Contrary to Carlin's presumption, Trump's pragmatism has not proved to be superior to efforts by prior U.S. administrations nor those of South Korea and the International Atomic Energy Agency, which repeatedly negotiated nuclear elimination deals that Pyongyang violated.
Rather for North Korea, the Trump-Kim dialogue marks business as usual — namely, feigning interest in nuclear elimination for the lifting of economic sanctions.
Bennett Ramberg, Los Angeles
The writer was a policy analyst in the State Department's Bureau of Politico-Military Affairs in the George H.W. Bush administration.
..
To the editor: Anyone with half a brain could have predicted that the Trump administration's demand for North Korea's full and complete denuclearization at the Hanoi summit was a non-starter. Insisting on a big deal will not only result in more stalemate, it could also pave the way to a war that could kill millions of people.
Some on Trump's national security team would prefer a more forceful approach to North Korea. Despite the fact that deterrence has long worked in keeping Pyongyang from acting rashly, Bolton has not been shy in calling for a preemptive military strike in the past.
By pushing deals that Kim will inevitably reject, such advisors will be able to claim that diplomacy has failed and that more forceful options are needed. This is a road to catastrophe Trump should avoid.
The top U.S. national security priority on North Korea is not denuclearization; rather, avoiding war at all costs and establishing a peace regime on the Korean peninsula are the two most important objectives. With peace established, perhaps Kim will conclude one day that nuclear weapons are no longer necessary for his country's survival.
Daniel DePetris, Astoria, N.Y.
The writer is a fellow at the Washington think tank Defense Priorities.
Follow the Opinion section on Twitter @latimesopinion and Facebook
---