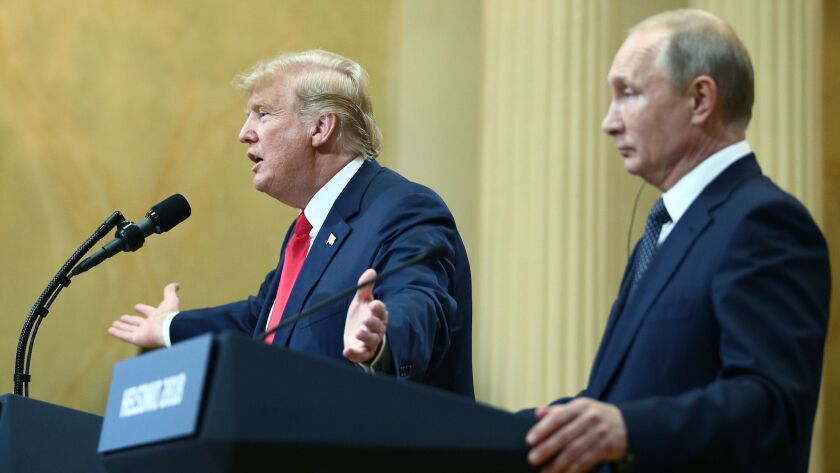 To the editor: Really? Columnist Jonah Goldberg thinks that Russian President Vladimir Putin might one day help the Democrats win just to sow discord? Tell that to Sen. Claire McCaskill (D-Mo.), whose computers Russian hackers tried to access.
That idea totally ignores Putin's more significant goal to eliminate sanctions. The Democrats would surely increase sanctions, if they get the subpoena power to investigate and make evident Russia's intention to perfect its ability to interfere with elections. Putin, the old KGB agent, wants to bring America to its knees.
A thorough cleansing of our democracy requires a Democratic wave in November.
William Prince, Santa Barbara
..
To the editor: Goldberg's latest column is a cunning piece of writing.
Under the guise of a perfunctory, paranoia-arousing speculation about Russian actions, he puts forth his real argument: that once in power, Democrats will be as crazy as Republicans (so, Republicans and gullible Russia-haters, get out and vote!). This is merely fantastical Republican propaganda.
It is more than clear by now that the big difference between Democrats and Republicans is that Democrats actually have an interest in good governance.
Eric Lin, Pacific Palisades
Follow the Opinion section on Twitter @latimesopinion and Facebook.
---