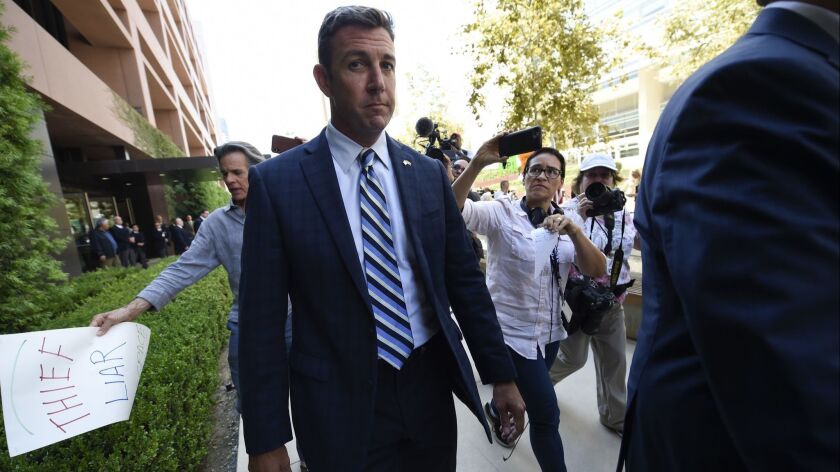 To the editor: Consider two platitudes: One should pick oneself up by one's bootstraps, and one should not feed from the public trough.
It seems that in California's 50th Congressional District near San Diego, Democratic challenger Ammar Campa-Najjar has pretty much followed the former, while Republican incumbent Rep. Duncan Hunter and his wife, both under indictment for fraud, have apparently failed to heed the latter.
Now, it remains to be seen whether the voters in this very Republican district are paying attention, or if they're like the Republicans in Congress and will just look the other way and pretend there's nothing to see here.
I like Campa-Najjar's way with words, and it's clear he operates with a good moral compass.
Gordon Seyffert, Altadena
..
To the editor: We have a five-term member of Congress and son of a former congressman accused of serious criminal conduct, and a bar owner in Temecula chalks it up to "stupidity" and says that he would still vote for Hunter over a Democrat because he doesn't believe in "their philosophy."
The Republican Party would support a felonious ham sandwich if the sandwich had an "R" next to its name.
Carl Falletta, Yorba Linda
This aligns with the thinking of most Republicans who see nothing wrong with supporting a president who lies constantly, who has bragged about assaulting women, who insults anyone who criticizes him, and who praises tax-evading felons like Paul Manafort for not being a "rat."
It is a sad day indeed when honesty, truthfulness, character and common decency are thrown to the wayside solely for political reasons. The Republican Party would support a felonious ham sandwich if the sandwich had an "R" next to its name.
Carl Falletta, Yorba Linda
..
To the editor: One thing is clear after Hunter's indictment: The Democrats must put up electable candidates in every Republican-held district.
It has been reported that a seemingly more electable Democrat in the 50th District was defeated in the primary by a liberal who has little chance of ousting the scandal-plagued incumbent. The opposite is true in Orange County's 48th District, where the centrist Democrat Harley Rouda stands an excellent chance of ousting Rep. Dana Rohrabacher (R-Costa Mesa) after besting a more liberal and less electable primary opponent.
Democrats need to win first before making philosophical stands if they intend to retake the House.
Tim Geddes, Huntington Beach
..
To the editor: The Hunter case comes as no surprise. He's just another Trump Republican who cannot be trusted to represent his constituents.
Despite that, some residents have said they would rather support a incumbent indicted on multiple counts of fraud than a Democrat, showing that partisanship is not only blind, it isn't very smart either.
Terry Walker, Sylmar
Follow the Opinion section on Twitter @latimesopinion and Facebook
---